Panasonic 12-35mm and 35-100mm Lenses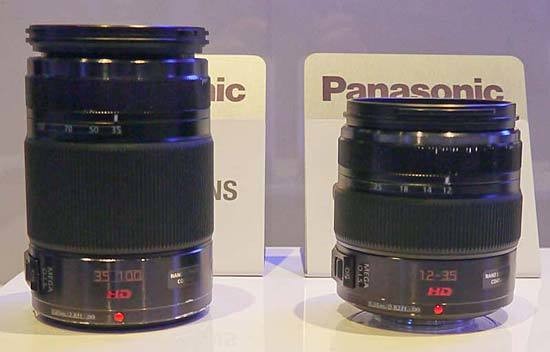 Panasonic have unveiled two new concept lenses, the 12-35mm and 35-100mm, at CES 2012.
Being shown under glass, the Lumix 12-35mm (24-70mm equivalent) and 35-100mm (70-200mm equivalent)  are both Power O.I.S lenses with maximum apertures of f/2.8, and they accept 58mm filters.
Other than a prominent sign stating "Concept Lens" behind each one, there's no other information on if or when they will see the light of day.
Click through to see some larger images.
A gallery of photos of the new Panasonic 12-35mm and 35-100mm lenses.
Image Gallery
Click on a thumbnail to see the full version.
Your Comments