Panasonic Announces 3 Digital Cameras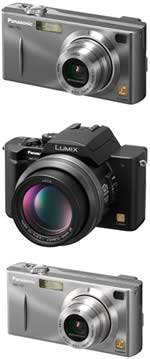 In addition to the DMC-FZ10 Lumix, Panasonic also announced two other new digital cameras yesterday. Here's the official press release from Panasonic for all 3 cameras:
Panasonic Press Release 02/10/03
Tokyo, Japan - Matsushita Electric Industrial Co., Ltd., (NYSE and PCX: MC) best known for its Panasonic-brand products, announced today it will launch three new models of digital still cameras. A high-end single-lens reflex camera DMC-FZ10 featuring a 12x super optical zoom and a four-megapixel CCD will be introduced in the Japanese market this month. A compact, easy-to-use and stylish DMC-FX5, with a 3x optical zoom and a four-megapixel CCD, and DMC-FX1, with a 3x optical zoom and three-megapixel CCD, will be introduced in November with no suggested retail prices. These three models incorporate Panasonic's MEGA Optical Image Stabilizer (MEGA O.I.S.). The company plans to ship the equivalent models to overseas markets.
"Digital still camera market is one of the fastest growing categories in Japan", said Shunzo Ushimaru, Director of Corporate Marketing Division for Panasonic Brand in Japan. "We estimate that total number of digital still camera shipment in Japan will be 8.1 million units, 15% growth from 2002, in the fiscal year 2003 ending March 2004. The rapid growth of digital still camera market is realized by the significant improvement of its picture quality which gets closer to that of film cameras. Panasonic also helps expanding the market with networking applications with a wide range of digital audio-video products such as TVs, DVD recorders and printers through SD Memory cards."
LUMIX is a line of digital still cameras that integrate the world-renowned optical technology of Leica Camera AG of Germany with Panasonic's advanced digital video technology. The three new models feature the enhanced performance newly developed Leica DC VARIO-ELMARIT lens and Panasonic's MEGA O.I.S. which suppresses jitter that is more conspicuous when shooting in telephoto position and shooting night scenery with slow shutter speed without using tripod. The DMC-FX5 and DMC-FX1 are the world's first 3x optical zoom compact digital cameras that are equipped with O.I.S.
These models also incorporate VENUS Engine, the digital signal processor developed by Panasonic which enhances the image quality, boosts the processing speed and shortens the interval time between shots down to less than one second. It also enables consecutive shooting to capture up to seven full-size images for DMC-FZ10 and DMC-FX5, eight full-size images for DMC-FX1 at the speed of four frames per second.
About Matsushita Electric Industrial Co., Ltd.
Matsushita Electric Industrial Co., Ltd., best known for its Panasonic brand name, is a worldwide leader in the development and manufacture of electronic products for a wide range of consumer, business, and industrial needs. Based in Osaka, Japan, the Company recorded consolidated sales of US$61.68 billion for the fiscal year ended March 31, 2003. Matsushita's shares are listed on the Tokyo, Osaka, Nagoya, Fukuoka, Sapporo, New York, Pacific, Euronext Amsterdam, Euronext Paris, Frankfurt and Dusseldorf stock exchanges. For more information, visit the Matsushita website at http://www.panasonic.co.jp/global/top.html