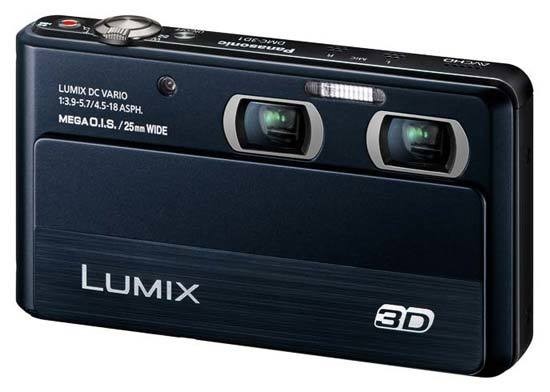 The Panasonic DMC-3D1 is the World's smallest 3D camera with a 2 lens design. Featuring twin 25mm lens units with 4x optical zoom, the Panasonic 3D1 can simultaneously record both high resolution 8-megapixel 3D photos and 1920 x 1080 3D HD video. The 3D1 also allows you to record photo or video at different angles of view simultaneously. The Panasonic DMC-3D1 will be available from December 2011.
Panasonic UK Press Release
Panasonic's Much Anticipated DMC-3D1 – The World's Smallest 3D Photo and 3D Video Camera with 2 Lens System
Industry leader Panasonic continues to push the boundaries with the introduction of the new cutting-edge DMC-3D1 camera that features a twin lens units of folded optics design – allowing users to record immersive high resolution 3D photos and 3D HD video. Contained within a compact and slim body, belying its technical stature, the 3D1 marks a new era of photography.
Looking at the Lenses
The DMC-3D1 incorporates two newly developed 25mm ultra wide angle lens units with 4x optical zoom (35mm camera equivalent: 25-100mm). The lenses incorporate folded optics, maintaining a slim, ultra compact design. The 25mm ultra-wide-angle lens gives photographers a wider range of composition possibilities with approx. 169% larger viewing space compared to that of 35mm camera.
Panasonic is well renowned for its attention to detail and the 3D1 is no exception with its stunningly compact size thanks to the miniaturization and placement of each component. Comprising of 11 elements in 10 groups with 5 aspherical lenses, the lens units in the DMC-3D1 is downsized in both total length and diameter. Components such as the new slim actuator for the shutter and iris control, and the redesigning of the O.I.S. lens further contribute to the downsizing to enable 2 whole lens units to be fitted in the slim, compact body of the camera.
Thanks to the new twin lens system, the DMC-3D1 can record both 3D photo and 3D videos in high resolution – 8-megapixel (photo) and 1920 x 1080(video) using the side-by-side method. Depending on their shooting preference, users can effortlessly select 3D or 2D shooting with the dedicated switch on the back. Panasonic's MEGA O.I.S. (Optical Image Stabilizer) suppresses handshake to record sharp photo and stable video. In addition, Macro photo shooting is also available.
3D photos and videos can be easily played back on a Panasonic VIERA 3D TV and Blu-ray Disc Player/Recorder that supports the AVCHD format. Simply insert the SD Memory Card containing the 3D content into the equipment, or alternatively, an optional HDMI cable can be used to output the image content directly to the TV for VIERA Link operation.  The camera is also compatible with other 3D enabled devices supporting these 3D file formats.
2D Dual Shooting with 2-Lens System
The advantages of the 2-lens system are further utilized in 2D image recording – allowing users to capture stunning, high resolution 2D photos while shooting 2D video simultaneously.
In conventional standard digital compact cameras, users have to put the priority in either photo or video recording. If photo is selected, the video is interrupted when the shooting modes switch, while photos cannot be recorded in high resolution when video is selected even when both are taken simultaneously.  The new 2-lens system in the DMC-3D1 resolves these problems completely thanks to having 2 independent lenses, and by capturing the image through 2 separate mechanisms.
Opening up a wealth of photographic opportunities, the lens structure allows users to record photo or video in different angles of view simultaneously. So you can record the whole scene with one lens while drawing near to a specific person with another. This outstanding function can be used not only with dual photo shooting but also for photo & video dual-shooting. It is easy to switch the lens - right or left – and control its zooming with the 3.5-inch large Smart Touch screen. This innovative new feature pushes the boundaries of photography – allowing users more photographic control. Perfect for shooting football games, weddings, children's parties and festivals for example – users can capture their loved one specifically whilst still capturing the entire scene and with creative editing an impression of a two camera shoot can also be made.
High Sensitivity MOS Sensor and Venus Engine for High Image Quality
The 12-megapixel High Sensitivity MOS sensor and the Venus Engine excel in image processing in both sensitivity and speed.  Multi-process Noise Reduction applies optimum noise reduction according to the brightness of each part of the picture.  Both high frequency noise that occurs in darker areas and low frequency noise in lighter parts are suppressed in real time.  As a result, images recorded in low lighting situations are now dramatically clear even at high ISO settings.
Designed to achieve best results, the 3D1 ensures bright, glamorous night scenery can be recorded without using a tripod.  The Intelligent Handheld Nightshot mode generates beautiful night scenery with illumination by multiplying and layering multiple images shot consecutively.
The Venus Engine has QUAD-CPUs for processing large amounts of 1920 x 1080 full HD data at high speed in either AVCHD or MP4 .  In addition, the DMC-3D1 boasts super fast consecutive shots at 8 fps (without auto focusing) and 4 fps (with auto focusing) in full resolution.  At the same time, the multi-task image-processing engine, the Venus Engine realizes a super-fast response time, enabling users to capture those spontaneous moments with ease.
You could be forgiven for thinking that the 3D1 with its high technical specification and 2 lens/sensor array would have a short battery life, but no, this had been addressed by optimising the energy consumption of the DMC-3D1's Venus Engine thereby maintaining the battery life as long as that of a single lens compact digital camera. So there's no need to stop snapping!
Share Those Shots
Catering for varying photographic ability, the DMC-3D1 has advanced functions for shooting exciting 3D and 2D image contents, yet is also easy to use and capture beautiful 2D photo and videos thanks to the iA (Intelligent Auto) mode.
The DMC-3D1 comes with a new way of communication by sharing photo or videos taken by users via LUMIX Image Uploader. All you have to do is checkmark the photos you want to share in the camera and connect it to a PC with an included USB cable or just by inserting the SD Memory Card into the slot of the PC. Uploading automatically starts just by following the guidance. You can add comments and let your friends know the update of your album via e-mail. Facebook can be used for photos and YouTube for videos. Users can join these social networking services without having to install special software. It is easy to share photo and videos on the spot, which means that your friends don't have to wait for you to come back home.
In the expanding world of 3D entertainment, the DMC-3D1 lets users enjoy LUMIX high quality images in both 3D and 2D by shooting, viewing and sharing them. Offering a new concept in photography with 2D dual shooting, and the simultaneous capture of different angles of view – the 3D1 is streets ahead.  The innovative new 3D1 will be available from December 2011.
Your Comments