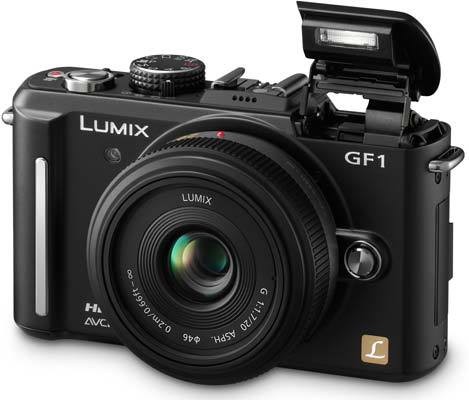 The new Panasonic DMC-GF1 is the world's smallest and lightest system camera with a built-in flash. Based on the Micro Four Thirds standard, the Panasonic GF1 weighs just 285g body-only and is 35% smaller than the DMC-G1. Standout features include the 12.1-megapixel Live MOS sensor, a built-in flash, 3 inch LCD with 460k dot resolution, Venus Engine HD image processor and in-built Dust Reduction system. The DMC-GF1 offers 8 artistic effects via the My Color mode, plus nine Film modes and 16 Scene modes, including a new Peripheral Defocus mode that keeps the subject in sharp focus while softening the focus around it. It can record 1280 x 720 high-definition video in the AVCHD Lite or Motion JPEG formats, and the GF1 can focus in 0.3 seconds via its contrast AF system. The Panasonic DMC-GF1 will be available in October. In the UK pricing is still to be announced. In the US the GF1 will ship in two kits, one with the new LUMIX G 20mm/F1.7 ASPH pancake lens, and the other with the existing 14-45mm/F3.5-5.6 ASPH/MEGA O.I.S. zoom lens, both priced at $900. An optional electronic external viewfinder is also available for $200.
Panasonic Press Release
The New Artistic Flat Design Camera DMC-GF1 From New-Generation System Camera Lumix G Micro System Featuring Creative Photography and HD Movie Recording
Panasonic has added a powerful new model DMC-GF1 to its LUMIX G Micro System lineup of new-generation digital interchangeable lens system cameras. Distinguished by an artistic flat body that is both elegant and compact, the new DMC-GF1 debuts as the world's smallest and lightest system camera with a built-in flash*. The new GF1 takes its place as the third model in the revolutionary G series of digital interchangeable lens system cameras based on the Micro Four Thirds system standard. Panasonic took the market by storm with the series' first model – the compact, lightweight DMC-G1, with its convenient size and brilliant image quality. The company broke more new ground when it launched the DMC-GH1, which added AVCHD full-HD movie recording.
The newest family member DMC-GF1 is sophisticated in form, offers an extensive function set, provides uncompromising performance, and delivers the ultimate in operating and shooting ease. The GF1 thoroughly optimizes the advantages of a system camera to assure outstanding image quality. It can record both vivid still shots and smooth, beautiful motion pictures. The GF1 features the advanced AVCHD Lite movie, which is ideal for recording extended HD movies and networking with other AV devices, and it can also record in the Motion JPEG format, which offers wide compatibility with PCs.
As the "artistic flat" body description suggests, the slim GF1 puts a palette of creative possibilities in the user's hands. When shooting either still photos or movies, for example, users can select from several preset filters in My Color mode or apply a range of unique textures available in Film mode.
In addition to a host of beginner-friendly shooting assisting functions, such as LUMIX's popular iA (Intelligent Auto) mode, the DMC-GF1 also comes with unique functions including exposure meter, aperture preview and shutter speed preview through the live view. A number of accessories, starting with the Live View Finder which provides full-time live view, makes photography more fun while expanding the user's artistic capabilities.
With its unlimited possibilities and choice of four attractive body colors, the easy-to-carry GF1 will please users of every level. Experienced photographers will find the GF1 an ideal everyday camera in the bag anytime and those new to system cameras will find that it gives them the potential to explore realms of photography far beyond the limits of compact cameras.
*For a system camera with a built-in flash as of September 2, 2009
1. The world's smallest and lightest digital interchangeable lens camera with built-in flash in an artistic flat design*
The GF1 does away with the pentaprism found on other standard interchangeable lens cameras. This mirror-less structure helped Panasonic achieve a neo-classic body design that dramatically reduces both size and weight. Designed for maximum thinness, the GF1 reduced 35% in the volume and 26% in the weight of the DMC-G1, up until now the most compact G model.
While the GF1 is small in size, it does not compromise on functions. It comes equipped with a built-in flash. It boasts a large, 3.0-inch Intelligent LCD with a wide viewing angle and full 460,000-dot resolution. Users enjoy vivid, exceptionally detailed images both when shooting and when viewing the results. The Intelligent LCD also offers extremely fine, automatic backlight control, which combines with the high resolution to assure outstanding viewing in everything from sunny outdoor conditions to dim indoor situations. The GF1 is compatible with an optional Live View Finder(DMW-LVF1), which provides the full-time live view function boasting 100% field of view regardless of the lens to attach.
Panasonic paid meticulous attention to operating ease when designing the GF1. The drive mode lever and rotary/click dial are considerately placed for operation with minimal finger movement. The precise button placement and simple, logical menu interface work together to make operation easy and intuitive.
LUMIX G Micro System cameras come in a choice of body colors: true black, active red, sleek silver, and clean white. With other body parts crafted of finely textured aluminum, G series cameras have a high-quality appearance to be attractive while it is exceptionally practical design. The DMC-GF1 is absolutely the camera that gives every photographer a pleasure to own.
*For a system camera with a built-in flash as of September 2, 2009
2. High image quality as an interchangeable lens system camera
While achieving breakthroughs in advanced functions and compactness of design, Panasonic also refined its comprehensive digital imaging technologies for every cameras of LUMIX G Micro System to raise the level of image quality that rivals or even surpasses D-SLR cameras. The 4/3-type 12.1-megapixel Live MOS sensor featured in the DMC-GF1 offers the best of both worlds - the superior image quality of a CCD sensor, and the lower power consumption of a CMOS sensor. Advanced technology that makes it possible to read 4 channels of data simultaneously also helps the GF1 deliver 60 frames-per-second Full-time Live View images, while faithfully reproducing high-resolution images with fine detail and rich gradation.
For the image processing LSI, the new Venus Engine HD features exceptionally advanced signal processing capabilities. This sophisticated LSI separates chromatic noise from luminance noise and applies the optimal noise reduction to each, so you capture clear and beautiful images even when shooting at high ISO sensitivity levels. The Venus Engine HD also provides independent gradation control for each of the R, G and B colors, so even delicate color nuances are reproduced faithfully. Linking smoothly with the Live MOS sensor, the Venus Engine HD records stunning high-resolution 12-megapixel images with exceptional accuracy. Signals containing a large amount of image data are sent from the Live MOS sensor to the optional Live View Finder at 60 fps, resulting in clear, smooth live view. The Venus Engine HD also supports an extensive range of functions, including HDMI output.
Cameras of Lumix G Micro System are equipped with highly efficient Dust Reduction system, If dust or other foreign matter gets inside the camera when you're changing lenses, it could cling to the image sensor and show up as a spot in your photos. The Dust Reduction System in the GF1 helps eliminate this possibility by placing a supersonic wave filter in front of the Live MOS sensor. Vibrating vertically around 50,000 times per second, the filter repels dust and other particles effectively.?
3. A pallet of options to stimulate photographers' creativity
The DMC-GF1 is artistic not only in form, but also in function. It provides an array of features that let users either capture precisely true-to-life images or create their own beautifully expressive images. The GF1 newly features My Color mode with a total of seven preset effects – Expressive, Retro, Pure, Elegant, Monochrome, Dynamic Art, and Silhouette while inheriting the previous Custom mode, which lets users manually set the color, brightness and saturation levels. With the Live View function, users can see how these settings will affect the photo before they shoot, making it easier to capture the exact mood or atmosphere desired. For even more elaborate effects, users can choose from a total of nine Film modes, and set the contrast, sharpness and saturation levels for each. A custom function lets users store their favorite settings in memory. The GF1 also provides a total of 16 Scene modes, including a new Peripheral Defocus mode that keeps the subject in sharp focus while gently softening the focus around it. These modes can be used when shooting motion images too, letting users create movies with dramatic, theatrical effects without having to edit after they shoot. 
The exposure meter can be displayed in the P/A/S/M shooting modes. The correlation between shutter speed and aperture is shown, with a color-coded warning that alerts users when the settings are not in the proper range. For newcomers to system camera photography, this makes it easy to learn proper settings both visually and logically, enhancing their photography skills.
4. Take motion picture recording to the next-level with new generation AVCHD Lite
The DMC-GF1 can record 1280 x 720 high-definition motion picture in AVCHD Lite that features long recording time and high compatibility with audio-visual equipments. Users can enjoy recording HD motion images taking maximum advantage of lens' descriptiveness and interchangeability or the large sensor size. The action starts at a single press of a dedicated button on the top while most of the settings for photo recording are succeeded, which is convenient when you record the same subject at the same situation in both photo and movie. HD Motion JPEG in 1280 x 720 can also be selected as an alternative movie recording format in addition to QVGA, VGA and WVGA, which is more compatible with PCs.
Even video beginner can record excellent movies with DMC-GF1 because the popular iA (Intelligent Auto) is also available motion image recording. Optical Image Stabilizer (O.I.S.) helps prevent handshake when using high-powered zoom. Face Detection automatically detects a face in the frame and adjusts focus, exposure, contrast, and skin complexion on it so it always turns out beautifully. Intelligent Exposure continually checks the ambient light level and adjusts the exposure setting as conditions change to prevent blown highlights and blocked shadows. And Intelligent Scene Selector automatically switches between Normal, Portrait, Macro, Scenery, and Low Light modes according to the situation to optimize visual quality.
The GF1 also provides a color mode, film mode and carries over 11 different scene modes from photo scene modes in movie recording. Motion picture Program mode that lets you change the aperture for more creative HD movie recording. You can try professional-like movie recording with these variety of options like you do with photo recording.
In AVCHD Lite recording, you can select from three levels of motion image quality: SH (17 Mbps), H (13 Mbps) and L (9 Mbps). A Wind Cut function is also available to block out most of the noise from background wind.
•Some functions may not be available depending on the lens that is mounted.
•When you set the picture quality to HD, WVGA or VGA, we recommend using a high-speed card with "10MB/s" or greater displayed on the package.
•Motion pictures can be recorded continuously for up to 29 minutes 59 seconds in some countries.
•Continuous recording exceeding 2GB is not possible when recording motion JPEG. Remaining time for continuous recording is displayed on the screen.
•AVCHD Lite motion images recorded onto an SD Memory Card or a DVD disc cannot be played from a device that does not support the AVCHD standard.
5. Contrast AF system to realize advanced functions
The contrast AF system adopted in the DMC-GF1 features not only the accuracy but also the industry's fastest level of high-speed, (e.g. Approx. 0.3 sec with a Lumix G standard zoom lens H-FS014045.) There are more reason to employ contrast AF for its focusing system to realize the full-time live view and a lot of advanced functions
Users can choose from a wide range of AF modes, including multiple-area AF with up to 23 focus areas, 1-area AF with a selectable focus area, Face Detection, and AF Tracking. In the 1-area AF mode, the AF frame size can be changed by simply turning a dial. The GF1 also has a Quick AF function that begins focusing as soon as the user aims the camera - no waiting for him or her to press the shutter button halfway. This provides a quicker focusing that can help capture the subject before the crucial moment passes. Continuous AF keeps the subject in focus at all times. With the GF1's many auto focus modes, there's an option that's just right for any shooting situation.
*Lenses that are not compatible with the contrast AF function can be used with manual focusing.
*There are some limitations to other functions depending on the lens to attach.
6. Great photography is not only from a professional photographer - iA(Intelligent Auto)mode
The DMC-GF1 has advanced functions that will satisfy experienced photographers, yet is easy enough for beginners to use comfortably. It's ideal for compact camera owners who want to step up to higher-quality photos – but without having to carry a bulky, heavy camera. Panasonic achieved this superb ease of use by continuing to improve iA mode – with its shooting assist functions that have proven extremely popular in LUMIX compact cameras – and adding it to the LUMIX G Micro System's advanced imaging technologies.
With the Face Recognition* function, up to six people's faces can be registered, and up to three can be simultaneously recognized to show their names once registered. Three face images can be registered for each person, to dramatically raise the detection accuracy. Once completed, if the familiar face appears into your frame again, the camera will display the name you specified for the person and prioritize focus and exposure so that the registered face is bright and in sharp focus. You can also specify the age of the registered subject and have both the name and the age of the subject stamped onto your photos. In playback, you can choose to display only photos that contain a specific registered face using Category Playback. You can also view image slideshows of only a selected person. Face recognition makes sorting and archiving incredibly easy. This advanced face detection system also digitally corrects unwanted red-eye during recording.
With AF Tracking, the GF1 can lock onto any subject and keep it in focus even if it moves - making it easy to get beautiful, clear shots when a great photo opportunity suddenly arises. Simply aim, lock, and shoot.
In addition to the advanced functions mentioned above, the iA mode inherits fundamental functions users need in a good digital still camera. These include MEGA O.I.S., which helps prevent blurring from hand-shake, and Intelligent ISO Control, which reduces motion blur by adjusting the ISO sensitivity if the subject moves as the shot is taken. Intelligent Exposure optimizes the exposure for each part of an image, preventing blocked shadows and blown highlights and helping ensure that gradation and details are reproduced beautifully. It now features an automatic backlight compensation function that activates whenever the camera detects the subject is in backlight. Intelligent Scene Selector automatically detects the four most common shooting situations - Portrait, Scenery, Close-up and Low-light - and switches to the appropriate Scene mode.
The user can activate all of these useful, convenient shooting-assist functions by simply selecting iA mode.
*Turn Face Recognition item ON and register the person with full-face portrait on the shooting menu in advance. Refer to back page for detail.
•Some functions in iA mode may not be available depending on the lens that is mounted.
7. Rich options for expandability
The Micro Four Thirds System products are joining today's Four Thirds System products to provide customers with even higher levels of performance in a digital interchangeable lens camera. In addition to LUMIX G lenses, the LUMIX DMC-GF1 and LUMIX G Micro System can use any interchangeable lens that complies with the Four Thirds standard via an optional mount adaptor DMW-MA1 and with the prestigious Leica M/R Lenses via DMW-MA2M or MA3R. This gives the user access to the unlimited number of lens properties.
With the LUMIX G Micro System and the growing assortment of lenses becoming available, the expressive possibilities are unlimited. The LUMIX DMC-GF1 system camera offers a wide variety of options to choose from to match every shooting situation and shooting style. Notably, the hot shoe on the top lets you attach the optional tilt-shift Live View Finder (DMW-LVF1) of 1.04x (0.52x*), 202,000-dot, 100% field of view.
*35 mm camera equivalent.
•Some functions on the DMC-GF1 are not available depending on the lens that is mounted.
Live View Finder: DMW-LVF1 NEW
External Flash: DMW-FL220(GN22) / DMW-FL360(GN36) / DMW-FL500(GN50)
PL Filter: DMW-LPL46
ND Filter: DMW-LND46
MC Protector: DMW-LMC46
Mount Adapter: DMW-MA1, DMW-MA2M, DMW-MA3R
Battery Pack: DMW-BLB13
DC Cable: DMW-DCC3
Remote Shutter: DMW-RSL1
Leather Lens Case(for GF1 with 20mm lens): DMW-CGL1 NEW
Leather Lens Case(for GF1 with 14-45mm lens): DMW-CGL2 NEW
Soft Case: DMW-CG3 NEW
Leather Body Case: DMW-CGB1
Soft Bag: DMW-BAG1, DMW-BAL1
Shoulder Strap (Stylish): DMW-SSTG1-A/C/R/K
Shoulder Strap (Woven): DMW-SSTG2-W
Shoulder Strap (Leather): DMW-SSTG3-T
Shoulder Strap (Leather): DMW-SSTL1
•Some accessories are not available in some countries.
8. HD photos and HD movies with VIERA Link networking
Both still images and motion images in AVCHD Lite recorded on SD Memory Cards are easy to view on a Panasonic VIERA TV with dynamic HD resolution. The user simply inserts the card into the VIERA Image Viewer (SDHC/SD card slot) on a VIERA TV or DIGA Blu-ray Disc Player to play the content. Alternatively, an optional mini HDMI cable can be used to output still and motion images recorded with the LUMIX DMC-GF1 directly to the TV for easy VIERA Link operation. This makes it possible to take maximum advantage of the camera's playback functions, including slideshows in which both still and motion images are played sequentially, or calendar displays and so on. All control is possible using only the TV's remote control.
In addition, with the included software PHOTOfunSTUDIO 4.0 HD Edition, it is easy to view and edit your recorded contents. You may also choose to upload your videos to YouTube or burn them to a DVD disc for archiving.
9. About Included Software PHOTOfunSTUDIO 4.0 HD Edition
The latest version of the exciting bundled software PHOTOfunSTUDIO 4.0 HD Edition allows you to view, edit and archive your captured contents with greater ease and fun. The new PHOTOfunSTUDIO 4.0 HD Edition features dramatic speed-up of operation by achieving 10x as fast as the previous edition for start up and 8x for initial image registration process*1. The GUI is re-designed by adopting simple graphic elements and layouts as well as the incorporation of wizard method, making the operation more intuitive and extremely easy.
Still and motion images can be transferred to the PC via a USB cable for viewing and archiving on the PC with the PHOTOfunSTUDIO 4.0 HD Edition installed. Using PHOTOfunSTUDIO 4.0 HD Edition, you can edit and remove unwanted portions of your video clips recorded in AVCHD Lite. Contents recorded in AVCHD Lite can be burned directly onto a DVD for viewing on a Blu-ray Disc player*2. Alternatively, you can use the software to convert your contents to MPEG2 format to burn onto a DVD.
The portrait images taken with the camera's Face Recognition function are organized neatly in the folder of the name registered with the camera. Not only that, the software also features an independent Face Recognition function that recognizes the faces in the picture stored in your PC to sort the photos by the face speedily. You do not have to pick out each photo one by one out of thousands of photos when you only want pictures of a specific person. With PHOTOfunSTUDIO 4.0 HD Edition, the software automatically sorts your images into virtual folders based on the faces you registered. You can also enjoy slideshows with a variety of effects and use your iTunes music library as background music. Motion pictures can be uploaded directly to YouTube using the built-in YouTube uploader.
*1Panasonic in-house comparison. The speed may vary depending on the specifications of PC and the number of images stored in the PC and other condition.
*2AVCHD Lite motion images recorded onto an SD Memory Card or a DVD cannot be played on a device that does not support the AVCHD standard.
•YouTube is a trademark of Google Inc.
DMC-GF1 Specifications
K-Black, R-Red, S-Silver, W-White
*Availability of color varies depending on the sales area.
TYPE Type Digital interchangeable lens system camera
Recording media SD memory card, SDHC memory card
Image sensor size 17.3 x 13.0 mm (in 4:3 aspect ratio)
Lens mount Micro Four Thirds mount
IMAGE SENSOR Type Live MOS Sensor
Total pixels 13.1 Megapixels
Camera effective pixels 12.1 Megapixels
Color filter Primary color filter
Dust reduction system Supersonic wave filter
RECORDING SYSTEM Recording file format Still Image: JPEG(DCF, Exif 2.21), RAW, DPOF compatible
Still Image with Audio: JPEG(DCF, Exif 2.21) + QuickTime
Motion Image: AVCHD Lite / QuickTime Motion JPEG
Aspect ratio 4:3, 3:2, 16:9, 1:1
Image quality RAW, RAW+Fine, RAW+Standard, Fine, Standard
Color space sRGB, Adobe RGB
File size(Pixels) Still Image [4:3] 4000 x 3000(L), 2816 x 2112(M), 2048 x 1536(S)
[3:2] 4000 x 2672(L), 2816 x 1880(M), 2048 x 1360(S)
[16:9] 4000 x 2248(L), 2816 x 1584(M), 1920 x 1080(S)
[1:1] 2992 x 2992(L), 2112 x 2112(M), 1504 x 1504(S)
Motion Image Motion JPEG [4:3] QVGA : 320 x 240, 30fps / VGA : 640 x 480, 30fps
[16:9] WVGA : 848 x 480, 30fps
[HD] 1280 x 720, 30fps
AVCHD Lite NTSC [HD] 1280 x 720, 60p (sensor output is 30fps)(SH: 17Mbps, H: 13Mbps, L: 9Mbps)
PAL [HD] 1280 x 720, 50p (sensor output is 25fps)(SH: 17Mbps, H: 13Mbps, L: 9Mbps)
Continuous recordable time (Motion images) AVCHD Lite with picture quality set to [SH]: Approx. 210 min with H-H020 / Approx. 170 min with H-FS014045
Motion JPEG with picture quality set to [HD]: Approx. 210 min with H-H020 / Approx. 170 min with H-FS014045
Actual recordable time (Motion images) AVCHD Lite with picture quality set to [SH]: Approx. 110 min with H-H020 / Approx. 100 min with H-FS014045
Motion JPEG with picture quality set to [HD]: Approx. 110 min with H-H020 / Approx. 100 min with H-FS014045
FOCUS Type Contrast AF system
Focus mode AFS/AFC/MF
AF mode Face detection / AF Tracking / 23-area-focusing / 1-area-focusing
AF detective range EV 0-18 (F3.5 lens, ISO 100)
AF assist lamp YES
AF lock AF/AE LOCK button or Shutter button halfway pressed in AFs mode
Others Pre AF(Quick AF/Continuous AF),AF+MF, MF Assist(5x, 10x)
EXPOSURE CONTROL Light metering system 144-zone multi-pattern sensing system
Light metering mode Intelligent Multiple/Center Weighted/Spot
Metering range EV 0-18 (F2.0 lens, ISO 100)
Exposure mode Program AE, Aperture Priority AE, Shutter Priority AE, Manual
ISO sensitivity (Standard Output Sensitivity) Auto / 100 / 200 / 400 / 800 / 1600 / 3200 / Intelligent ISO
Exposure compensation 1/3EV Step ±3EV
AE lock AF/AE LOCK button or Shutter button halfway pressed
AE bracket 3,5,7 frame, in 1/3 or 2/3 EV Step, ±2 EV
WHITE BALANCE White balance Auto / Daylight / Cloudy / Shade / Halogen / Flash / White Set 1,2 / Color temperature setting
White balance adjustment Blue/amber bias, Magenta/green bias
Color temperature setting 2500-10000K in 100K
White balance bracket 3 exposures in blue/amber axis or in magenta/green axis
SHUTTER Type Focal-plane shutter
Shutter speed Still Images: 1/4000 ~ 60 and Bulb (up to approx. 4minutes)
Self timer 2sec / 10sec / 10sec, 3 images
Remote control Remote control with bulb function by DMW-RSL1 (Optional)
SCENE MODE Still Image SCN mode Portrait/Soft Skin/Scenery/Architecture/Sports/Peripheral Defocus/Flower/Food/Objects/Night Portrait/Night Scenery/Illuminations/Baby 1,2/Pet/Party/Sunset
Movie SCN mode Portrait/Soft Skin/Scenery/Architecture/Sports/Flower/Food/Objects/Low Light/Party/Sunset
(Activated by selecting Still Image SCN mode then pressing Movie Button. Still Image SCN modes without corresponding Movie SCN mode is recorded in Normal mode or other related mode.)
MY COLOR MODE My Color Mode Expressive/Retro/Pure/Elegant/Monochrome/Dynamic Art/Silhouette/Custom(Color/Brightness/Saturation/ adjustable)
BURST SHOOTING Burst speed 3 frames/sec (High speed) or 2 frames/sec (Low speed)
Number of recordable images 7 images (when there are RAW files with the particular speed)
Unlimited consecutive shooting (when there are no RAW files)
(depending on memory card size, battery power, picture size, and compression)


BUILT-IN-FLASH Type TTL Built-in-Flash, GN6.0 equivalent (ISO 100 ?m), Built-in Pop-up
Flash mode Auto, Auto/Red-eye Reduction, Forced On, Forced On/Red-eye Reduction,
Slow Sync., Slow Sync./Red-eye Reduction, Forced Off

Synchronization speed Less than 1/160 second
Flash output adjustment 1/3EV Step ±2EV
Flash synchronization 1st. Curtain Sync, 2nd Curtain Sync.
Hot shoe TTL Auto with FL220/FL360/FL500(Optional)
LCD MONITOR Type Low temperature Polycrystalline TFT LCD
Monitor size 3.0inch / 3:2 Aspect / Wide viewing angle
Pixels 460K dots
Field of view Approx. 100%
Monitor adjustment Brightness (7 levels), Color (7 levels)
LCD mode Off / Auto Power LCD / Power LCD
LIVE VIEW Digital zoom 2x, 4x
Extra optical zoom Max.2x
(Not effective with L size recording. Magnification ratio depends on the recording pixels and aspect ratio.)
Other functions Guide Lines (3 patterns)
Real-time Histogram
FILM MODE Color Standard / Dynamic / Nature / Smooth / Nostalgic / Vibrant
Black and white Standard / Dynamic / Smooth
Others My Film1 / My Film2 / Multi Film
PLAYBACK Playback mode Normal playback, 30-thumbnail display, 12-thumbnail display, Calendar display, Zoomed playback (16x Max.), Slideshow, Playback Mode (Normal/Picture/AVCHD Lite/Motion JPEG/Category/Favorite), Title Edit, Text Stamp, Resize, Trimming, Aspect Conversion, Rotate, Rotate Display, Print Set, Protect, Audio Dubbing
IMAGE PROTECTION / ERASE Protection Single / Multi or Cancel
Erase Single / Multi / All / Except Favorite
PRINT Direct print PictBridge compatible?Print size, Layout, Date setting is selectable ?
INTERFACE USB USB 2.0 High Speed
HDMI miniHDMI TypeC
Video: Auto / 1080i / 720p / 480p (576p in PAL system)
Audio: Dolby® Digital Creator
Audio video output Monaural Type, NTSC/PAL, NTSC only for North America
*Check the website of the Panasonic sales company in your country or region for details on the products that are available in your market.
Remote ?2.5mm.
Built-in microphone Monaural, Wind-cut: Off / Low / Standard / High
External microphone terminal NO
Speaker YES
LANGUAGE OSD language English,German,French,Italian,Spanish,Polish,Czech,Hungarian,Russian,Chinese(Traditional),Chinese(Simplified),Dutch,Thai,Korean,Turkish,Portuguese,Arabic,Persian,Japanese,Swedish,Danish,Finnish
*Check the website of the Panasonic sales company in your country or region for details on the OSD languages on the products that are available in your market.
POWER Battery ID-Security Li-ion Battery Pack (7.2V, 1250mAh)  (Included)
Battery Charger/AC Adapter (Input: 110-240V AC, DC Cable is required)

Battery life CIPA Standard* :
Approx. 380 images(LCD), Approx. 430 images(optional LVF) with H-H020        
Approx. 350 images(LCD), Approx. 400 images(optional LVF) with H-FS014045
DIMENSIONS / WEIGHT Dimensions (W x H x D) 119 x 71 x 36.3mm / 4.69 x 2.80 x 1.43 in
Weight Approx. 285g / 10.05 oz ?Body only?
OPERATING ENVIRONMENT Operating temperature 0? to 40? (32°F to 104°F)
Operating humidity 10% to 80?
STANDARD ACCESSORIES Software PHOTOfunSTUDIO 4.0 HD Edition
SILKYPIX® Developer Studio 3.0 SE
USB Driver


Standard accessories Battery Charger/AC Adapter, Battery Pack, Body Cap,
AV Cable, USB Connection Cable, AC Cable, Shoulder Strap, CD-ROM

*Shooting conditions: 23°C with 50% humidity; LCD on; Using a Panasonic SD Memory Card (512MB); Using the supplied battery; Using the supplied lens; Starting recording 30 seconds after the camera is turned on (When the optical image stabilizer is set to [Mode1]); Recording once every 30 seconds with full fl ash every second recording; Turning the camera off every 10 recordings; The number of recordable images decreases in Auto Power LCD mode or Power LCD mode. CIPA is an abbreviation of "Camera & Imaging Products Association".
•Four Thirds and Micro Four Thirds, and Four Thirds and Micro Four Thirds Logo marks are trademarks or registered trademarks of Olympus Imaging Corporation, in Japan, the United States, the European Union and other countries.
•The "AVCHD" is a high definition (HD) digital video recording / playback format jointly established by Panasonic Corporation and Sony Corporation. The "AVCHD Lite" is a subset of the "AVCHD format" for HD digital video cameras with HD video recording restricted to 720P. The new "AVCHD Lite" Logo and the "AVCHD Lite" License are restricted to devices within the AVCHD Video Camera category. Digital cameras have been added to the AVCHD Video Camera category.
•The "AVCHD Lite" and the "AVCHD Lite" logo are trademarks of Panasonic Corporation and Sony Corporation.
•AVCHD Lite motion images recorded onto an SD Memory Card or a DVD disc cannot be played from a device that does not support the AVCHD standard.
•Lenses other than LUMIX G lenses cannot use the AF Tracking, AFc (Auto Focus Continuous) or Continuous AF functions. Also, when a lens that does not support the Contrast AF function is mounted, operation will automatically switch to manual focus. Confirm the operation information of compatible lenses at Customer support http://panasonic.jp/support/global/cs/dsc (English).
•The SDHC Memory Card can be used only if the SDHC logo is indicated on the equipment or in the operation manual. It cannot be used with equipment that supports only the SD Memory Card.
•Some functions may not work when lenses other than the included lens are used. Please refer to Panasonic's website etc., for the latest information.
•The use of recorded or printed materials that are protected by copyright for any purpose other than personal enjoyment is prohibited, as it would infringe upon the rights of the copyright holder.
•Weight and dimensions shown are approximate.
•Design, functions, and specifications are subject to change without notice.
Image Gallery
Click on a thumbnail to see the full version.
Your Comments