Panasonic DMC-FX7 Review at Globetechnology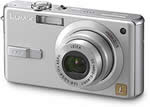 Globetechnology have published a review of the new 5 megapixel Panasonic DMC-FX7.
"It seems natural to want to use ultracompacts with one hand, and some designs are more amenable to that than others. The FX7 is a middling performer in that regard. I found the little chrome badge on the front was placed a little too high to be effective as a finger stop, plus it's a little too easy to accidentally move the function thumb wheel when gripping the camera. It might have been better to move the thumb wheel — which apart from the position is a very functional design — to the edge, since you have to shift away from shooting position and look down at the top of the camera to see the icons anyway."
Thanks to Sanj for the link.
Website: Globetechnology - Panasonic DMC-FX7 Ultra Zoom Review
Check the Latest Prices for the Panasonic DMC-FX7 Ultra Zoom