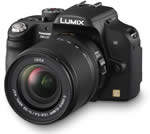 The Panasonic DMC-L10 is a new 10.1 megapixel DSLR camera with a unique 2.5 inch free angle LCD screen complete with full time live view. The successor to the L1, the Panasonic L10 is a Four Thirds System camera that's available either body only or in a kit with the new Leica 14-50mm f/3.8-5.6 lens. Other standout features offered by the Panasonic DMC-L10 include Face Detection (up to 15 human faces can be detected simultaneously), Intelligent ISO Control, nine film modes which replicate analog film styles, and the Supersonic Wave Filter system to remove dust from the sensor. The Panasonic L10 will be available from October 2007.
I'm attending the Panasonic press conference at the IFA show in Berlin, Germany right now. Plus I've been given the unique opportunity to use the DMC-L10 on a shooting tour later today, so expect some exclusive product shots and a hands-on report to follow.
Update 1 - The L10 uses a newly developed Panasonic sensor, not the Olympus E-410 sensor that has been mistakenly reported elsewhere (source: Panasonic spokesperson, IFA press conference).
Update 2 - The UK price of the Panasonic L10 with the Leica 14-50mm kit lens has now been confirmed as £899.99. The US price is $1300.
Panasonic Press Release
Panasonic's New DMC-L10 Digital SLR
Featuring a 2.5-inch Large Free- Angle LCD for Full-time Live View
Panasonic, a leader in digital technology, is delighted to announce the launch of their second digital single-lens reflex camera (SLR) – the DMC-L10 with an interchangeable LEICA lens. The DMC-L10 features an advanced 2.5-inch free angle LCD for full time live view that offers 270 degree rotation and a versatile shooting style.  A 10.1-megapixel Live MOS Sensor provides beautiful images with delicate gradation and wide dynamic range.  Dust reduction with a Supersonic Wave Filter system prevents dust from attaching to the sensor to degrade the pictures. The superb image processor, Venus Engine III, boasts high quality image rendering and a high speed response.
Four Thirds System – Developed Exclusively for digital SLR
The DMC-L10 adopts the open format of the Four Thirds system for its lens mount – so the L10 can be used with lenses made by a variety of manufacturers, giving users a host of equipment options.  Drawing on leading technologies while defying any stereotype ideas in SLR cameras, Panasonic's DMC-L10 is designed to help you make the most of your photographic creativity. 
One of the DMC-L10's real talking points is the LEICA D VARIO-ELMAR 14-50mm / F3.8-5.6 / MEGA O.I.S. lens.  Sold as a complete kit – the combination of the world renowned Leica lens, with Panasonic's excellence in digital photography – makes an impressive proposition.
Full-time Live View for a New Digital SLR Shooting Style
The full-time live view function on the LCD proposes a dramatic change in the shooting style of digital SLR cameras. The DMC-L10's 2.5-inch large LCD offers 270 degree rotation and a versatile shooting style even in situations when looking into the viewfinder is not easy – so you don't need to get down on bended knee, or lie flat on the ground – you can see the subject even while holding the camera up high.  This free angle LCD also features an Intelligent LCD function that offers an automatic brightness level control function according to the light condition, under the strong sunlight or in darkness, to secure clear view anytime.
The full-time live view gives users more shooting flexibility and greater convenience not previously achieved by conventional digital SLR cameras without live view capability. Not one to rest on its laurels, Panasonic introduces another first for a digital SLR camera by incorporating a Face Detection and Intelligent ISO Control function.  The face detection system detects human faces (up to 15 human faces can be detected simultaneously) and sets a focus and appropriate exposure to capture a face clearly and beautifully lit.  The Intelligent ISO Control function detects and meters the movement of the subject and sets the suitable ISO setting and the shutter speed according to the amount of the movement to suppress the generation of motion-blur in the picture.
The live view enables the user to check the outcome image in advance after compensating the exposure or adjusting the white balance.  The white balance can be adjusted in the area of two-axis of coordinates precisely.  Furthermore, the DMC-L10 provides options of picture taste with a function called Film Mode.  Each analog film has its characteristics, for example colour, contrast, gradation and these effect the outcome of the picture, they are ways of expression.  With the DMC-L10, the Film Mode allows you to choose the one that takes the best advantage of the scene or the subject you take out of a total of nine film modes including Standard, Dynamic, Nature, Smooth, Nostalgic, Vibrant, Standard B/W, Dynamic B/W and Smooth B/W, with the capability of fine adjustment of contrast, sharpness, saturation and noise reduction.  All these settings can be confirmed before you take the picture.
Users can also change the aspect ratio (4:3, 3:2 and 16:9) according to the situation.  As a leader in the flat panel market, Panasonic has been proposing further enjoyment of photography, by viewing the dynamic photos you take in HD (high-definition) 1920 x 1080 resolution image size on 16:9 wide screens.
In conventional digital SLR cameras, the live image could be seen only through the view finder and the LCD existed just for the playback of images once taken.  But with the DMC-L10, any trials of setting, adjustment and effect can be checked beforehand, ensuring the picture will be just as the user intended.
A Fusion of Technologies – Advanced Hybrid AF System
Not only has Panasonic included a live view function on the new SLR – the DMC-L10 also adopts an advanced hybrid-type AF system – a first in any digital SLR.  A TTL phase difference detection system works for shooting through a viewfinder while contrast AF system best supports the shooting using the live view.  This is also the case with AE.  A high speed, high precision TTL full aperture light metering by 49 zones multi-pattern sensing system is available for shooting through the viewfinder. For shooting with live view, exposure can be metered and set using the Live MOS sensor for light metering to take the whole picture information and evaluate it by 256 zones multi-pattern sensing system to give a well-balanced exposure as a whole image.
To match the shooting situation and subject's position, the user can select from six auto-focusing methods: Face Detection, 9-point, Multi, 3-point, 1-point and Spot.  With the 1-point AF or spot AF method, the auto-focusing area can be chosen from as many as 11 points.  Various group area patterns can also be selected in the new Multi method.
For your convenience, in manual focus, you can enlarge the specific part of the subject on the LCD and also freely move the magnified area for easy framing, which is especially useful when using a tripod.
The New 10.1-Megapixel Live MOS Sensor and the Venus Engine III for Superior Picture Quality
The Live MOS sensor used in the DMC-L10 provides beautiful images with delicate gradation and wide dynamic range that only a CCD image sensor can provide while achieving low energy consumption which is a feature of CMOS sensors.  By incorporating the 2.2?m pixel technology, Panasonic is first in the industry to succeed in the mass production of a miniaturized circuit that sustains the same light receiving area as the sensor of 7.5-megapixel. In addition, the efficiency of light reception is raised at the same time, to keep the sensitivity as high as that of 7.5-megapixel despite the decreased pixel area. Also, photodiodes embedded deeply in the silicon layer create a structure that suppresses noise generated on the substrate surface. As a result, the white-spot pixel defects and textual roughness that often characterize images captured in shooting at higher ISO are minimized thanks to the incorporation of newly developed noise reduction circuit, so the pictures are clear and beautiful.
The Venus Engine III is an image processing LSI developed by Panasonic to maximise the performance of the Leica D lens and Live MOS sensor. This advanced LSI not only helps reproduce images with outstanding resolution, superior colour and detailed gradation, it also distinguishes chromatic noise from luminance noise and selectively reduces the chromatic noise, one of the chief sources of image quality problems. This helps the DMC-L10 deliver the superb image rendering one expects from a quality SLR camera.
Dust Reduction System
One of the most critical issues with digital SLR cameras with interchangeable lenses is the possibility of dust entering the camera body during lens changes. This dust can adhere to the image sensor and show up as spots on photos.  Panasonic has solved this problem by equipping the DMC-L10 with a Supersonic Wave Filter system that uses supersonic vibration to shake off any dust clinging to the sensor. This simplifies camera maintenance and eliminates worries about dust entering the camera body when lenses are being changed outdoors or the dust that may be generated by the movement of mirror or shutter, so users can enjoy themselves and simply concentrate on shooting.
Inherently User Friendly
Panasonic drew on its cutting-edge lens technology to invent Mega O.I.S. (Optical Image Stabiliser), a system that prevents blurring from shaky hands and has been incorporated in all Lumix compact cameras. This high-precision image stabilising lens system is now incorporated into the LEICA D VARIO-ELMAR 14-50mm/F3.8-5.6/MEGA O.I.S.  With Mega O.I.S., it is easier than ever to capture clear, sharp, beautiful images when shooting indoor portraits, illuminated night scenes or even the scenery you see from a train window.  Another problem is the motion blur that can occur when a subject moves as the shot is being snapped but the DMC-L10 detects whether or not the subject is moving with the Intelligent ISO Control function. 
A total of nine scene modes also support the pursuit of usability for any photographer to enjoy taking beautiful pictures with ease, while more advanced photographers can make finer adjustments with the Advanced Scene Mode and with frequently-used Portrait, Sports, Landscape and Night portrait being directly activated via the mode dial.  Select the Portrait or Sports mode and you'll have further options to define whether it is in outdoor or indoor.  Selecting Landscape mode gives you the option to specify if you're going to take nature or architecture - thus more suitable compensation for the scene will be available on the picture to get the best results.  Alternatively you can simply select the original mode without any further adjustment, or select Creative mode that even allows manual controls over an aperture or a shutter speed.
Spinning the Mode Dial on top of the camera directly points you to the frequently used settings including Auto mode, each P/A/S/M mode, and five frequently-used scene modes and one custom mode that you can pre-set for your own preference.  The DMC-L10 incorporates a variety of functions that build a bridge for the potential user of digital SLR to take a first step in a world of real creative photography or for existing users who have not been able to take best advantage of their conventional digital SLR cameras.  The DMC-L10 will be available from October 2007.
For further information, please visit www.panasonic.co.uk/lumix
Specifications
? ? DMC-L10
TYPE Type Interchangeable lens digital SLR camera
? Recording media SD memory card, SDHC memory card, Multimedia card
? Image sensor size 17.3 x 13.0 mm
? Mount Four Thirds mount
IMAGE SENSOR Type Live Mos Sensor
? Total pixels 11.8 Mega pixels
? Camera effective pixels 10.1 Mega pixels
? Aspect ratio 4:3 (Horizontal : Vertical)
? Color filter Primary color filter
? Dust reduction system Supersonic Wave filter
RECORDING SYSTEM Recording file format JPEG(Design rule for Camera File system, based on Exif 2.21 standard),
? ? DPOF corresponding, RAW, RAW+Fine, RAW+Standard
? Aspect ratio 4:3, 3:2, 16:9 (3:2,16:9 Live view mode)
? File size 4:3 Aspect Ratio: 3648 x 2736 pixels, 2816 x 2112 pixels, 2048 x 1536 pixels
? ? 3:2 Aspect Ratio: 3648 x 2432 pixels,  2816 x 1880 pixels, 2048 x 1360 pixels
? ? 16:9 Aspect Ratio: 3648 x 2056 pixels, 2816 x 1584 pixels, 1920 x 1080 pixels
? Color space sRGB, Adobe RGB
VIEWFINDER Type Eye level penta mirror type optical view finder
? Field of view Approx. 95%
? Magnification Approx. 0.92x
? Eye point Approx.14mm (-1[m-1])
? Diopter adjustment -3.0 ~ +1 [m-1]
? Focusing screen Fixed type
? Mirror Quick Return Mirror
? Eyepiece cap Detachable
AUTO FOCUS Type TTL phase difference detection system, Contrast AF system(Live view mode)
? Focusing mode AFS/AFC/MF
? Focusing area TTL phase difference detection system: 3-point
? ? Auto / 1fixed point, left / 1fixed point, center/ 1fixed point, right
? ? Contrast AF system:  9-point / Multi-point / 3-point / 1-point / Spot / Face
? AF detective range TTL phase difference detection system, EV0-19 (ISO100)
? ? Contrast AF system, EV0-20 (ISO100)
? AF assist lamp YES
? AF lock AFL/AEL button?or Shutter button halfway pressed in AFS mode
EXPOSURE CONTROL Light metering system TTL Full Aperture Light Metering by
? ? 49 Zones Multi-pattern Sensing system
? ? 256 zones Multi-pattern Sensing system (Live view mode)
? Light metering mode Intelligent Multiple/ Center Weighted/ Spot
? Metering range EV0 - 20 (F2.0 lens, ISO 100)
? Exposure mode Program AE / Aperture Priority AE/ Shutter Priority AE / Manual
? ISO sensitivity Auto / 100 / 200 / 400 / 800 / 1600 / Intelligent ISO (Live view mode)
? Exposure compensation 1/3EVStep ±2EV
? AE lock AFL/AEL Button?or Shutter button halfway pressed
? AE bracket 3frame?1/3~2EV Step ±2EV
WHITE BALANCE White balance Auto / Daylight / Cloudy / Shade / Halogen / Flash / White Set 1,2 / Color temperature setting
? White balance adjustment blue/amber bias, magenta/green bias
? Color temperature setting 2500-10000K in 100K
SHUTTER SYSTEM Type Focal-plane shutter
? Shutter speed 1/4000 ~ 60 and Bulb (up to approx. 8minutes)
? Self timer 2sec / 10sec / 10sec,3images
? Remote control Remote control with bulb function by DMW-RSL1 (Optional)
SCENE MODE Advanced SCN mode Portrait / Scenery / Macro / Sports / Night Portrait
? SCN mode Baby 1,2 / Pet / Sunset / Food
BURST SHOOTING Burst speed 3 frames/sec or 2 frames/sec
? Number of recordable 3 pictures (when there are RAW file),
? ? Unlimited consecutive shooting (when there are no RAW file)
? ? (depending on memory card size, battery power, picture size, and compression)
BUILT-IN-FLASH Type TTL Built-in-Flash, GN11 (ISO100,m), Built-in Pop-up
? Built-in flash Auto, Auto/Red-eye Reduction, Forced On, Forced On/Red-eye Reduction,
? ? Slow Sync., Slow Sync./Red-eye Reduction, Forced Off
? X-Sync speed Less than 1/160 second
? Flash output adjustment 1/3EVStep ±2EV
? Flash synchronization 1st. Curtain Sync. , 2nd Curtain Sync.
? Hot shoe TTL Auto with FL360/FL500 (Optional)
LCD MONITOR Type Low temperature Polycrystalline TFT LCD
? Monitor size Free-angle 2.5inch
? Pixels 207K pixels
? Filed of view Approx. 100%  (Live view mode)
? OSD language English,German,French,Italian,Spanish,Polish,Czech,Hungarian,Russian,
? ? Chinese(Traditional),Chinese(Simplified), Netherlandic,Thai,Korean,
? ? Turkish, Portuguese, Arabic, Persian, Japanese
LIVE VIEW Digital zoom 2x, 4x
? Extra optical zoom Max.1.8x
(Not effective with full pixel recording, Magnification ratio depends on the recording pixels.)
FILM MODE Color Standard / Dynamic / Nature / Smooth / Vibrant / Nostalgic
? Black and white Standard / Dynamic / Smooth
PLAYBACK Playback mode Single / 9, 25-thumbnail display, Calendar display,
? ? Zoomed playback (16x max.), /image rotation (except for RAW)
? ? Slide show (duration is adjustable, also manual controllable),
? ? Playback of favorite pictures/ Resizing (selectable number of pixels)
? ? Trimming / Protection / Aspect conversion /  DPOF print setting
PROTECTION / ERASE Protection Single / Multi or Cancel
? Erase Single / Multi / All
DIRECT PRINT Print PictBridge?Print size, Layout, Date setting is selectable ?
INTERFACE Digital USB 2.0
? Analog video NTSC/PAL Composite (Switched by menu)
POWER Battery Li-ion Battery Pack (7.2V, 1320mAh)  (Included)
? ? Battery Charger/AC Adaptor (Input: 110-240V AC) (Optional DC cable(DMW-DCC1) is required)
? Battery life Approx. 450 images*1 ?CIPA Standard* with LEICA D VARIO-ELMAR 14-50mm/F3.8-5.6 ASPH.)
DIMENSIONS / WIGHT Dimensions (W x H x D) 134.5 x 95.5 x 77.5mm
? Weight Approx. 480g?Body only?
OPERATING CONDITION Operating temperature 0? to 40?
? Operating humidity 10% to 80?
STANDAR ACCESSORY Software LUMIX Simple Viewer, PhotofunStudio -viewer-
? ? SILKYPIX DEVELOPER STUDIO
? ? USB Driver
? Standard accessory Battery Charger/AC Adaptor, Battery Pack, Eyepiece Cap, Magnifier eyecup, Body Cap,
? ? Video Cable, USB Connection Cable, AC Cable, Strap, CD-ROM

*1. Shooting conditions: 23°C with 50% humidity; LCD on*; using a Panasonic SD Memory Card (128MB); Using the supplied battery; Using the supplied lens; Starting recording 30 seconds after the camera is turned on (When the optical image stabilizer is set to [Mode1]); Recording once every 30 seconds with full flash every second recording; Turn the camera off every 10 recordings.
*The number of recordable pictures decreases in Auto Power LCD mode or Power LCD mode.
CIPA is an abbreviation of "Camera & Imaging Products Association".
*Design and specifications are subject to change without notice.
*Some accessories are not available in some countries.
*The use of recorded or printed materials that are protected by copyright for any purpose other than personal enjoyment is prohibited, as it would infringe upon the rights of the copyright holder.
*Leica is a registered trademark of Leica Microsystems IR GmbH.
*The LEICA DC VARIO-ELMAR lenses are manufactured using measurement instruments and quality assurance systems that have been certified by Leica Camera AG based on the company's quality standards.
*All other company and product names are trademarks of their respective corporations.
*This unit is compatible with both SD Memory cards and SDHC Memory cards. You can only use SDHC Memory cards on devices that are compatible with them. You cannot use SDHC Memory cards on devices that are only compatible with SD Memory cards. (When using a SDHC Memory card on another device, be sure to read the operating instructions for that device.)
1 Leica is a trademark of Leica Microsystems IR GmbH.  ELMARIT is a registered trademark of Leica Camera AG.  The LEICA DC-VARIO-ELMARIT lens is manufactured using measurement instruments and a quality assurance system that have been certified by Leica Camera AG based on the company's quality standards.
2 Contrast AF is supported with the use of LEICA D VARIO-ELMAR 14-50mm/F3.8-5.6/MEGA O.I.S. and LEICA D VARIO-ELMAR 14-150mm/ F3.5-5.6 ASPH./ MEGA O.I.S. as of August 30, 2007.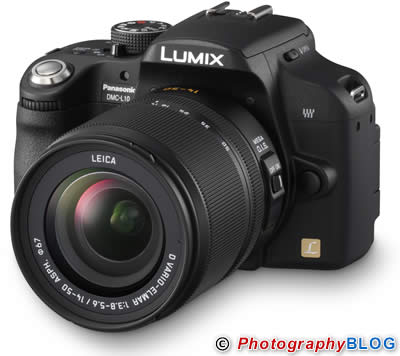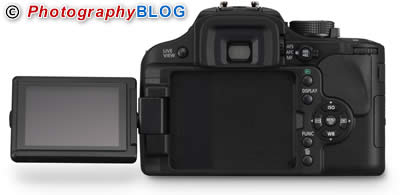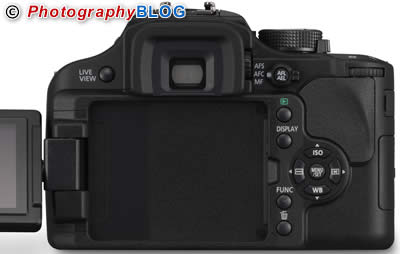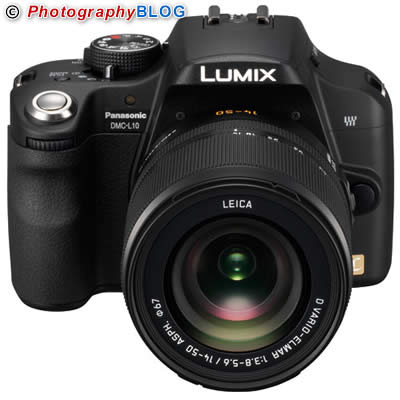 Your Comments