A photo gallery comparing the Panasonic G3 alongside several other compact system cameras.
We've compared the Panasonic G3 alongside a few other compact system cameras that we happened to have knocking about the office. The main image shows the G3 alongside the first ever G-series camera, the G1, which is bigger and more DSLR like than the 2011 version.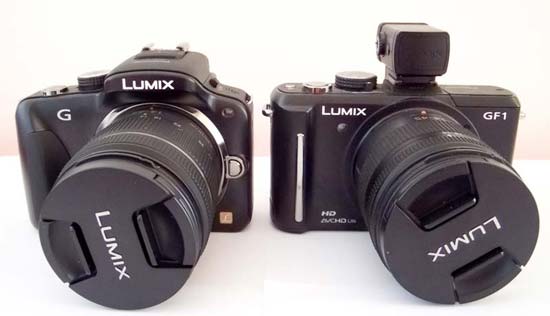 The Panasonic G3 and the Panasonic GF1.

First up is the G3 alongside the venerable GF1. In our eyes the G3 is very similar in size to the GF1, despite having to find room for its built-in electronic viewfinder, which the GF1 doesn't offer out of the box. Although it's not quite as small the newer GF2, the inclusion of the EVF whilst maintaining similar size to the popular GF1 probably makes it our pick of the current G-series bodies for striking a good balance between size and functionality.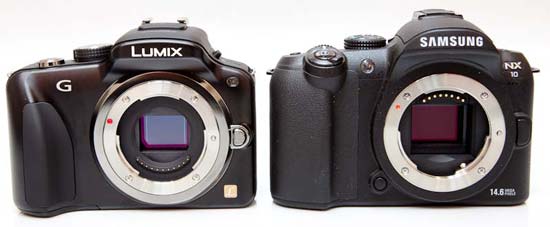 The Panasonic G3 and the Samsung NX10.
Here the G3 sits alongside its most similar rival, the NX10 (itself due for replacement soon if you believe the rumour mill).

The Panasonic G3 and the Olympus E-PL1.
Finally, we've compared the G3 to the Olympus E-PL1 - not the most current model or really a like-for-like design, but pretty similar in size if you overlook the G3's flash housing.
Below is a full hands-on gallery of Panasonic G3 photos showing it alongside all four "rivals".
Image Gallery
Click on a thumbnail to see the full version.
Your Comments