Panasonic GH3 Hands-On Photos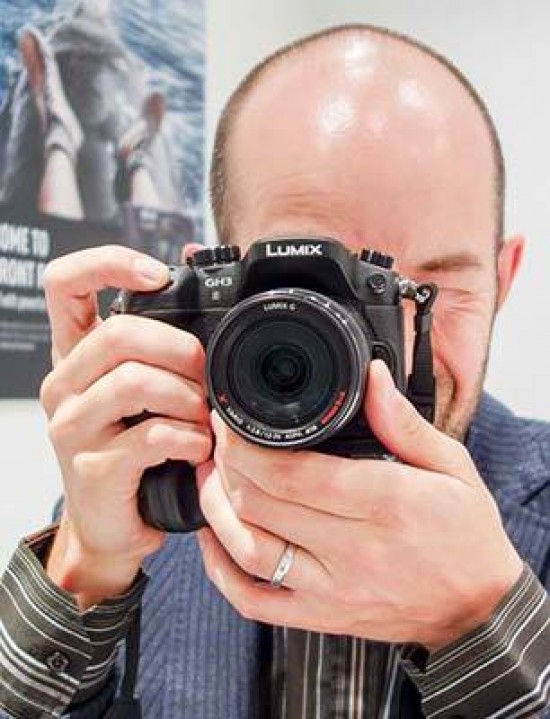 Want to see exactly what the new Panasonic Lumix GH3 compact system camera looks like in the flesh? We have compiled a hands-on gallery for your perusal. Updated and expanded!
46 hands-on photos of the new Panasonic GH3 Micro Four Thirds system camera (updated on 18 September 2012).
We first encountered the GH3 back in August, when we sat down with Panasonic to discuss the replacement model for the 2 year old and very popular GH2, still considered by many to be the number one video-centric compact system camera and in some ways better than the Canon EOS 5D Mk II.
The GH3 launches with the new 12-35mm or existing 14-140mm kit lenses, depending on your stills or video bias, and features a brand new 16 megapixel sensor and V7 FHD processor with higher dynamic range. Other key improvements offered by the GH3 include wide 24mm flash coverage, wireless external flash and a flash sync terminal with a sync speed of 1/160th second, OLED rear screen and EVF, touch panel screen, 10000:1 contrast in electronic viewfinder, and a magnesium body that's dustproof and splashproof.
As you'd expect, the GH3 has moved things on tremendously with regards to video. 50p/25p/24p, 50Mbps / All-I 72Mbps, 3.5mm mic input, 3.5mm headphone output, Time Code (sync footage from different devices, with the same options as Panasonic's professional camcorders), slow / quick recording, focus peaking in manual mode for stills and video - all of this makes the "GH3 more capable than all of Panasonic's consumer camcorders" to quote Panasonic themselves.
The Panasonic GH3 is also very well-connected, with Wi-fi built-in,the ability to geotag images via a smartphone, remote shooting control via smartphone, and a cloud-based backup service for extra peace of mind.
The exciting new Panasonic GH3 will be available from 19th November, priced at £1100 body-only, £2000 with the 12-35mm f/2.8 zoom, and £1600 with the 14-140mm lens. The equally new 35-100mm f/2.8 lens will also cost £1100 and also launches on November 19th.
Two more new lenses are promised for 2013/14 - the 150mm f/2.8 and the 42.5 f/2 primes.
Image Gallery
Click on a thumbnail to see the full version.
Your Comments