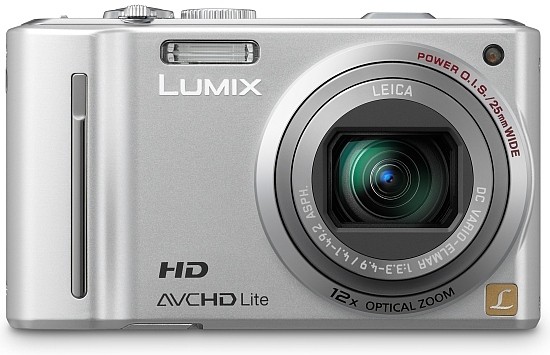 The Panasonic Lumix DMC-TZ10 (ZS7 in the USA) is a compact ultra-zoom camera featuring an optically stabilised 25-300mm equivalent Leica lens, manual exposure control and built-in GPS. The TZ10 and its brother the TZ8 - also announced today - are the first cameras in the Panasonic TZ series to offer full manual exposure control. The TZ10 is also the first Panasonic ultra-zoom to feature a built-in GPS unit. The location data where the photo was taken is automatically embedded with its latitude and longitude in the EXIF data. These geo-tagged images can be pinpointed on the maps of social media internet maps to be shared with the world. Plus, the TZ10 also shows the name of the town, area and landmarks using an internal database to give users real-time information of the place when taking photos. The Panasonic TZ10 has a 14.5-megapixel CCD and shoots at up to 12.1-megapixel resolution. This enables multi-aspect shooting in any of three aspect ratios - 4:3, 3:2 or 16:9 - while maintaining the diagonal angle of view. In addition to taking stills, the camera can also record 720p HD movies in Motion JPEG or AVCHD Lite format, and you can fully utilise the powerful 12x optical zoom in while filming. The TZ10 also features Dolby Digital Stereo Creator to record high-quality audio. SDXC card support and a 3", 460000-dot Intelligent LCD with anti-reflex coating round off the features list. The Panasonic TZ10 will be available from mid March in a choice of silver, black, red or blue.
Panasonic Press Release
Panasonic's new Photo/Movie Hybrid Super Zoom Compact Digital Camera DMC-TZ10
Featuring Intelligent Resolution Technology, 16x Intelligent Zoom and Built-in GPS
Panasonic's multiple award winning TZ series is pleased to welcome a new addition to the family. Sporting key features fundamental to the TZ success story – including AVCHD Lite HD movie recording capability, a 25mm ultra wide angle and powerful 12x optical zoom in a compact body – the TZ10 goes one step further to offer users built-in GPS and full manual control.
Ultra Compact Zoom
With a strong heritage, this fourth generation TZ model features a high-quality LEICA DC VARIO ELMAR 25mm ultra-wide-angle lens with a 12x optical zoom. A high quality lens like this, with a range from 25mm to 300mm[1], is almost inconceivable in such a small, lightweight camera. Comprising 10 elements in 8 groups, including 2 ED lenses and 2 aspherical lenses with 3 aspherical surfaces, and utilizing new lens material in its design, this advanced lens unit realizes the outstandingly slim and compact body while passing Leica's stringent standards to deliver exceptional optical performance. Thanks to the newly incorporated Intelligent Resolution technology, a ground-breaking Intelligent Zoom is available with the TZ10 which extends the zoom ratio by approx.1.3x maintaining the picture quality even by combining zoom technologies. This means the 12x optical can virtually extend to 16x equivalent. Furthermore, the Extra Optical Zoom function that extends zoom power to 23.4x (at 3-megapixel resolution) by using the center part of the large CCD to bring subjects even closer.
The new model has a 14.5-megapixel CCD and shoots with up to 12.1-megapixel resolution. This enables multi-aspect shooting that can reproduce images taken with the lens set from 25mm to 300mm in any of three aspect ratios - 4:3, 3:2 or 16:9 - so you can always capture dynamic, richly expressive shots with a wide perspective. The Multi Aspect mode lets you to take an image in all three aspect ratios simultaneously then choose the one that best suits your scene after shooting -perfect for when you want to take a picture for widescreen TV use but also to make conventional prints.
Intelligent Resolution Technology Enhances the Possibility of Digital Imaging
The high-speed, high-performance Venus Engine HD has been re-engineered to compile new image processing technology - "Intelligent Resolution". It enables the recording of beautiful photos and high-definition movies with higher quality signal processing.
With Intelligent Resolution technology, 3 areas - outlines, detailed texture areas and soft gradation areas are automatically detected. The outline parts are enhanced effectively to give edges more clarity while giving a moderate accentuation to the texture areas to make it look more finely detailed. To the soft gradation part, the superior noise reduction system of the Venus Engine HD II is applied to make it smoother. Apart from the uniform enhancement of sharpness, the innovative Intelligent Resolution technology precisely performs signal processing pixel by pixel in the most effective way. As a result, images are naturally clear and crisp in both photo and movie recording.
Intelligent Resolution technology also makes possible Intelligent Zoom, which virtually extends the optical zoom ratio to 1.3x equivalent maintaining the picture quality even whilst using the digital zoom. The details of an Image taken in high sensitivity recording tends to be lost in the noise reduction process, however the Intelligent Resolution works to keep the detail, improving the picture.
At the same time, the multi-task image-processing engine Venus Engine HD II supports a super-fast response time. The shutter release time lag is as short as approx. 0.006 seconds and the camera's quick response makes it easier to capture sudden, spur-of-the-moment photo opportunities together with the Sonic Speed AF (Auto Focus) that lets you lock on the subject minimum in approx. 0.35(wide-end) / 0.41(tele-end) second[2] and the short startup time of approx. 1.1 seconds. The high performance Venus Engine HD II is also energy efficient and extends the battery life up to 300 shots (CIPA) per a single charge.
Never Forget your Location with Built-in GPS Function
Panasonic's TZ series has received world wide acclaim as an excellent travel companion because of a wide shooting range and hybrid recording capability of high quality photo and movie. The new TZ10 further enhances its value by adding a built-in GPS unit[3] into the camera.
The location data where the photo was taken is automatically embedded with its latitude and longitude in the EXIF data. These geo-tagged images can be pinpointed on the maps of social media internet maps to be shared with your friends and families. Plus, the TZ10 also shows the name of the town, area and landmarks using an internal database to give users real-time information of the place when taking photos to add fun of photo shooting during travel. The information of landmark exceeds 500,000 , covering 73 countries – pretty impressive! The photos and movies with their location data are automatically sorted in the virtual folder alphabetically in the camera allowing quick access. You can also refer to the location names via the included software PHOTOfunSTUDIO HD Edition Ver.5.1. It is also easy to sort or search images by the location names. If this wasn't enough, the internal clock of the camera is automatically adjusted to the local time of the place where the camera is, so you do not have to set the clock manually whether you go abroad or come back home.
Manual Exposure for More Control
The TZ10's iA mode is the perfect camera for every user to be able to take beautiful shots effortlessly. Going one step further, the TZ10 also features manual control for advanced expressive photo shooting. It has A(Aperture Priority) / S(Shutter Speed Priority) / M(Manual Exposure) modes for advanced users to enjoy the creative shots depending on the subject or the scene by controlling the shutter speed and aperture. Each of these modes and iA mode can be quickly set by the mode dial on the top of the camera unit.
HD Movie Recording
In addition to Motion JPEG images[4], the DMC-TZ10 can record high-definition motion picture in AVCHD Lite. It allows almost doubling of the recording time in HD quality compared with the conventional Motion JPEG format. The picture quality is greatly enhanced thanks to the newly added Intelligent Resolution technology. The TZ10 also features Dolby Digital Stereo Creator to record high quality audio, so you can match the beautiful motion images with outstanding stereo sound, and further offers a one-touch movie button for instant recording of videos.
The hugely popular and powerful iA (Intelligent Auto) is also now available in motion image recording mode. Optical Image Stabilizer (O.I.S.) helps prevent handshake when using high-powered zoom. Face Detection automatically detects a face in the frame and adjusts focus, exposure, contrast, and skin complexion on it so it always turns out beautifully. Intelligent Exposure continually checks the ambient light level and adjusts the exposure setting as conditions change to prevent blown highlights and blocked shadows. And Intelligent Scene Selector automatically switches between Normal, Portrait, Macro, Scenery, and Low Light modes according to the situation to optimize visual quality.
Users can fully utilize the powerful 12x optical zoom in movie recording. The GPS and corresponding location information can also be embedded in the video clips. With the newly added Video Divide function, users can divide the video into two sections to shorten or delete the unwanted part on the spot in the camera. You can cutout a still image from a movie in the camera and Intelligent Resolution Technology makes it possible to produce 1920x1080 still images from a 1280x720 HD movie even recorded in AVCHD Lite.?A Wind Cut function is also available to block out most of the noise from background wind.
Still or motion images recorded in AVCHD Lite[5] on SD Memory Cards are easy to view on a Panasonic VIERA TV. Simply insert the card into the VIERA Image Viewer (SD Memory Card slot) on VIERA TV or DIGA Blu-ray Disc Player to playback your contents. Alternatively, you can use an optional mini HDMI cable to output the still and motion images you took from the TZ10 directly to the TV for VIERA Link. You can take maximum advantage of Lumix camera's playback functions including the slideshow in which both still and motion images integrated in the timeline, category playback according to the scene mode you used or calendar display and so on. All control is possible using only the TV's remote control.
In addition, with the included software PHOTOfunSTUDIO 5.1 HD Edition, it is easy to view and edit your recorded contents. You may also choose to upload your videos to YouTube or burn them to a DVD disc for archiving.
Introducing new POWER O.I.S
Panasonic has incorporated Intelligent Auto mode in pursuit of the ultimate ease of operation and the reduction of misshots. In iA mode the camera does all the work, leaving you free to compose shots and capture moments. Just press, aim and shoot. This mode is now further advanced with the inclusion of r advanced image stabilization system POWER O.I.S. and Intelligent Resolution technology for the DMC-TZ10.
Taking advantage of Panasonic's accumulated optical technologies, MEGA O.I.S. (Optical Image Stabilizer) has been incorporated into LUMIX cameras from the earliest stages of development. MEGA O.I.S. has evolved into POWER O.I.S. on the DMC-TZ10, with a great performance improvement - twice the shake suppression capability of the predecessor TZ7.
The hand-shake component, which is physically generated when pressing the shutter button or when shooting at night with a slow shutter speed, is recognized as a low-frequency vibration, for which the new POWER O.I.S. is particularly effective. This greatly improves the quality of shots taken at night or indoors where a flash cannot be used, or where the photographer doesn't want to use a flash because it would spoil the mood. It captures beautiful photos in situations that previously resulted in blurring.
The DMC-TZ10 features Face Recognition - a function that found popularity in the previous TZ7, and now with several upgrades. Three face images can be registered for each person, to raise the detection accuracy. And when the angle of view is changed horizontally, the name display also rotates for easier reading. The Intelligent Scene Selector, which automatically selects whichever of 6 Scene Modes - Macro, Portrait, Scenery, Night Portrait, Night Scenery and newly added Sunset - that best suits the shooting situation.
In addition, newly incorporated Intelligent Resolution technology is always activated in iA mode which results in the clearer and higher picture quality in every photo and movie with extended zoom range with the Intelligent Zoom equivalent to 16x optical zoom.
Once you enter iA mode, these functions happen automatically together with other powerful shooting-assist functions - AF Tracking, Intelligent ISO Control and Intelligent Exposure - so you can shoot without the bother of adjusting settings every time conditions change. You can enjoy easy, trouble-free shooting in any situation and get the satisfaction that comes with capturing clear, beautiful images.
The new Happy Mode, a colour mode option in iA mode, optimizes colour, saturation and brightness to make both photo and movie more vivid and true to the colour of the scene you memorized.
A 3.0-inch, Super High Resolution 460,000-dot Intelligent LCD for Easy Viewing
The TZ10 is equipped with a 3.0-inch, super high resolution 460,000-dot Intelligent LCD with a wide viewing angle and AR (Anti-Reflection) coating. The screen brightness automatically adjusts in 11 steps as the surrounding brightness level changes, ensuring easy visibility at all times. The big screen reflects fine details, making it easy to check the focus before shooting. It also serves as a small photo and video viewer, allowing the user and friends to enjoy viewing the still and motion images together.
Other Versatile Functions Adding to the Photographic Enjoyment
Challenging convention, Lumix functions continue to evolve. Scene modes, which are optimized for a variety of still-image shooting situations, are now available for motion images as well. Thanks to a rich variety of 28 scene modes for still image and 18 for motion image (Portrait, Soft Skin, Transform, Self portrait, Scenery, Low light, Food, Party, Candle light, Sunset, Beach, Snow, Aerial, High Sensitivity, Pin hole, Film grain, High Dynamic and Underwater), capturing beautiful videos is effortless with the TZ10.
The High Dynamic mode is newly added to the existing Scene modes. This mode helps to capture a scene with moderate exposure, even though the scene contains both bright and dark areas together. The user can select either of three options, Standard, Art, or B/W, depending on the desired effect and personal taste to make the photo look natural to artistic.
The optional marine case (DMW-MCTZ10) is available for underwater photography taking advantage of an outstanding shooting range from 25mm to 300mm for both photo and movie.
In addition to the conventional SD/SDHC Memory Card, the DMC-TZ10 accepts next-generation SD format SDXC (SD eXtended Capacity), that features high potential in both capacity and data transfer speed. The DMC-TZ10 is compatible with Windows 7.
Included Software PHOTOfunSTUDIO 5.1 HD Edition
The latest version of exciting software PHOTOfunSTUDIO 5.1 HD Edition comes bundled with DMC-TZ10. With quick start-up and fast read-in of images, the PHOTOfunSTUDIO 5.1 HD Edition makes it possible to sort and organize photos not only of those newly taken but also of those stored in your PC. The Face Recognition function recognizes the faces in the picture and allows sorting of the photos by the registered faces without having to pick out each photo one by one when you only want pictures of a specific person. The geo-tagged photos and movies taken with the TZ10 can be sorted by place names automatically. You can also enjoy slideshows with a variety of effects and use your iTunes music library as background music and burn it onto a DVD disc in MPEG2. Motion pictures can be uploaded directly to YouTube using the built-in YouTube uploader even in HD (High Definition) quality. It also lets you create a 360-degree rotation panorama file in MOV, which is especially easy if Panorama Assist mode in the camera is used. The software is of course compatible with the Windows 7.
Experience and feel the outstanding benefit of the PHOTOfunSTUDIO 5.1 HD Edition. It will powerfully allow you to view, edit and archive your captured photos and motion pictures with greater ease and fun.
Continuing to push the boundaries and providing consumers with additional features to be proud of, such as GPS and manual control, users will be finding more reasons to go on holiday to enjoy the new model than ever before! The TZ10 will be available from mid March in a choice of silver, black, red or blue.
Your Comments