Panasonic LUMIX DMC-FZ7 Wins DIWA Gold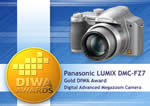 DIWA Press Release
At a time when the sales of digital single-lens reflex cameras are booming, it is a relief to see that the "megazoom" class too undergoes continuous development. Panasonic is a leading brand in this field and their LUMIX DMC-FZ7 is a perfect example that with a fast 12x zoom lens, virtually any photographic challenge can be overcome without the need for interchangeable lenses. Moreover, the camera is a far cheaper option than any D-SLR package.
Amsterdam, 17 November 2006, 15:00 CET : DIWA (Digital Imaging Websites Association), a world-wide organisation of collaborating websites, today has the pleasure of announcing a DIWA Gold Award to the Panasonic LUMIX DMC-FZ7 digital "megazoom" camera. There are many reasons why a "megazoom" camera is a better choice than a D-SLR. One of the key reasons is in fact the LUMIX FZ7. There isn't a reflex camera that comes with a 12x zoom lens as standard, and certainly not with f/2.8-3.3 brightness, nor with world-renowned LEICA quality, built-in optical image stabilizer (MEGA O.I.S) or 5 cm close-ups at wide angle and 1 m at telephoto. To get all these obvious advantages in a D-SLR camera, the lens price alone would be astronomical. A large 2.5-inch LCD screen with live view is also rare in a D-SLR, making it a handy alternative to the electronic viewfinder. The LCD screen even features a high-angle viewing option.
In addition to the lens, the LUMIX FZ7 offers a multitude of other excellent features. Thanks to its powerful Venus Engine II image processor, the camera responds rapidly to any command. When speed is a high priority, the unique and exceptionally useful High-Speed auto focus function proves most convenient, just like instant shutter release and 3 fps consecutive shooting. Furthermore, the FZ7 allows you to shoot VGA video of TV quality.
With today's believed need for ever increasing image resolution, 6 Megapixel may seem somewhat outdated. The fact is that the number of Megapixels is primarily a measure of image size, not necessarily image quality. The Panasonic FZ7 is a fine proof of this. Supported by an excellent lens and a high quality image sensor, the FZ7 delivers sharp images with natural colour rendition, perfectly tuned for direct printing. In extremely dim light situations, ISO 1600 sensitivity is available, also ensuring faster shutter speeds to support the O.I.S function. Naturally, the FZ7 has virtually the same automatic and manual controls for exposure, white balance etc. as the ones found in D-SLR cameras.
The test results from the DIWA experts concluded that the Panasonic LUMIX DMC-FZ7 is one of the most versatile cameras ever built, making it a perfect choice for any photographer with varied photographic needs and high ambitions. The verdict left no doubt that the FZ7 is more than qualified for a DIWA Gold Award.
About DIWA
A fast growing independent, authoritative, industry organization
The Digital Imaging Websites Association (DIWA) is a fast growing group of independent Web-based specialist publications dedicated to digital imaging. DIWA harnesses the collective talent and expertise of its members, resulting in industry awards that command unparalleled confidence and value, both for consumers and the industry, alike. DIWA awards come in the form of bronze, silver and gold medals for various product categories.
Unique bullet-proof test scoring procedure
DIWA product test awards are exclusively decided through the analysis of multiple test scores from different DIWA testers, testing different samples of the same product. A very detailed and comprehensive standardized scoring procedure is employed, tailored carefully for each category of product. Multiple testing eliminates the chance of an isolated, unrepresentative product sample or test error, or even hidden bias, from affecting the trustworthiness of the overall result.
Awards throughout the year
DIWA is also unique in its policy in issuing awards for deserving products throughout the year, culminating in annual best of the year Platinum medal awards in all product categories.
DIWA Awards members:
- Canada: www.photoxels.com
- Czech Republic:  www.fotoaparat.cz
- Germany:  www.digitalkamera.de
- Netherlands:  www.letsgodigital.org
- Norway:  www.digit.no
- Poland:  www.fotopolis.pl
- Slovenia:  www.e-fotografija.com
- Spain:  www.nuevafotografia.com
- Turkey:  www.diginorm.com.tr
- United Kingdom:  www.photographyblog.com
The DIWA multi-lingual Web site
At the heart of the DIWA organisation is its multi-lingual Web site, www.diwa-awards.com, where you can find links to the latest reviews published by DIWA member publications. The site also archives DIWA awards and is designed to aid consumers in their choice of imaging products.
For further information about DIWA please visit our Web site - http://www.diwa-awards.com - or email us at [email protected]