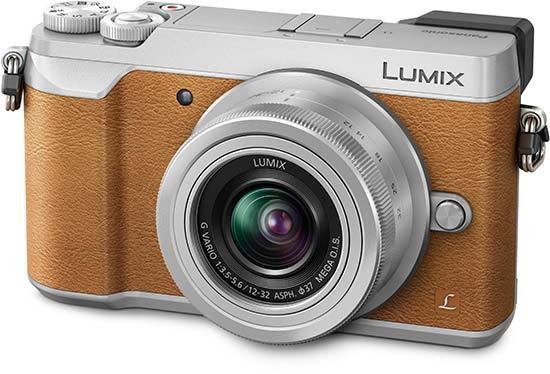 The Panasonic LUMIX DMC-GX80 is a new interchangeable lens camera that combines modern design and 4K performance. The GX80 (also known as the GX85 in some regions) offers a range of innovative features, including 4K PHOTO and 5-Axis Dual I.S. (Image Stabiliser), plus a sturdy ergonomic grip. The LUMIX DMC-GX80 features a 16 megapixel sensor with no low-pass filter. The Panasonic DMC-GX80 is available in Black, Silver and Tan and will be available from May 9th 2016.
Panasonic UK Press Release
Panasonic Expands LUMIX G Range with Modern Style LUMIX DMC-GX80
New interchangeable lens camera is designed for photographers who want to capture the art of daily life in stunning quality
Today, Panasonic is proud to announce the latest addition to its range of interchangeable lens cameras – the LUMIX DMC-GX80. Combining modern design and 4K performance, the new camera boasts the same compact style as previous GX models, and is the perfect companion for any urban adventure.
With a range of innovative features, including 4K PHOTO and 5-Axis Dual I.S. (Image Stabiliser), plus a sturdy ergonomic grip, the new DMC-GX80 has been carefully developed to excel when shooting out of hand and on the move.
Outstanding image quality
The LUMIX DMC-GX80 features a 16.0MP Sensor for results with stunning detail and clarity. Performance is further enhanced by a new Venus Engine that reproduces colour with impressive accuracy. The engine adjusts hue, saturation and luminosity separately for vibrant images that jump off the screen and precisely recreate what you envisaged when pressing the shutter button.
Such is the quality of the DMC-GX80's Sensor and Venus Engine, that Panasonic has been able to remove the low pass filter for the first time in a Lumix G camera. Limiting Resolution is improved by approximately 10% for greater clarity and even more impactful pictures and video.
The combination of the sensor and engine also achieves clear image rendering with minimal noise, even in low-lit conditions and at max. ISO 25600 – ideal when shooting in environments such as dark restaurants and night markets.
The sensor's high speed signal readout capability and fast signal processing enable the camera to record stunning 4K Video – with the DMC-GX80 you can capture the sights and sounds of a city adventure with four times the resolution of Full-HD. The LUMIX DMC-GX80 records stunningly smooth, high-resolution 4K video in 3840x2160 at 25p (50Hz) or 24p in addition to the Full-HD 1,920 x 1,080 50p (50 Hz) videos.
Thanks to 4K technology, users can also utilise Panasonic's innovative 4K PHOTO feature to capture fleeting photo opportunities and never miss a moment with 30 fps. Three exclusive modes are available to choose from depending on the situation; 4K Burst, 4K Burst (Start/Stop) and 4K Pre-burst. Each setting enables you to extract a single frame from the 4K video sequence and save it as a 8MP JPEG - sufficient resolution to print in A3 size.
In addition, the LUMIX DMC-GX80 also incorporates all new Light Composition functionality within 4K PHOTO mode. The camera is able to combine several frames into one final image, prioritising specific pixels based on their brightness. This makes it possible to produce dramatic images of low-light, high-contrast environments such as fireworks or shots of the night's sky.
Freestyle shooting limiting any blur
The LUMIX DMC-GX80 incorporates a number of features that help you take crystal clear, blur-free pictures on the move and without the need for a tripod – ideal for capturing unexpected photos as you explore the city. 
A new 5-Axis Dual I.S. combines O.I.S. (Optical Image Stabiliser - 2 axis) as well as B.I.S. (Body Image Stabiliser – 5 axis) in the main body of the camera, to negate the effect of handshake.
Compatible with both photography, and video recording, 5 Axis Dual I.S. becomes particularly useful when using telephoto lenses such as the new LEICA DG VARIO-ELMAR, 100-400mm, f4.0-6.3 lens, or when using slower shutter speeds in low-light conditions.
The LUMIX DMC-GX80 also features a brand new shutter unit design. This minimises the slight vibrations and shutter sound caused when pressing the shutter button. This vibration reduction enables users to release the mechanical shutter even in the situations where they previously had no choice but to use the electronic shutter.
A camera with street style
The LUMIX GX range is synonymous with compact design that looks great in the hand. The LUMIX DMC-GX80 is available in three classic colours - brown, silver or black - each of which features a stunning dimpled leather-like finish, aluminium dials and a timeless, retro silhouette.
To further enhance control on the move, the DMC-GX80 comes with a thick, solid grip for stable holding even in one hand. The front/rear dual dial system also enables fast and efficient changes to settings - for example, users can adjust white balance with a front dial and set ISO with a rear dial, while also choosing the shutter speed. This is particularly helpful in changing lighting situations when you need to make subtle changes on the move.
The DMC-GX80 integrates a LVF (Live View Finder) with 2764K-dot equivalent high resolution and approximate 100% colour reproduction. The 16:9 Wide Screen LVF boasts approx.1.39x / 0.7x (35mm camera equiv.) magnification, 100% field of view and an Eye Sensor. This sensor triggers Eye Sensor AF and brings your chosen frame into focus by the time you look through the shutter.
A large 3.0-inch, approx.1040K-dot high resolution static-type touch monitor offers a secondary shooting method and also boasts approx. 100% of field of view. This folding screen makes shooting awkward situations much easier. An 80-degree upward tilt is ideal when shooting from street level, while a 45-degree upward tilt is perfect for shooting overhead, such as at crowded music events.
Accurate focus before and after the shot
The DMC-GX80's Contrast AF System features DFD (Depth From Defocus) technology and excels in both speed and accuracy. Digital signals are sent between the camera and the lens at max. 240 fps, resulting in ultrafast auto focusing of approx. 0.07 sec. With Panasonic's new interchangeable lens camera, you'll be ready to capture even the most fleeting moments with breathtaking clarity.
The camera also features Panasonic's innovative Post Focus function, allowing you to change the focus areas of the image even after shooting. This means you can totally change the perspective of your work – from choosing which face you want to be in focus in a busy street scene to adding more background warmth to a close-up macro shot.  Operation is easy. After shooting in Post Focus mode, you simply touch the screen at the point where you want to set focus when reviewing the image.
Sophisticated editing without the need for a computer
The LUMIX DMC-GX80 is packed with the latest artistic filters and features so you can add a creative touch to your favourite photos and videos directly on the camera. The Creative Control mode features a total of 22 filter options, while the camera also offers a newly integrated L.Monochrome mode, providing monochrome pictures with the rich gradation that can give your photography the style of an authentic black and white movie.
In addition to filters the LUMIX DMC-GX80 also enables innovative 4K Live Cropping for editing video on the camera. For panning, you can simply set the viewing angle to get a smooth panning shot without the need for special equipment like a slider. For zooming, you can set the frame you want to finish with, and the camera will automatically zoom from wide angle to tele. Thanks to the digital operation and lack of physical lens movement, this process is perfectly smooth, giving you professional-looking results every time.
Stay connected
The LUMIX DMC-GX80 integrates Wi-Fi connectivity for a flexible shooting experience and fast and easy image sharing. It is easy to connect the camera to a smartphone or tablet, allowing you to share images and clips to social media or email them to friends and family almost as soon as they've been recorded. Alternatively you can use your mobile device as a remote control for the LUMIX DMC-GX80, changing settings such as focus, aperture, shutter speed and ISO, before triggering the shutter release.
Other features
Exposure / WB / Focus / Aperture Bracket
Creative Control in P/A/S/M Mode
Easy Wireless Connectivity via Wi-Fi® with Smartphones
RAW data development in Camera
A variety of extensive AF functions including: Face/Eye Detection AF, Pinpoint AF, One-shot AF and advanced Low Light AF
AC/USB Power Charging
Silent Mode
Multiple Exposure
Time Lapse Shot / Stop Motion Animation
DMC-GX80 is available in Black, Silver and Tan and will be available from May 9th 2016.

Pricing is as follows:

DMC-GX80 twin kit, including 12-32 and 35-100 lenses – RRP £729
(Available in Black & Silver – Jessops Exclusive)
DMC-GX80 single kit, including 12-32mm lens – RRP £599
(Available in Black, Silver – Jessops Exclusive & Brown – John Lewis Exclusive)
DMC-GX80 body only - RRP £509
(Available in Black & Silver – Jessops Exclusive)
About Panasonic
Panasonic Corporation is a worldwide leader in the development of diverse electronics technologies and solutions for customers in the consumer electronics, housing, automotive, enterprise solutions and device industries. Since its founding in 1918, the company has expanded globally and now operates 468 subsidiaries and 94 associated companies worldwide, recording consolidated net sales of 7.715 trillion yen for the year ended March 31, 2015. Committed to pursuing new value through innovation across divisional lines, the company uses its technologies to create a better life and a better world for its customers. To learn more about Panasonic: http://www.panasonic.com/global.
Image Gallery
Click on a thumbnail to see the full version.
Your Comments