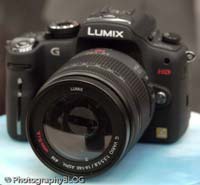 World Exclusive! The Panasonic Lumix G HD camera has been unveiled ahead of Photokina. Shown as an advanced prototype under glass, we were among the first journalists to see the Panasonic G HD, identical to the G1 except for added video capability. A small Record Video button has been added to the rear grip of the Lumix G HD, and a large mic/speaker on top of the camera. No specific details were given about the particular High Definition mode that will be employed. The Panasonic Lumix G HD will be launched in Spring 2009. Click the continue link to see a gallery of pictures of the hot-off-the-press Panasonic Lumix G HD.
Update: We've now added in-hand photos of the three prototype lenses planned for release sometime in 2009 - the 20mm pancake, 7-14mm wide-angle, and 14-140mm telephoto. Seeing these tiny lenses in the flesh, especially the 20mm pancake, really shows what the Micro Four Thirds system is capable of.
Click the thumbnail images to view a larger version in a new window.
| | | |
| --- | --- | --- |
| |   | |
| The prototype version of the Panasonic Lumix HD. |   | A closer view of the HD badge - the name has still to be finalised. |
|   |   |   |
| |   | |
| The Panasonic Lumix HD is almost identical to the new G1 camera… |   | Except for the addition of a Record Video button on the handgrip… |
|   |   |   |
| |   | |
| ...which you can see again here. |   | A prototype version of the new 14-140mm lens, due in 2009. |
|   |   |   |
| |   | |
| ...and from a different angle. |   | The mic/speaker in close-up. |
|   |   |   |
| |   | |
| .The remarkably small 20mm pancake lens, planned for launch in 2009. |   | The wide-angle 7-14mm lens, again due for a 2009 release. |
|   |   |   |
| |   |   |
| The 14-140mm, 10x zoom, providing a 35mm equivalent focal length of 28-280mm. |   |   |
Your Comments