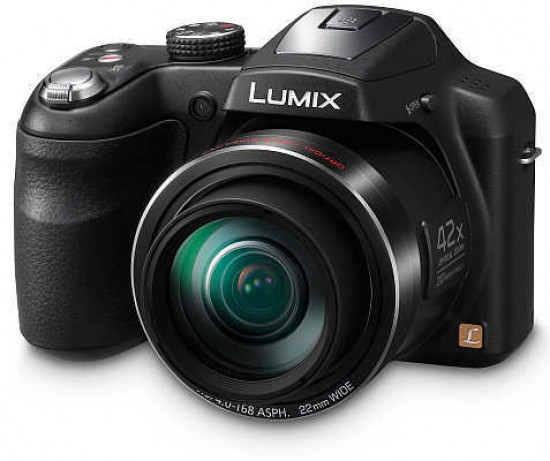 The Panasonic Lumix LZ40 is a new superzoom camera with an optically stabilised 22-924mm equivalent lens, 20-megapixel sensor and a 3", 460k-dot rear screen. Offering full manual control, the Panasonic LZ40 comes with a Creative Panorama mode and 15 filter effects. In addition to capturing high-resolution stills, the Lumix LZ40 can also record 720p high-definition videos with the press of an independent 'motion picture' button.
Panasonic Press Release
The New Panasonic LUMIX LZ40: Pushing the boundaries of high zoom and wide angle photography
6th January 2014 – Panasonic's new LUMIX LZ40 digital camera offers exceptionally powerful zoom and wide angle capability, giving aspiring photographers a new level of performance and flexibility.
The latest addition to Panasonic's range of high zoom cameras combines outstanding picture quality, artistic control and long battery-life inside a chassis that's ergonomically designed to let you to shoot with complete comfort. The LUMIX LZ40 provides outstanding versatility, with a 42x optical zoom that makes it ideal for capturing details scenes such as wildlife and sports from a distance, as well as a 22mm ultra-wide angle lens which makes it perfect for sweeping landscape shots.
Versatile performance
Wherever that perfect picture opportunity appears, you need your camera to excel. Alongside the high zoom and ultra-wide angle lens, the LUMIX LZ40's 20-megapixel sensor provides incredible detail, even in low-light conditions. And a large 3.0-inch 460K-dot LCD display provides high visibility in even the brightest situations, ideal for both shooting and reviewing your shots.
The LUMIX LZ40 can also record dynamic HD video in 1280 x 720p at a moment's notice, with the press of an independent 'motion picture' button on the top of the camera. With the addition of the lens' integrated Optical Image Stabiliser you can quickly switch between pictures and video of distant subjects such as timid wildlife, confident that the result will be crisp and clear every time.
Photography on your terms
The LUMIX LZ40 is designed to be the perfect shooting companion for you, wherever your photographic journey takes you. The camera is ergonomically designed to fit perfectly in the hand, offering stability and comfort over a long period of time. Similarly, the large capacity Lithium-ion battery allows you to shoot up to 320 pictures (according to the CIPA standard) before charging.
The ideal camera if you're looking to take your photography to the next level, the LUMIX LZ40 offers a choice of full manual control and intelligent assistance for easy shooting. The iA (Intelligent Auto) mode leaves everything to the camera – including Face Detection, Intelligent Scene Selector and Intelligent Exposure - so you can shoot without worrying about having to adjust settings every time conditions change. Whilst offering the simple convenience of iA, the LUMIX LZ40 is also equipped with a manual mode, giving you complete control of your camera. This allows you to explore your settings and test your skill, to enjoy even more creative photography that truly expresses your vision.
Limitless creativity
With the LUMIX LZ40's Creative Panorama mode, it is now possible to overlay horizontal and vertical images to give you stunning panoramic shots. The LUMIX LZ40 also lets you apply creative filter effects to all your images, both during the recording and the playback modes. With 15 filters to choose from – including Soft Focus, Miniature Effect and Sepia - it's easy to add a personal touch to any image, transforming your favourite pictures into stylistic works of art.
Your Comments