Pandigital 10.4 Inch Digital Photo Frame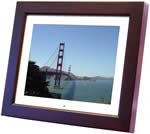 Pandigital Press Release
Pandigital Expands Its Line of Digital Photo Frames with a Stunning 10.4-Inch Model with 256MB of Internal Memory; Following Exceptional Holiday Sales, Pandigital Expands Its Sales Reach by Adding New Retailers
LAFAYETTE, Calif.—(BUSINESS WIRE)—Pandigital today debuts a stunning 10.4-inch Digital Photo Frame following exceptionally strong holiday sales in Q4 2006. Pandigital led U.S.-sales of digital photo frames in Q4 with more than 500,000 units sold at top retailers around the United States. "Pandigital's break-through product line helped solidify market acceptance of digital photo frames as a great way to view digital images," said Dean Finnegan, president, Pandigital. "Pandigital frames include the features that let people quickly and easily enjoy their digital photos. This made them one of the hottest must-have gifts for the 2006 holiday season."
Finnegan continued, "Now, we're expanding our line of frames with a new 10.4-inch model that is sure to have a broad appeal to families, businesspeople, students and enthusiasts who want to enjoy digital photos in their homes and offices."
Pandigital photo frames are sold through a variety of retailers, including department stores and mass merchants, in addition to office supply and technology retailers. In the first quarter of 2007, Pandigital digital photo frames will be available at more than 6,000 leading retail storefronts, up from 5,000 storefronts in Q4 2006. In addition, the frames will be available at many leading online and catalog retailers in the United States.
Harry Wang, research analyst with Parks Associates stated, "With more than 60 million households owning digital cameras in the United States, the market is ripe for an easy, affordable way to enjoy digital images. Digital photo frames with advanced features like internal memory are poised to fill this need."
Large 10.4-inch Frame Has 256MB Integrated Memory for Storing Photos
The new Pandigital 10.4-inch Digital Photo Frame (model number PAN10-2) is the largest in the company's line. Customers can copy photos directly into the frame's internal memory the way that is most convenient for them. It features an integrated 6-in-1 media reader (SD, XD, Memory Stick, Memory Stick Pro/Memory Stick Duo, Compact Flash, MMC) so customers can insert flash media into the frame, then quickly and easily copy photos onto the 256MB of internal memory before returning the flash media to their digital cameras. In addition, customers can download photos onto the frame by directly connecting it via mini USB to a digital camera or by standard USB to a computer.
Delivering a remarkably detailed and vibrant image, the new 10.4-inch frame boasts advanced technology that results in digital images that are stunning in both dedicated and slideshow modes. The frame's high resolution of 1024x768 pixels produces crisp and clear images. Digital photos are further enhanced by the frame's 350cd/m2 brightness rating and 500:1 contrast ratio. It's easy to enjoy images around the home or office thanks to the frame's 178/178 degree viewing angle.
Like the entire line of Pandigital photo frames, the 10.4-inch model boasts a stylish, upscale design that conveys the highest quality. It comes with two interchangeable frames – black wood and cherry wood – to fit into a range of décors and color schemes.
In addition to photos, the Pandigital 10.4-inch Digital Photo Frame can play back MPEG 1, MPEG 4 & AVI video clips. Also, MP3 audio files can be stored on the internal memory and then enjoyed via the built-in speakers or headphone jack. The digital photo frame comes with a remote control that lets customers conveniently access their photos, video and music. The remote control securely fits in a slot at the back of the frame for safe keeping.
Pricing
The Pandigital 10.4-inch Digital Photo Frame (PAN10-2) will be available in mid-February and has a Manufacturer's Suggested Retail Price (MSRP) of $249.99. It complements Pandigital's existing line of digital photo frames ranging in sizes from 5.6 inches to 9.2 inches and in MSRP from $99.99 to $199.99.
About Pandigital
Privately held, Pandigital® develops and markets digital entertainment products. The company recognizes the growing digital lifestyle market in the U.S. as well as the convergence of media such as MP3, digital photos and digital video to deliver high quality products to the consumer market that provide the latest in technology combined with contemporary style. Pandigital is headquartered in Lafayette, Calif. For more information, please visit http://www.pandigital.net/
Your Comments