Peak Design Leica Backpack Capsule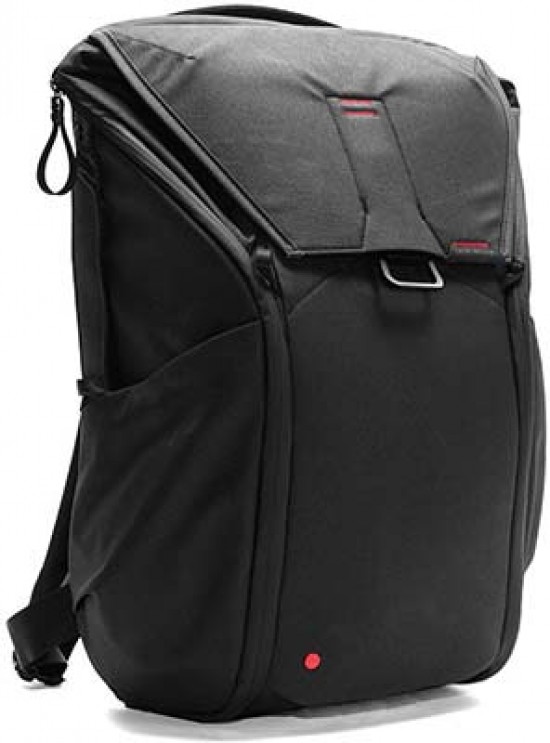 Peak Design have teamed up with Leica and released the "Peak Design for Leica Backpack Capsule". This consists of a Backpack, Cuff and Leash from Peak Design with signature red stitching and a 'red dot'. With limited availability of only 100 units, the Peak Design for Leica Backpack Capsule can be pre-ordered now for $299.
Leica Press Release
Leica Camera and Peak Design Collaborate to Debut Exclusive New Backpack

Two Brands Representing the Epitome of Design and Craftsmanship Rethink a Classic Accessory
November 20, 2017 – Unparalleled engineering meets superior design in Leica Camera and Peak Design's latest collaboration to create the Peak Design for Leica Backpack Capsule. Stemming from a mutual admiration for exceptional design, aesthetic and craftsmanship, the Peak Design for Leica Backpack Capsule is a Peak Everyday Backpack at its core, featuring iconic Leica design elements throughout.
"Thoughtful design with integrity is the crux of Leica's iconic craftsmanship, which is why partnering with Peak Design to create this beautiful accessory made perfect sense for us," noted Roland Wolff, Executive Vice President at Leica Camera. "We're eager for photographers to get their hands on this backpack so they can appreciate the seamless combination of stunning aesthetics and functionality it has to offer."
With only 100 units available, The Peak Design for Leica Backpack Capsule comes in a black canvas – a first for Peak Design – with red stitching as a nod to the camera brand's signature colors, as well as the iconic red Leica dot on the shoulder strap and bottom front corner, making it the perfect item for professional and aspiring photographers alike to carry their equipment in style.
Providing unrivalled accessibility, expandability, and organization, Peak Design's Everyday Backpack is one of the most successful backpacks to date, receiving endless praise from publications such as Popular Photography and Resource Magazine as 'Gear of the Year.' Coupled with the iconic Leica brand, this backpack stands at the forefront of superior functionality and design.
"Working with Leica feels surreal; their customers are as design-conscious as any on the planet. So when the opportunity arose to work together, not only did we jump, we took it as validation that we're doing something right," said Peter Dering, Founder of Peak Design.
Staying true to its original functional elements, the backpack features fast access to all internal parts of the bag via dual weatherproof zippers and no-look, one-handed, patented MagLatch™ top hatch closure. A weatherproof 500D synthetic canvas shell on the exterior of the bag sheds water and provides durability, while a minimal amount of dangling straps, adjusters and tails help to maintain a clean, elegant look. The Everyday Backpack is designed to conquer organization; internal, endlessly configurable FlexFold™ dividers protect and organize to keep all your portable items in check.
With limited availability of only 100 units, the backpack is available for sale exclusively at Leica Stores and Boutiques from November 20 through Dec. 31, or while supplies last.
About Leica Camera
Passion for creating perfect pictures. Leica represents a union of craftsmanship, design and experience. It is a beautiful collision of art and engineering, and the future of form and functionality. Leica Camera is an internationally operating, premium-segment manufacturer of cameras and sport optics products. The legendary status of the Leica brand is founded on a long tradition of excellence in the supreme quality and performance of cameras and lenses, and the iconic images that artists and photojournalists everywhere captured with them. For more information about Leica visit www.leicacamerausa.com, or follow the brand on Facebook, Instagram and Twitter.
About Peak Design
Peak Design began as a professional-grade camera accessory brand dedicated to engineering thoughtful solutions to improve the way photographers transport and manage their cameras. Born out of a successful Kickstarter project in 2011, Peak Design has returned to crowdfunding 7 times to bring over 20 innovative, durable products to likeminded photographers and adventurers. To date, Peak Design is the most crowdfunded company in existence. The San Francisco based company now designs best-in-class carry products for photographers, travelers, commuters and the creative class. Find us online at: PeakDesign.com

Your Comments