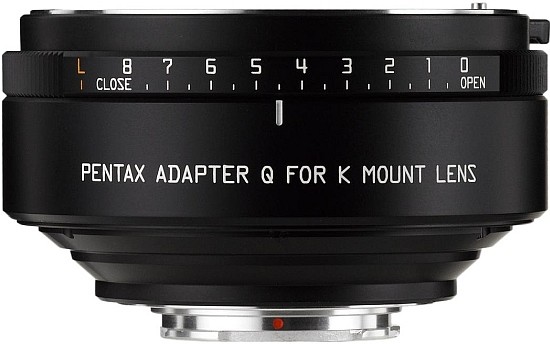 Pentax is set to launch an adapter that allows K-mount lenses to be mounted on Pentax Q series cameras. This enables photographers to use 215 different lenses on their Pentax Q bodies, with a crop factor of 5.5 - this means that a 300mm optic becomes equivalent to a 1650mm super-supertelephoto lens. Auto focus is not maintained and the aperture can only be adjusted manually. The adapter incorporates a five-bladed mechanical shutter with a top shutter speed of 1/1000 second. The Pentax Adapter Q will start shipping in October, at a recommended retail price of £249.99/$249.95. An optional tripod collar will also be available.
Pentax Press Release
Adapter Q for K-mount Lenses
An exclusive accessory for the PENTAX Q to capture dramatic super-telephoto images
PENTAX RICOH IMAGING UK LTD is pleased to announce the launch of the Adapter Q for K-mount lenses. This lens mount adapter makes it possible to use PENTAX K-mount lenses on the PENTAX Q series cameras.
The new mount adapter allows the full range of K-mount lenses to be used on the PENTAX Q series cameras*. This range consists of 215* * lenses and ranging from fish-eye to uni-focal wide-angle to telephoto zoom lenses. The adapter allows the photographer to take full advantage of a wide variety of perspectives and visual effects with quick, effortless lens changes. In addition, it gives the user the opportunity to capture a microscopic world usually impossible to view with the naked eye.
The new mount adapter will extend the focal length of the PENTAX Q series by approximately 5.5-times in the 35mm format. As a result, the smc PENTAX-DA* 300mm F4 ED[IF] SDM telephoto lens will produce the same image as a 1650mm super-telephoto lens in the 35mm format. The adapter allows the user to take effortless photography of distant scenery, wildlife and celestial bodies using a compact, light digital imaging system.
A mechanical shutter has also been incorporated into the adapter to prevent "rolling shutter distortion." This occurs when there is camera shake caused by photographing fast-moving subjects and/or by using a super-telephoto lens resulting in distorted images of the subject.
Major Features
Manual aperture control possible
Tripod bracket (optional) available to stabilise the camera system
Camera shake is automatically compensated for with any lens, simply by inputting the focal length of the mounted lens to the PENTAX Q series
Other Features
Size - 68mm (d) ×37mm (l)
Weight - 145g
Shutter speed 1/1000?30 sec
Five shutter blades
? The camera's firmware must be updated to the latest version in order to properly use this product with the PENTAX Q series.
? Designs and specifications are subjects to change without notice.
The PENTAX Adapter Q will be available from early October.  RRP £249.99.
*Only manual focusing is available with K-mount lenses.
** As of June 15, 2012
Your Comments