Pentax and Samsung Partnership Not Perfect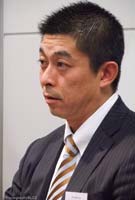 Pentax's Sales & Marketing Director of Imaging Systems, Mr. Toshiaki Iue, who recently joined the company in July, has stated that "Pentax's relationship with Samsung is not perfect – there are some issues", but went on to say that the two companies would continue their technology partnership for at least the near future. In a wide-ranging round-table interview held at Photokina, Mr Iue candidly answered questions on a wide range of topics, including Pentax's future plans for their long-delayed digital 645 medium format camera, the potential impact of Micro Four Thirds, and their relationship with parent company Hoya.
Previously employed by rivals Sanyo for 15 years, Mr Iue joined Pentax on July 22nd with aggressive plans to get Pentax "back into the mainstream". A common theme running throughout the session was the need for any future projects – medium format, full-frame and compact cameras – to be financially viable. Apparently the technology for a medium format camera aimed at professional photographers has already been developed, but Pentax have not yet decided if there is enough demand for such a product. At the same time, Mr Iue commented "we shouldn't wait too long to decide, we need to speed up", indicating that a final decision would be reached soon. If Pentax do go ahead with medium format, the camera will use the biggest image sensor available at the time of production, with 40 or 50 megapixels mentioned as possibilities.
Pentax are less keen on pursuing the other professional alternative, a high-end 35mm full-frame camera. Mr Iue commented that the company had to choose between medium format and full-frame, as they could only afford to dedicate time and resources to one of them in the short to mid-term. As Pentax have already made a sizeable investment in medium format, they aren't so far behind and could bring a product to market more quickly than with a pro-level 35mm DSLR. The cost of developing a range of lenses suitable for the demands of a full-frame sensor is also making Pentax think twice. Mr Iue categorically ruled out any move to produce a full-frame camera just for the sake of prestige, reiterating that Pentax had to be able to make a profit from their investment.
The new Micro Four Thirds standard is seen as both a potential problem but also a potential opportunity. Panasonic's Lumix DMC-G1 is seen as a direct challenge to Pentax's entry-level DSLRs, undercutting the new Pentax K-m in size if not price. On the other hand, Mr Iue believes that "the G1 could open up a new market which will help Pentax and the industry as a whole", a sentiment which has also been echoed by Olympus and Sony in our Photokina meetings. Mr Iue went on to comment that Pentax are very open-minded about the possibility of joining the Micro Four Thirds system, with the company free to join any system that they like at the present time.
Despite falling prices and tighter margins, Pentax have no intention of withdrawing from the compact camera market, contrary to previous industry reports and rumours. Mr Iue confirmed that production of Pentax compacts is outsourced to third-parties (no names were given), but with the design and engineering expertise firmly remaining in-house. Pentax are keen on opening up a new market between compacts and regular sized DSLRs, with the K-m model (the "m" standing for "mini) playing to Pentax's main strength of producing small DSLR cameras. So while Mr Iue didn't rule Micro Four Thirds out, it seems that Pentax will continue to make small, entry-level DSLRs for the near future. A higher-end compact camera, perhaps with an APS-C sensor inside, is not on the Pentax development roadmap, as the market for such a camera is currently too small to invest in. The same reason was given for the lack of a bridge-style camera in Pentax's lineup, with worldwide demand too small to warrant investment.
Pentax's relationship with parent company Hoya was questioned, with Mr Iue replying that "Hoya is really serious about Pentax, as it's a well-known consumer brand, which Hoya isn't". Mr Iue admitted that Hoya bought Pentax predominantly for their medical division and expertise, but they did also want the camera part too. Hoya firmly denied any plans to sell the Pentax photo division to Samsung or any other company, commenting that they had only just bought the company. Similarly, Hoya aren't planning to sell the lens-maker Tokina, which they also own, or to merge it with Pentax.
Your Comments