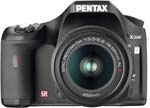 The Pentax K200D is a new 10 megapixel entry-level, compact digital SLR camera. The K200D is the successor to the K100D and K100D Super and features new 10.2 megapixel CCD sensor, 2.7 inch LCD screen, dust and water protection with 60 seals, and improved battery-life consumption. Other standout features of the Pentax K200D include built-in Shake Reduction system, 11-point AF, dust removal and compatibility with a large number of older, pre-digital Pentax lenses. The new Pentax K200D costs £579.99 / $799.95 with the new 18-55 mm II kit lens and will be available in March 2008.
Pentax UK Press Release
INTRODUCING THE NEW PENTAX K200D ENTRY LEVEL DIGITAL SLR
The Compact digital SLR camera with semi professional characteristics
The entry-level series of PENTAX digital SLR cameras continues with the introduction of the new K200D, featuring the acclaimed Pentax Shake Reduction (SR) system. Blurred hand-held photographs, particularly with telephotos or longer exposure times, are a thing of the past. Two sensors are used by the SR system to detect any vibrations and compensate for any movement by the 10.2 Megapixel CCD. This blurring protection system occurs directly at the CCD saving the user from having to acquire expensive special lenses. Thanks to the Pentax K-mount bayonet virtually any Pentax lens can be used with the new K200D digital SLR. The exciting news is that the new series of PENTAX SDM lenses with ultrasonic autofocus are completely compatible with a new entry-level class camera.
The extensive features of the K200D equally address the needs of the entry level or photo enthusiast: for example, the highly precise 11 point autofocus system or the sensitivity setting up to a low-noise ISO 1600. Thanks to the simple and logical control concept of Pentax and use of extended Picture Modes there is almost no need to spend hours studying the operating manuals before use.
K200D: Data at a glance
• 10.2 Megapixel CCD
• Opto-magnetic Shake Reduction (SR)
• Dust Removal System (DR)
• 11 Point AF with 9 cross-sensors (SAFOX VIII)
• Sensitivity ISO 100 – ISO 1600
• 2.7'' wide-angle view monitor with 230,000 dots and approx. 160° viewing angle
• Pentax KAF bayonet mount
• Diverse Picture Modes, 8 digital filters
• Adjustable: focus, contrast, white balance, saturation
• 22 individual Custom Functions
• SD and SDHC memory cards
• Dimensions: 133.5 (W) x 95 (H) x 74 (T) mm, Weight: 630g (without battery or memory card)
• Recommend Retail Price: £579.99 with 18-55 mm zoom lens
• Availability K200D: March 2008
Positioning
Convenient D-SLR camera for entry level and hobby photographers. Compact, easy to use and compatible with all K-mount lenses.
Modifications from previous model (Pentax K100D Super)
- 10.2 MP CCD + PRIME + DDR2 System
- Dust and water protection with 60 seals
- Dust Alert System
- 2.7'' Monitor with 230,000 dots
- Dynamic Range Enlargement
- Optional Battery Grip with 14 seals
- Separate RAW Button
- Battery consumption reduced by a factor of 8
- Advanced Digital Preview functions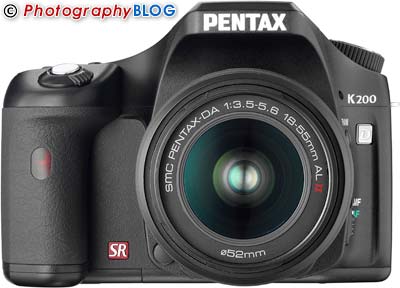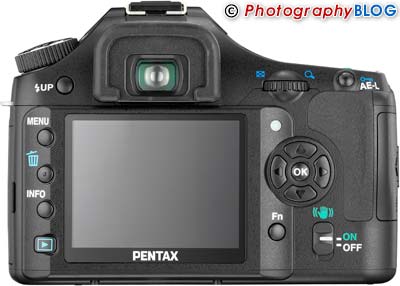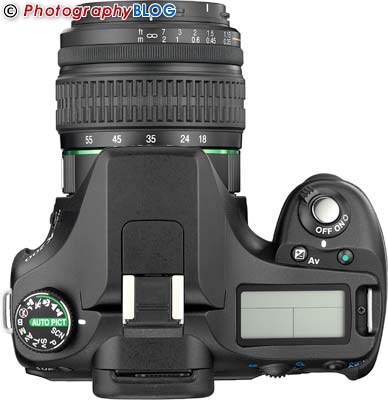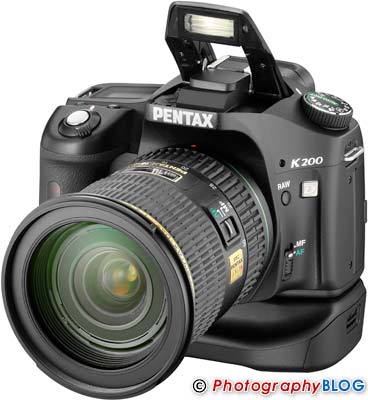 Your Comments