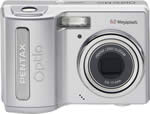 PMA 2006: The Pentax Optio M10 is announced today. 6 megapixels, 3x optical zoom lens, 2.5 inch LCD.
Pentax Press Release
PENTAX Corporation is pleased to announce the marketing of the PENTAX Optio M10 digital compact camera, which incorporates a host of user-friendly features and offers solid performance for a wide range of photographic applications. The Optio M10 is a reliable, popular-class model, combining a compact, lightweight body and simple operations with a versatile 3X optical zoom lens, 6.0 effective megapixels, a large, functional LCD monitor, and other user-friendly features. Coupled with its exceptional battery life, the Optio M10 offers fun, easy digital photography for a variety of occasions and applications to many different users, regardless of photographic skill and experience.
Pentax Optio T10 Major Features
High-quality images assured by a 3X optical zoom lens and 6.0 effective megapixels
The Optio M10 incorporates a high-performance 3X optical zoom lens, which offers an angle-of-view coverage equivalent to 35mm to 105mm in the 35mm format. This versatile zoom lens allows the user to capture a variety of subjects — from landscape to snapshots and portraits — in perfect composition by means of effortless fingertip operation. Its six-element, five-group optics includes two aspherical lens elements to effectively compensate various aberrations, while optimizing the performance of 6.0 effective megapixels.
Large 2.5-inch color LCD monitor with easy outdoor viewing
Despite its compact dimensions, the Optio M10 features a large, low-reflection 2.5-inch color LCD monitor. Its auto LCD dimmer function automatically adjusts backlight brightness according to the incident-light level, making it possible for the user to view the screen comfortably, whether shooting in a dimly lit indoor setting or outdoors in the bright sun. This not only assures quick, effortless confirmation of images both during shooting and playback, but also facilitates the reading and selection of on-screen menus for swift, efficient camera operation.
Simple, user-friendly operation system
In order to assure best results with minimal effort, the Optio M10 offers the convenient Green Mode, which automatically and instantly sets all factors — including exposure, sensitivity and white balance — to the optimum levels, with a single push of the green button on the back panel. Since this user-friendly mode eliminates complicated camera operations completely, it lets even first-time digital camera users to take beautiful, high-quality images with minimal effort.
Outstanding battery life
Thanks to its comprehensive energy-saving design and layout, the Optio M10 provides exceptional battery life (approximately 220 images with AA-size alkaline batteries,* or approximately 900 images with AA-size lithium batteries*) — nearly seven times longer** than conventional models. Since it accepts the globally available AA-size batteries, the user will have no worries about obtaining fresh batteries on the road.
* Measured under testing conditions prescribed by CIPA standards.
** Compared to a previous PENTAX model of the same category using AA-size alkaline batteries.
Easy-to-operate mode palettes
The Optio M10 features the PENTAX-original mode palette system for smooth, effortless selection of shooting and playback modes. The shooting mode palette displays 15 easy-to-understand mode icons, while the playback mode palette offers eight. All the use has to do to set the desired mode is select the corresponding icon on the screen.
High-precision Autofocus with responsive Tracking AF
When the tracking AF mode*** is selected, the Optio M10's focus frame continually follows the main subject as it moves around in the image field, ensuring sharp, crisp focus at the shutter release. This mode is automatically selected by the camera in the Sport, Pet and Kids shooting modes.
*** Tracking AF continually detects both horizontal and vertical movement of the main subject to ensure sharp focus at the desired moment. Confirmation of the focus area can be done on the focus frame on the LCD monitor.
Compact, lightweight body with comfortable grip
Despite its compact, lightweight design, the Optio M10 features an ergonomically designed grip, which assures a comfortable, steady hold of the camera during shooting and image playback. This grip also contributes to an effective reduction of camera shake.
Compatibility with the ImageLink printing system
The Optio M10 is compatible with the ImageLink printing system, which allows wireless connection of a digital camera to ImageLink-compatible printers. By simply placing the Optio M10 on the printer's dock, the user can take advantage of simple, push-button printing of recorded images, without requiring a personal computer.
Others
  * SD memory card compatibility as external memory, in addition to approximately 22MB of built-in memory.
  * Digital zoom function (up to approximately 4X magnification).
  * Macro mode for close-up shooting down to a mere 10 centimeters from the subject.
  * Preselectable picture frames to add a frame of the user's choice to an image.
  * Resizing and trimming functions to process recorded images on the camera.
  * Voice recording function.
  * ACDSee for PENTAX image viewing and filing software included.
  * PictBridge compatibility.
  * DPOF, Exif Print and PRINT Image Matching III compatibility.
  * Standard accessories: USB cable, AV cable, camera strap, software CD-ROM, two AA-size alkaline batteries, dock adapter (for printer dock connection).