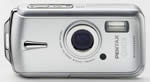 PMA 2006: The Pentax Optio W10 is announced today. 6 megapixels, 3x optical zoom lens, 2.5 inch LCD, waterproof body.
Pentax Press Release
PENTAX Corporation is pleased to introduce the new PENTAX Optio W10. Furnished with superior waterproofing and dustproofing, the Optio W10 is a 6.0 effective megapixels compact digital camera that packs a 2.5-inch LCD monitor and a 3X optical zoom lens into a slim, newly designed body. The Optio W10 was developed based on the PENTAX Optio WP series, which realizes the waterproof functionality for underwater photography without requiring a waterproof case or other accessories. While continuing the development concepts of sportiness, elegance, and leisure and the waterproof and dustproof performance for reliable use outdoors or during water sports, the Optio W10 offers improved LCD monitoring and movie recording. This model has been made more convenient and user-friendly with the addition of the new Face Recognition AF/AE function, which detects people's faces in the picture frame and adjusts the focus and exposure accordingly.
Pentax Optio W10 Major Features
High waterproof performance, without the need for a case
The Optio W10 complies with JIS class 8 waterproof performance, enabling it to withstand up to 30 minutes of continuous operation at an underwater depth of 1.5 meters. Furthermore, the Optio W10 has also been proven to conform to Class 5 dustproof performance of category 2 (machines produced to prevent internal changes in atmospheric pressure). Such capabilities make it ideal for use when skiing, taking part in marine sports, going fishing or enjoying other outdoor events. Waterproof performance of this kind also means users can simply rinse the camera off any time it becomes dirty.
2.5-inch LCD monitor with superb visibility outdoors
The Optio W10 comes with a new 2.5-inch low-reflection LCD monitor. The LCD cover is finished with a non-glare coating, making the screen easier to see even outside on a sunny day. The LCD backlighting mechanism features a brightness adjustment as well as a Power Saving mode, which automatically reduces the backlight intensity to preserve battery life.
High-quality movie recording
The Optio W10 smoothly captures movies at 30 fps (frames per second) at sizes up to 640 × 480 pixels with image quality rivaling camcorders. Furthermore, switching on the newly added movie anti-shake function*1 automatically compensates for camera shake while recording movies. (The anti-shake function can be switched on or off.)
*1 Using the movie Shake Reduction feature results in a narrower field of view than during normal recording.
Face Recognition AF/AE, a new technology that adjusts focus and exposure for people's faces
The Optio W10 is equipped with Face Recognition AF/AE, a new technology that detects people's faces and automatically adjusts the focus and corrects the exposure to suit. When the camera's shooting mode is set to one of Portrait, Self-Portrait, or Natural Skin Tone, this feature will detect and focus on a person's face anywhere in the picture frame. This technology is particularly effective at preventing "dropout" photos, where the camera focuses on the background and not on the person when taking commemorative or other valuable photos. At the same time, this feature automatically corrects the exposure so the face is properly exposed even in lighting situations where the brightness of the person and the background are drastically different, such as when a person is under a spotlight or on a strongly backlit stage.
Continuous AF and tracking AF
Continuous AF*2 or tracking AF*3 are activated automatically upon selection of Sport, Pet or Kids modes – allowing the camera to track a moving subject within the frame and maintain accurate focus accordingly.
*2 For focus on stationary subjects, the shutter release button is depressed halfway to drive the lens to focus lock. Continuous AF, on the other hand, allows the lens to be driven constantly to ensure swift, precise focus as soon as the shutter release button is depressed halfway.
*3 Tracking AF continually detects both horizontal and vertical movement of the main subject to ensure sharp focus at the desired moment. Confirmation of the focus area can be done on the focus frame on the LCD monitor.
High-sensitivity shooting
The Optio W10 supports high-sensitivity shooting*4 at standard output sensitivity 800 (sensitivity is selectable). This enables fast shutter speeds for crisp, sharp shots with minimal blurring even in dark conditions or with moving subjects.
*4 The camera supports sensitivities up to Standard output sensitivity 800 with sensitivity set to Auto and either Candlelight mode or Report mode selected. The recording size with Report mode selected, however, is fixed at 1280 × 960 pixels.
Super image quality from the 3X optical zoom lens and 6.0 effective megapixels
The Optio W10 includes a 3X optical zoom lens that covers focal lengths from 6.3 to 18.9 mm (equivalent to 38 to 114 mm for 35mm film) and features a "folding" optical system so the lens never protrudes from the camera while zooming. Optical components have been redesigned for higher resolution, delivering advanced image quality that takes full advantage of the raw power of 6.0 effective megapixels.
Simplified operations with the Mode Palette
Selection of shooting and playback modes is made much easier with the Mode Palette, PENTAX's original mode selection function that lists mode icons on the LCD monitor. By arranging 25 shooting modes and 15 playback modes, the Mode Palette speeds up mode selection with its straightforward display. Pressing the green button while in the Mode Palette activates a guide function, which displays explanations of each mode.
Green button for immediate setup screen access
The Option W10 includes a green button that immediately calls up the setup screen for settings such as exposure correction and sensitivity. You can assign frequently used functions to the green button to speed up setups when shooting. Up to four functions*5 can be assigned. Initially, the Green mode is pre-assigned to the green button (the three other functions are not assigned).
*5 Functions that can be assigned to the Green button: Green mode, recording size, image quality, white balance, AF area, focus limit, sensitivity, exposure compensation, sharpness, saturation, contrast, and off.
Green mode for easy camera-controlled shooting
The camera features a Green mode, which simplifies picture taking by letting the camera control detailed settings. Since a simple press of the green button activates the Green mode,*6 even beginning photographers can enjoy taking pictures with ease. The Green mode resets the shooting menu, setup menu, and other settings to their defaults and locks the menu and mode buttons and other controls so you don't have to worry about unintentionally changing the settings. This mode comes in handy when asking someone else to take your picture.
*6 Available when the Green mode is assigned to the green button.
Slim body with a flat design
The slim, flat body design of the Optio W10 allows it to be easily retrieved from pockets, bags, and cases. The camera's grip is fashioned with a finger-rest in the shape of a water droplet for better portability. An aluminum alloy is employed for the front panel, producing a high-grade sensibility. The rounded form also gives the camera a friendly impression.
Other features
  * Ready to shoot just 0.6 seconds after the power is turned on
  * Real-time display of "washed out" and "blacked out" areas
  * Image Recovery function lets you retrieve accidentally erased pictures
  * Picture Voice function can record sounds before and after taking a picture
  * Macro mode allows close-up photography as near as 1 cm
  * Frame composite function allows you, either when shooting or after shooting, to add
  * a decorative frame that is printed around the image
  * Soft flash function avoids overexposure during close-up flash photography
  * Up to 4X digital zooming
  * Three color modes (full-color, B&W, sepia) for versatile movie recording
  * "Clock Mode" function displays the time even when the camera is off
  * SD memory card compatible; approx. 10.5MB built-in memory
  * Standard image viewer, ACDSee for PENTAX software
  * FotoNation's red-eye compensation function for flash shots
  * DPOF, Exif Print, and PRINT Image Matching III compatibility