Pentax Show 3 New Lenses at Photokina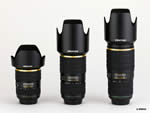 Pentax have revealed that they will be showing 3 new SLR lenses - smc PENTAX-DA* 16-50mm F2.8ED AL[IF], smc PENTAX-DA* 50-135mm F2.8ED [IF] and smc PENTAX-DA* 60-250mm F4ED [IF], at Photokina next week, along with the 18 megapixel PENTAX 645 Digital medium-format camera (first shown as a prototype back at PMA in February). The company have also announced that the 645 Digital will be upgraded with new sensors throughout its life, reaching an expected final resolution of 30 megapixels.
Pentax UK Press Release
Thursday 21st September 2006, London - Pentax will be exhibiting three new interchangeable digital SLR camera lenses, as well as a new medium-format camera, at this year's Photokina in Cologne.  Still in pre-production, Photokina will represent the first opportunity for anyone outside of Pentax's engineering team to view these exciting new products. Also on demonstration at the show will be the recently launched K10D - Pentax's flagship digital SLR camera, featuring 10 megapixels, Pentax's proprietary shake reduction system and a host of other innovative features.  These in turn will be supported by Pentax's current digital compact line-up, which includes marketing leading cameras such as the Optio A20, Optio W20 and Optio T20.
Photokina is one of the world's largest photo and imaging merchandise fairs and runs from 26th September to 1st October in Cologne, Germany.  It provides the perfect platform for Pentax to showcase its flagship models to Europe's photographic industry. 
Three interchangeable lenses designed for exclusive use with PENTAX digital SLR cameras
Product type: Wide-angle zoom lens; model name (tentative): smc PENTAX-DA* 16-50mm F2.8ED AL[IF]
Product type: Telephoto zoom lens; model name (tentative): smc PENTAX-DA* 50-135mm F2.8ED [IF]
Product type: Super-telephoto zoom lens; Model name (tentative): smc PENTAX-DA* 60-250mm F4ED [IF]
Other product information:
These products are designed for use with PENTAX K- and *istD series of digital SLR cameras. They are being developed as premium, high-end 'star' (*) lenses, which will deliver exceptional performance and optimal image quality. They will feature the PENTAX KAF2 mount, which incorporates additional electrical contacts to drive a built-in supersonic motor used in auto focusing.  All three lenses will be available in March 2007.
Lens-interchangeable medium-format SLR camera
Model name (tentative): PENTAX 645 Digital
Product information:
18 effective megapixels
PENTAX 645AF mount
Compatibility with existing smc PENTAX 645-series lenses
Other information:
This product will be continuously upgraded by incorporating newly developed image sensors, with its final effective megapixels expected to reach 30-megapixels
About Pentax
Pentax U.K. Limited was formed in 1979 and is a subsidiary of the PENTAX Corporation of Japan. The Imaging Systems Division successfully distributes its products through a number of channels, including independent camera shops and national retailers. The product range is extensive and includes state of the art digital SLR and zoom compact cameras, through to highly sophisticated professional medium format equipment. There is also a superb range of binoculars, suitable for a variety of leisure activities. Today, Pentax is a leading supplier of professional and recreational cameras and photographic equipment world-wide.
Pentax U.K. Limited, Imaging Systems Division, offers an online press lounge, designed to provide the UK media with access to an extensive library of information relating to Pentax's range of cameras and binoculars.
Simply click on the link (www.pentaximagingpr.co.uk) and you'll be able to access press releases, downloadable product images and company logos, product specification sheets and a Pentax company backgrounder. If you have a query, want to check a price or availability of a product or perhaps require a product for review, please get in touch with us via our PR contact section.