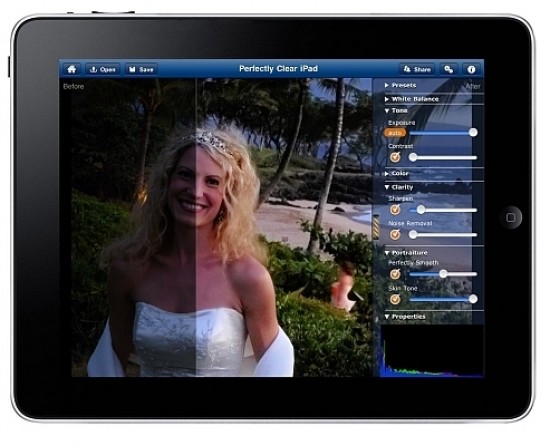 Athentech Imaging has released updates to both the iPhone and iPad versions of its Perfectly Clear app. The new versions incorporate a host of improvements, new features and bug fixes. For a limited time you can get Perfectly Clear for iPad for $1.99 and the iPhone version for $0.99 on the iTunes App Store.
Update: The promotion has ended; the iPad version now costs $5.99, while the iPhone edition can be downloaded for $2.99.
Athentech Press Release
Perfectly Clear iPad v1.4 & iPhone v2.4
An enhanced experience
Perfectly Clear is the industry leader in Automatic Image Correction. A few years ago we released the Perfectly Clear iPhone app and then the Perfectly Clear iPad app - both products used our powerful technology to give you stunning photos on your iOS devise.
Since then, devices have changed, images have gotten bigger, operating systems work differently and we realized the need to update our app. We're sure you will like these changes as now we bring you a faster, better and even easier experience and make your images even more stunning with our automatic corrections.
Below are a list of changes, bug fixes and enhancements we are sure will make your Perfectly Clear experience better then ever. We encourage you to update to the latest build and get back to creating great images.
What's New?
- Fixed crashing bug from previous version
- Memory optimization to prevent running low on memory
- Optimized preview for faster loading
- Optimized correction speed by over 100%
- Updated save size to accommodate 8MP camera (4S)
- Optimized file size for faster workflow
- Made Tint correction more responsive
- Captures and preserves EXIF data when taking photo through Perfectly Clear
- Captures and preserves location data when taking photo through Perfectly Clear
- Preserves EXIF data when importing image
- Preserves location data when importing image
- Identifies Perfectly Clear corrected image in EXIF data
- Fixed image orientation data
- Improved share abilities with Facebook
- Improved share abilities with Twitter
- Improved share abilities with email
- Increased response from correction sliders
- Fixed unusual behavior of slide-out panel
Your Comments