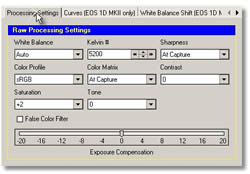 ProFotoSoftware Press Release
23rd April 2005 - London UK - For Immediate Release
ProFotoSoftware have today issued V1.71 of their Canon EOS Raw conversion software, PFS Image Darkroom (Windows 98 or better).
This version offers enhanced Shadow and Highlight recovery options during the Raw Conversion process, providing good results from images that would otherwise be discarded.
Unlike some other solutions, this improved feature is simple to use and does not present a confusing array of options. Instead, it concentrates on performing this task quickly and effectively. Performing the same task manually in an image editor is both time consuming and less satisfying.
PFS Image Darkroom is currently priced ay $39 USD/ £22 GBP.
From 10th May 2005 the price will rise to $59 USD/ £32 GBP.
Purchasers receive unlimited free technical support, a 30 day money back guarantee should an error occur in the software and free upgrades to all 1.x versions of the product.
It is not our policy to charge users an annual fee for technical support or minor upgrades.
A 30 day trial version can be downloaded from:
http://www.profotosoftware.com/download.php