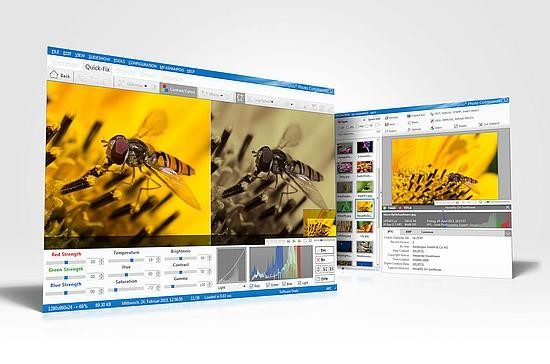 Ashampoo has released Photo Commander 12, the latest version of its photo storage and editing software. New features and enhancements include support for a variety of raw file formats, increased scalability, enhanced social sharing, more creative options for sharing and transforming photos, enhanced editing and more after-effects. Photo Commander costs $49.99 and can be downloaded from the website below.
Ashampoo Press Release
Ashampoo Releases New Photo Management and Editing Software: Photo Commander 12
- Version 12 of universal photo toolbox gives users control of large photo collections, editing for everyday PC users, imaginative after-effects, and new sharing options -
July 14, 2014 11:47 AM Eastern Daylight Time BOSTON -- (BUSINESS WIRE) -- Ashampoo, a leading PC software developer with more than 170 million installations and 18 million customers, has released Photo Commander 12, the latest version of its easy-to-use photo storage and editing software.
Photo Commander 12 has new features so users can browse and manage extensive digital photo collections; edit and optimize color and contrast settings; fix image problems such as scratches and red-eye; get creative with image effects; and easily turn photos into greeting cards, calendars and montages. Users also have peace of mind with automated backups to protect edits and work in progress.
Like every software program developed by Ashampoo, Photo Commander 12 is designed for everyday PC users with ease-of-use in mind with step-by-step installation guides and wizards.
Updated and new features in Photo Commander 12 include:
Increased scalability: The ability to manage large collections from a handful to 100,000 digital photos with easy-to-understand column layouts, filter and tagging features, and batch management with the ability to rename, move and convert photos
Enhanced editing: Photo Commander 12's one-click photo optimizer enhances image quality at the click of a button, and colors can be enhanced with simple tone matching and color adjustments
More after-effects: Enhanced after-effects include oil painting and pencil sketch effects, as well as an enhanced image library to add fun design, text and fonts, shapes and objects
Support of high-end image formats: With support for raw image formats to handle RAW and unprocessed film formats
More creative options for sharing and transforming photos: New options for calendars, montages, and greeting cards
Social sharing: Enhanced integration and easy uploading to Facebook, Picasa and Ashampoo's user space, Ashampoo Webspace.
Sebastian Schwarz, Ashampoo CEO, said: "Gone are the days of photos being hoarded in shoe boxes under the bed – now they are hoarded on hard drives. In 2015 Americans will take an estimated 100 billion photos, so now our challenge isn't how easy it is to take photos; the challenge is how to make sharing those photos easier, and to be able to edit them without having to wrangle with software packages that are complex and specialist, and to use software that is designed specifically for everyday PC users. That's why we are releasing the latest version of Photo Commander, which gives ease-of-use editing with powerful photo management. We'd like to encourage all the digital photo fans out there to organize their photo collection and to rediscover, enhance and share their digital memories."
Photo Commander costs $49.99 and can be downloaded at https://www.ashampoo.com/en/usd/pde/1818/multimedia-software/Ashampoo-Photo-Commander-12. It runs on Windows XP, Windows Vista, Windows 7, and Windows 8. It is available in American English, Arabic, British English, Catalan, Chinese (simplified), Chinese (traditional), Czech, Dutch, French, German, Hungarian, Italian, Norwegian Nynorsk, Portuguese (Brazilian), Russian, Slovakian, Spanish, Spanish (Argentina), Swedish, and Turkish.
About Ashampoo | www.ashampoo.com
Ashampoo's global presence includes 18 million active customers and 170 million downloads of its PC software, which is available in 37 different languages.
The company's portfolio of 45 different software packages includes system utilities, security and anti-virus, burning, CAD, construction and multimedia, each with a focus on usability and simplicity for the consumer. Its award-winning products include Ashampoo Burning Studio, Ashampoo WinOptimizer 11 andAshampoo Snap 7.
Headquartered in Oldenburg, Germany, Ashampoo was founded in 1999. It was a pioneer of the digital download and a leader in developing the shareware market.
Consumers that want free downloads, product offers and company news can sign up for the company's product newsletter here.
Your Comments