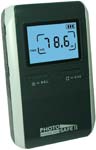 Photo Safe II is a new portable storage device for photographers. With an 80GB or 160GB hard drive and built-in memory card reader, you can quickly and securely save your digital photos wherever you go. Photo Safe II features a new compact design,support for MS Duo and miniSD, a safer card slot and easier-to-use battery slot. Photo Safe II is available now, priced at $139 for 80GB and $189 for 160GB.
Digital Foci Press Release
DIGITAL FOCI ANNOUNCES PHOTO SAFE II – ULTIMATE PHOTO COMPANION FOR TRAVELERS
No Need to Bring Laptop with You When Taking Photos on Vacation
Los Angeles, California, July 17, 2008—Digital Foci, Inc. http://www.digitalfoci.com announced today Photo Safe II, the ultimate photo companion for travelers.  Photo Safe II provides portable on-the-road digital photo storage with 80GB and 160GB hard drives and built-in memory card readers, so you can quickly and securely save your digital photos wherever you go.  Photo Safe II lets you keep snapping away without worrying about losing important photos or running out of memory card space while on the road.
Essential Digital Camera Companion
Perfect for business travelers and summer vacations, Photo Safe II lets you go away without the need of a laptop to download your photos for safe-keeping.  Based on the previous version of Photo Safe (winner of American Photo 2007 Editor's Choice Award), Photo Safe II brings together its award-winning portable storage technology with a new compact design and additional features, such as support for MS Duo and miniSD; a safer card slot with rubber covers for more protection from dust; and a battery slot that makes it easier to insert/remove the rechargeable battery.
No cumbersome cabling or computer is ever needed to save photos in Photo Safe II.  Just insert the digital camera's memory card directly into Photo Safe II to free up expensive memory card space and reuse your card.  When you get home, simply connect Photo Safe II to your computer to retrieve your saved pictures. 
Photo Safe II easily copies the entire content of your memory card with its convenient one-touch "Auto Copy" button, which features copy speeds of up to 5.0MB/sec, so a full 1GB card can be copied in approximately 3½  minutes.  Photo Safe II works with all popular card formats, including CF (Extreme III, IV, UDMA), MMC, SD/HC Card, miniSD, Memory Stick, MS PRO, MS Duo, MS PRO Duo, and xD-Picture card.  You can also make copies of photos taken from a friend's cameras by inserting their card into Photo Safe II for instant archival of special moments.
Photo Safe II copies all file formats (including RAW images and videos), in their original file name and file structure.  Its icon backlit LED screen shows key system information, including operational status, battery life, remaining hard drive space, and active partition (Photo Safe II supports multiple hard drive partitions).  Copy status indicator displays percentage completed during copy; copy confirmation; and number of files copied upon completion.
External Storage Drive & Memory Card Reader
When connected to a computer, Photo Safe II also functions as an external hard drive and memory card reader.  Use Photo Safe II to back-up and archive digital images, music and important files from your computer through its high-speed USB2 connection.
Photo Safe II Key Features
One-touch operation and built-in card slots for instant photo backup directly from your digital camera memory card without the need of a computer.
Memory card format support, including CF (including Extreme III, IV, UDMA), MMC, SD/HC Card, miniSD, Memory Stick, MS PRO, MS Duo, MS PRO Duo, and xD-Picture card. 
Copies all formats (including RAW images and videos) in original file name and file structure.
Fast copy speed – can copy 1GB in approximately 3½ minutes from high-speed cards.
Backlit LCD screen displays operational status, active partition, remaining hard drive capacity, battery life.
Copy status indicator displays percentage completed, copy confirmation, and number of files copied.
Automatic sequential folder numbering:  for each copy, Photo Safe II creates a unique folder name indicating media card type and copy sequence per card type to keep you organized.
Supports copy from Memory Stick, MS Duo, MS PRO Duo, SD/HC, MMC or xD-Picture Card onto a CF card.
LED indicators show data access status for memory card and hard drive. 
User-replaceable Lithium-Ion battery with battery life of approximately 1½ hours.
Li-Ion battery rechargeable via either computer's USB port or external power adapter.
Hi-Speed USB 2.0 for fast uploads and downloads to and from your computer.
Delete card feature lets you empty memory cards.
Functions as external hard drive and memory card reader when connected to computer .
Compatible with both PC and Mac.
Auto shut-off function saves battery power.

Photo Safe II (PST-251) is available immediately, priced at $139 MSRP for 80GB and $189 MSRP for 160GB.  It is compatible with PC and Mac computers and includes a rechargeable Lithium-Ion battery, dual-plug USB cable, AC power adapter, and Quick Start Guide.  Photo Safe II comes with a worry-free one-year warranty.  For more information, see www.digitalfoci.com or http://www.digitalfoci.com/photo_safe.html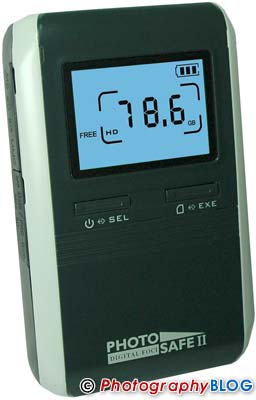 Your Comments