Photo StudioCruzer 1510 Case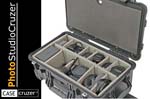 The new Photo StudioCruzer 1510 camera case from Pelican is the toughest airline-legal carry-on case available today. The StudioCruzer case features metal reinforced padlock protectors, modular interior with closed cell foam adjustable sizers, 17-inch retractable extension handle and lid compartment for a laptop. The Photo StudioCruzer 1510 case costs and is available now.
CaseCruzer Press Release
New Pelican Case Helps Photographers Overcome Fear of Flying—Camera Case is Toughest Airline-Legal Carry-on Solution Available
A New Pelican Case by CaseCruzer Makes Air Travel a Breeze by Offering a Camera Case Carry-on Solution for Photographers Who Fly with Expensive and Delicate Cameras, Video Camcorders and Laptop Computers
MONTCLAIR, Calif.—(BUSINESS WIRE)—CaseCruzer is pleased to introduce a Pelican case that will ease the air travel nightmare experienced by most photographers. The new camera case, the Photo StudioCruzer 1510, is the toughest airline-legal carry-on case available today. Now photographers can roll on and off an aircraft without fear of baggage handlers and accidents.
The mobile Photo StudioCruzer 1510 is yet another innovative CaseCruzer design of Montclair, California. Its modular interior gives photographers flexibility for storing and transporting equipment with closed cell foam adjustable sizers. And the exclusive lid compartment is the perfect cradle for an Apple MacBook Pro 13.3-, 15-inch or the new MacBook Pro Air.
Once photographers reach their destination, they are ready to roll into any terrain, thanks to StudioCruzer's 17-inch retractable extension handle and superior mobility. Also, since the Pelican case is equipped with side and front handles, it is easy to maneuver in any situation.
StudioCruzer is tough, too. The metal reinforced padlock protectors add strength and extra security against cutting and theft. And with buoyancy up to 64.2 lbs, this camera case is not only waterproof but ready and willing to be strapped to a kayak or canoe for river travel.
Paul Fetters, a photographer based in Falls Church, Virginia, has traveled the world shooting for USA Today, Time, and Newsweek. His corporate and non-profit clients also keep him on the run with challenging domestic assignments. He knows the drill and its inherent dangers.
"We've all had too many experiences of looking out the window of the plane just as your bag slips off the conveyor belt and crashes to the ground, or as the baggage handler tosses it in to the belly of the plane. And, no matter how careful your assistant is, sooner or later the case with the cameras or computer will dive from the cart onto the stairway," he said when reached in San Miguel de Allende, Mexico.
And in this digital age when new products like the MacBook Air are introduced every year, Fetters said cameras are only one part of the fearless-flying equation. "Now that we've gone digital, the laptop is a piece of camera equipment. We don't leave home without them."
The versatile StudioCruzer, which weighs only 15 lbs when empty, includes standard Pelican case features, such as water and dustproof neoprene o-ring seal; automatic purge valve with Gore-Tex®; membrane; and easy to open double-throw latches.
Videographers will be pleased to know that the VIDEO StudioCruzer has custom foam applications that can accommodate many of the industry's state-of-the-art video camcorders.
The Photo StudioCruzer 1510 is designed to provide moderate protection as a carry-on. It is not intended to be used as a shipping case or check-in luggage. CaseCruzer has developed other products for heavy duty protection.
Even so, if you're a photographer like Fetters who puts his reputation on the line for great images in tough terrains and you need a reliable camera case, StudioCruzer's got your back. Think a Pelican case is special? You're right. But when you hear the name CaseCruzer, think Pelican Plus.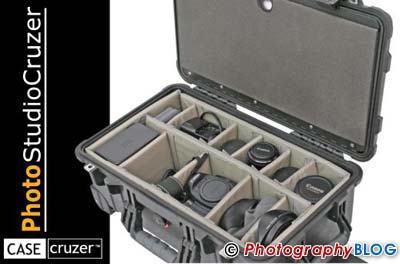 Your Comments