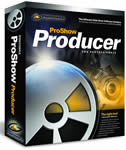 Photodex Press Release
Innovative New Release Includes Chroma Key and Masking Tools, Keyframing Controls, and Expanded, Popular Output Options Like Adobe® Flash®, QuickTime® and HD Video.
Austin, TX December 12, 2006- Photodex Corporation today announced the release of the next generation of its award-winning slide show software for professional photographers. The all-new ProShow Producer 3.0 expands upon the already impressive list of creative features and production control options. Now photographers can create professional-grade slide show masterpieces that not only look polished, but exhibit advanced, high-end artistic effects previously achievable only through using 3rd party professional photo and video editing software. From digital proofing to high-end multimedia slide shows, ProShow Producer has introduced photographers to a new way of presenting their images to the world. With Producer, photographers can create multimedia slide show presentations and output them to their choice of 14 different formats, including DVD, CD and the newly-added HD Video, Flash and QuickTime output options.
Unmatched Creative Possibilities
New features, like Chroma Key Transparency and Masking, offer enhanced creative control for photographers. Using the Masking feature, any layer on a slide can be turned into a fully-customized mask to conceal or reveal aspects of underlying layers. Masking can be used to create silhouette effects and abstract compositions in slide shows. The new Chroma Key Transparency tool creates Hollywood-style "greenscreen" effects by making a specific color range in an image or video transparent, allowing photographers to create overlays and graphic art effects for their slide shows. Other new creative features include a built-in Vignette tool, photo and video cropping and rotation, enhanced drop shadow control, caption textures and more.
Complete Control with Keyframing
ProShow Producer offers Keyframing control for captions, motion effects and adjustment effects, allowing photographers to precisely position and set points on a keyframe timeline to create special effects in their slide shows. Keyframing effects can be used to create a sequence of complex motion paths, make images and videos move through color shifts and create multiple caption motion effects, all of which can occur during the course of one slide.
Superior Output Capabilities
A variety of popular, new video output formats are available in ProShow Producer 3.0, including Adobe® Flash®, QuickTime®, Windows Media Video (WMV), HD Video and AVI, giving photographers an even broader reach with the output they create. ProShow Producer 3.0 also comes with high-quality, built-in content like DVD menus and slide show templates.
Pricing and Availability
ProShow Producer 3.0 is available from Photodex Corporation for $499.95. A 15-day free trial version of ProShow Producer 3.0 is available for download from www.photodex.com.
About Photodex Corporation
Founded in 1987, Photodex Corporation is a leading publisher of software for working with digital content. Photodex creates innovative products that enable users to create compelling slide show presentations with photos, video and audio, and to manage their digital files. Photodex's user-friendly, affordable software offers power, speed, and simplicity for millions of computer users worldwide.