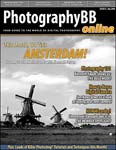 The third edition of the free PhotographyBB Online Magazine has just been published. This edition of PhotographyBB features more Photoshop Tutorials, thought provoking articles, and an interview with an experienced HDR (High Dynamic Range) photographer. PhotographyBB Online Magazine is available for free download in either PDF or ZIP formats.
PhotographyBB Press Release
VANCOUVER, CANADA, APRIL 9th, 2008 - PhotographyBB announced today, the release of the third edition of the PhotographyBB Online Magazine. By way of download in either PDF or ZIP formats, PhotographyBB continues its trend through the future of free downloadable magazine distribution. In a completely ad-free format, each issue contains informative and educational tutorials for amateur and intermediate level photographers.
In addition to articles which aide beginners in getting the most from their DSLR cameras, the PhotographyBB Online Magazine also features useful and applicable tutorials on how to use Adobe Photoshop to build digital photography post-processing skills.
Regarding this recent release, Dave Seeram - Editor and Publisher says, "I'm very excited about the great content we have available this month. We took on a couple new contributing volunteers this month, and the result is our most impressive magazine to date! This month, there are more Photoshop Tutorials, some really thought provoking articles for the digital photographer's consideration, and an interview with a highly experienced HDR (High Dynamic Range) photographer."
PhotographyBB Online Magazine is available for free download through the PhotographyBB Website at: http://www.photographyBB.com/magazine
PhotographyBB was founded in Oct, 2006, and is a division of PowerButton Central (2004). For more information, visit the PhotographyBB website at: http://www.photographybb.com or by email at: [email protected]
Your Comments