Photoshop CS2: Mastering Camera Raw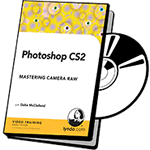 lynda.com Press Release
lynda.com, the company specializing in self-paced career and computer training in digital media and design, today introduced Photoshop CS2: Mastering Camera Raw.
(PRWEB) November 4, 2006—In the world of digital photography, the raw image is the digital equivalent of a large-format negative. Working with these "digital negatives" allows photographers to have greater artistic control and flexibility during the image-editing process, while still maintaining the integrity of the original raw file. In Photoshop CS2: Mastering Camera Raw, best-selling author Deke McClelland teaches the key principles and techniques for mastering raw photography using the Adobe Camera Raw plug-in. From shooting, converting, and organizing raw files to developing and finalizing images using specialized commands, each capability of the Camera Raw plug-in is covered in depth. Viewers will explore all aspects of expert photographic manipulation using the plug-in with Adobe Photoshop.
"The future of digital photography lies in the raw format. As cameras and computers become powerful enough to support this highest-resolution format, digital photographers will need to learn new skills. There's no better guide to this new frontier than best-selling Photoshop author Deke McClelland," says Lynda Weinman, CEO of lynda.com.
Camera Raw was released by Adobe in February 2003. According to Adobe, this powerful plug-in has been updated to support more cameras and include more features, and is available as part of Adobe Photoshop CS2.
Anyone with an Internet connection can access Photoshop CS2: Mastering Camera Raw by subscribing to lynda.com's Online Training Library™. A separate DVD version of Photoshop CS2: Mastering Camera Raw is scheduled to be released soon.
Subscriptions to the lynda.com Online Training Library™ start at $25 per month, and provide access to more than 14,000 movie tutorials covering a wide range of technology career tools, software and techniques. Subscribers can access any of the computer-based training titles at their convenience. Multi-user subscriptions are also available for companies and institutions seeking to provide education and training to groups.
For free online samples of Photoshop CS2: Mastering Camera Raw and more detailed product information, please visit http://movielibrary.lynda.com/html/modPage.asp?ID=306.
To arrange to view the full training title, please contact by e-mail.
For more information on lynda.com products, please visit http://www.lynda.com or call 1-888-335-9632.
About lynda.com
Since 1997, lynda.com has provided education and technical training solutions for designers, computer graphics specialists, digital media users, and computer owners. lynda.com products include web-based training, instructional books, CD- and DVD-based video training, self-paced online learning and events for creative designers, instructors, students and hobbyists. lynda.com specializes in teaching fundamental design and graphics principles along with the latest computer software, digital media technologies and techniques.
About Deke McClelland
Deke McClelland is a well-known expert and lecturer on Adobe Photoshop, Illustrator, and InDesign, and on the broader realm of computer graphics and design. To date, he has written 84 books that have been translated into 24 languages, with more than 3.5 million copies in print.
In addition to videos for lynda.com, Deke produces the One-on-One book series. Published by Deke Press in association with O'Reilly Media, this series of full-color tutorials includes the best-selling Adobe Photoshop CS2 One-on-One and Adobe InDesign CS2 One-on-One. This is his second title for lynda.com.