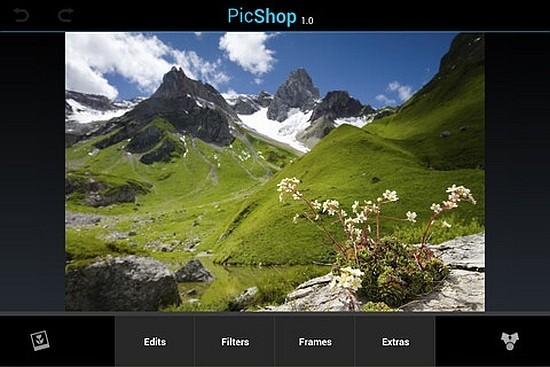 esDot Development Studio has announced the free "Lite" version of PicShop - Photo Editor, a mobile editing suite for iOS devices. Also available for Android, PicShop - Photo Editor offers a user interface created with Adobe AIR. Some of the more interesting features include the ability to emulate a shallow depth of field effect, replicate some of the results achievable with a tilt lens, remove blemishes from a portrait, change the saturation/brightness/contrast of an image, and more. PicShop Lite - Photo Editor is available from iTunes, with the Android edition being downloadable from the Google Play Store.
esDot Development Studio Press Release
PicShop - The only Photo Editor you will love to use - Now Free
esDot Development Studio has announced the free "Lite" version of PicShop - Photo Editor 1.3.2, their popular mobile editing suite for iOS devices. The beautiful clean fluid interface lets you edit photos in a matter of seconds. With support for HD images up to 8MP, PicShop is great for serious photographers as well as casual. Beautiful design combined with tons of editing options and dozen's of filters make this the premier mobile editing suite on the market.
Edmonton, Alberta, Canada - esDot Development announce as announced the release of PicShop - Photo Editor, a free Photo Editor available for iPhone, iPod touch and iPad.
PicShop offers a beautiful 60hz User Interface created with Adobe AIR, and designed after Android 4.0. Finally iOS user's can get a taste of Android ICS.
We also include cool advanced features like Depth of Field (Focal Point), Tilt Shift and MemeMaker!
Features:
* Full Editing Suite
* Filters and Effects
* Frames and Overlays
* Sketch Mode w/ 8 different brushes
* Meme Maker (YES RLY)
* Speech Bubbles
* Text w/ Adjustable Font
* Fun Stickers (Hats, Moustaches, Love etc)
* Social Integration (Facebook, Twitter, Email)
* Customize app with your own personal theme
Editing Suite:
* Color / Saturation
* Brightness / Contrast
* Sharpen / Blur
* Tilt Shift
* Depth of Field
* Blemish Remover
* RedEye Remover
* Auto-Correction
* Crop
* Rotate
* Flip
PicShop HD - Photo Editor supports languages for US English, Chinese, Czech, Dutch, French, German, Italian, Japanese, Korean, Polish, Portuguese, Russian, Spanish, Swedish, and Turkish.
Device Requirements:
* iPhone 3GS, iPhone 4, iPhone 4S, iPod touch (3rd generation), iPod touch (4th generation) and iPad
* Requires iOS 4.0 or later
* 18.5 MB
Pricing and Availability:
PicShop Lite - Photo Editor 1.3.2 is Free and available worldwide exclusively through the App Store in the Photo & Video category.
PicShop - Photo Editor 1.3.2: http://esdot.ca/site/our-apps/picshop-photo-editor
Download from iTunes: http://itunes.apple.com/app/picshop-lite-photo-editor/id505766376
esDot Development Studio is located in Edmonton Alberta, Canada. Focused on delivering fresh and compelling experiences to touch based devices, wherever that may lead. Copyright (C) 2012 esDot Studio Inc. All Rights Reserved. Apple, the Apple logo, iPhone, iPod and iPad are registered trademarks of Apple Inc. in the U.S. and/or other countries.
Your Comments