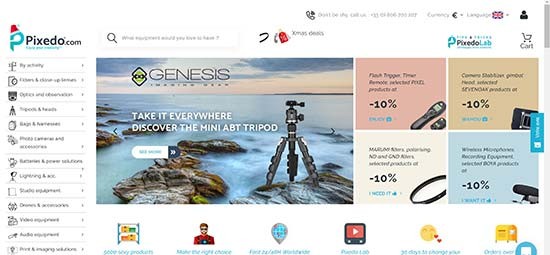 Pixedo.com is a new online store with more than 5000 specialised photo and video products available.
Pixedo.com Press Release
Pixedo.com®, the lastest online store for image enthusiasts
Pixedo.com® was created for every image lover in Europe ! The online store opened on 1st August
2017 and more than 5000 specialised photo and video products are available on the website. As
well as the products, the brand is also creating its own community. Tips and product tests will be
available but also live shows will be hosted with photographers that have been recognized for their
work and their own style. There is so much to learn and get inspiration from. Come discover the
Pixedo.com® world.
Pixedo.com®, equip your creativity
Photo and video equipment, optics, tripods, studio lighting, and many other accessories for
beginners and professionals are already available on the website. Not sure how to make the right
choice for your purchase? Our team of French and English technical coaches can help you and
give you the best advice.
A perfect and personal service (with real human-beings!) is the philosophy at Pixedo.com® !
On the brand side, the website offers products with an unbeatable value. New brands are also
appearing such as Quadralite, Irix, Genesis, Meike, Linkstar, Falcon Eyes and many more.
Pixedo.com® inspires and helps you to progress
In a few weeks, you will find, exclusive content from enthusiasts like you on the website! Interviews with photographers, live shootings, tips, equipment tests, and many other surprises will be available on the Pixedo Lab. The whole team wants to make Pixedo.com® a key player in Europe, not only in terms of the quality of the catalogue and at a customer service level, but also through the creation and animation of a community of professional and beginner photographers and
videographers. Sharing nurtures progress, and benefits everyone!
Know us more
Based in Montpellier, the whole team is happy to see you on www.pixedo.com, and invites you to
join the community to not miss the many new things to come:
https://www.facebook.com/pixed...
https://twitter.com/pixedostor...
https://www.instagram.com/pixe...
Your Comments