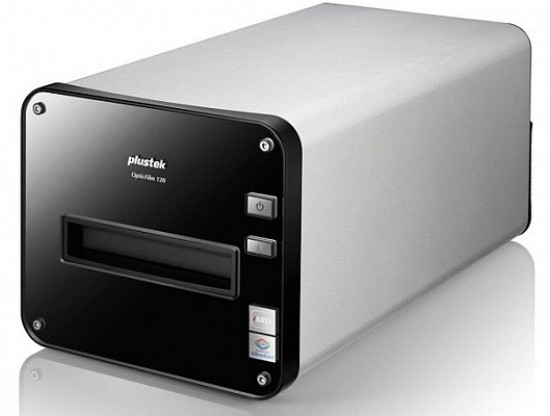 Plustek UK has announced the immediate availability of the Plustek OpticFilm 120 scanner, which is capable of scanning both 35mm and 120 format negatives and slides. Boasting a high-quality metal case, the Plustek OpticFilm 120 uses a custom-designed 8-element glass lens and a high-resolution CCD sensor. Capable of achieving a dynamic range of 4.01 - in tandem with SilverFast's Multi-Exposure technology -, the OpticFilm 120 from Plustek comes with adjustable-pitch film holders that feature unique sliding inter-frame dividers to ensure film flatness. The sliding dividers also enable users to scan various frame sizes from 6x4.5cm to 6x12cm, while the 35mm film holders allow for the scanning of twelve 35mm film frames or five mounted slides in a batch. The scanner's hardware resolution - based on the specification of its stepper motor and the number of pixels on its CCD - is 10600dpi, with the optical resolution (which also takes into account the resolving power of the optical system) specified at 5300dpi. Other highlights include automated IT8 calibration and a motorised film transport for batch scanning. Bundled with SilverFast Ai Studio 8, the Plustek OpticFilm 120 is available for £1950-£1999.
Plustek Press Release
Plustek OpticFilm 120 Medium Format and 35mm Photographic Film Scanner
Ideal for advanced amateur and professional photographers
Taipei: Plustek Technology, a manufacturer of consumer, prosumer and professional imaging devices, announced today the launch of its new flagship film scanner, the OpticFilm 120. The OpticFilm 120 was designed to meet the image quality and workflow requirements of professional and advanced amateur photographers with the need to scan 120 or 35mm film. Plustek conducted extensive market research and designed the OpticFilm 120 to address customers concerns with resolution, film flatness and scanning workflow. During the OpticFilm 120 development phase, LaserSoft Imaging with more than 25 years of experience in digital imaging has significantly contributed to achieve the OpticFilm's superior quality.
With its elegant design and high-quality metal case, the OpticFilm 120 uses an 8-element in 5 groups custom designed glass lens with 5300 dpi optical resolution and high-quality CCD sensor with a breakthrough resolution of 10600 dpi and an effective usable Dynamic Range of 4.01(with SilverFast Multi-Exposure®/ according to ISO 21550:2004).
Plustek addressed the film flatness requirements of medium format film by designing patent-pending, adjustable-pitch film holders. This film holder design allows the scanning of 120 film from 6x4.5 to 6x12 and up to 3 frames of uncut 6x7 film. Unique sliding inter-frame dividers are adjustable for variable inter-frame gaps to ensure film flatness. The 35mm film holders enable scanning of 12 35mm film frames or 5 mounted slides.The OpticFilm 120 features a motorised film transport for automatic batch scanning. This feature automates the scanning workflow and requires less operator intervention than previous generations of scanners. In close partnership with Plustek, LaserSoft Imaging has adjusted high-end scanner software SilverFast Ai Studio 8 to the OpticFilm's special design
.
The OpticFilm 120 takes great advantage of SilverFast, which is included with the scanner and features patented SilverFast Multi-Exposure® to increase Dynamic Range for capturing maximum details and to eliminate noise effectively as well as SilverFast iSRD® for user controlled infrared dust and scratch removal. SilverFast's patented and awarded Auto IT8 Calibration with high-quality LaserSoft Imaging 6x7cm IT8 calibration target assures to achieve improved color accuracy automatically, while NegaFix® provides more than 120 film profiles for a color-true negative to positive conversion. SilverFast's Kodachrome feature enables scanning Kodachrome slides retaining their characteristic natural colors by eliminating the usual problematic bluish cast.
The Plustek OpticFilm 120 has been created with careful consideration of providing professional image quality, ease of use and a productive scanning workflow.
About Plustek
Plustek is the world's leading imaging solution provider. The company manufactures and ships high quality scanners and other imaging products to buyers worldwide.
In business since 1986, Plustek began as an OEM for many large companies, producing innovative lines including scanners, IP cameras, servers, and imaging products. Through dedicated design innovation with strict and high-quality manufacturing standards, Plustek has grown to become one of the largest image solution providers in the world.
In addition to sales and supporting offices worldwide, China-based factories and offices provide just-in-time manufacturing and superior engineering. This allows Plustek to introduce outstanding new products to the market in high quality and outstanding after sales services.
About LaserSoft Imaging
LaserSoft Imaging was founded in 1986 by physicist Karl-Heinz Zahorsky who developed the concept of SilverFast in Kiel, Germany. Today SilverFast is regarded as the standard software for scanners and digital cameras for both beginners and professionals. The SilverFast range of products includes software for scanners, digital cameras, printers and for HDR imaging, as well as several specialized solutions. LaserSoft Imaging is fabricating quality targets for IT8 calibration in their own production. SilverFast has won the EDP-Award for the Best Color Management Software of the Year 2008.With over 2 million copies sold and as a bundle partner of the major scanner manufacturers, SilverFast is the most successful scanner software in the world.
Pricing and availability
The Plustek OpticFilm 120 costs £1999 (MSRP) in the UK and is available from
Park Cameras
http://www.parkcameras.com/24450/Plustek-Opticfilm-120.html
Firstcall Photographic
http://www.firstcall-photographic.co.uk/products/4543/plustek-opticfilm-120-film-scanner
WEX Photographic
http://www.wexphotographic.com/buy-plustek-120-opticfilm-medium-format-scanner/p1531677
Your Comments