Plustek to Showcase OpticFilm 120 at Focus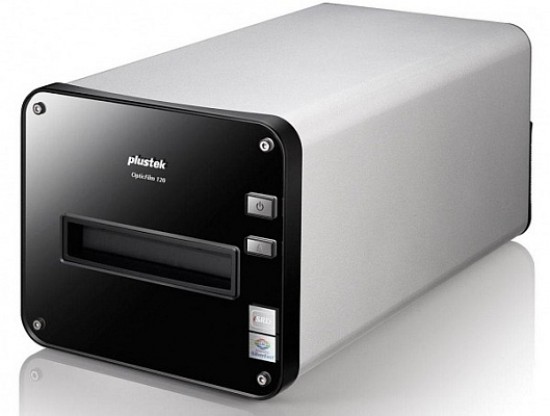 The recently launched Plustek OpticFilm 120 multi-format film scanner will be on display at the Focus on Imaging trade show held in Birmingham from 3rd - 6th March. Capable of scanning both 35mm and 120 format negatives and slides, the Plustek OpticFilm 120 boasts a custom-designed 8-element glass lens and a high-resolution CCD sensor; and comes complete with adjustable-pitch film holders that feature unique sliding inter-frame dividers to ensure optimal film flatness. The scanner's hardware resolution - based on the specification of its stepper motor and the number of pixels on its CCD - is 10,600dpi, with the optical resolution (which also takes into account the resolving power of the optical system) specified at 5,300dpi. Other highlights include automated IT8 calibration and a motorised film transport for batch scanning.
At the Focus on Imaging show, the OpticFilm 120 will be the main attraction of the Plustek stand (E11, Hall 9) and will be exhibited and demonstrated alongside the dedicated 35mm film scanners released in 2012. Plustek's official UK distributor is Intro 2020.
Meanwhile, early adopters of the OpticFilm 120 scanner have started posting sample scans on Flickr.
Plustek Press Release
Plustek OpticFilm 120 to be presented at the Focus-On-Imaging Show
Medium Format Scanner at Intro2020/ Metz Flash Stand E11, Hall 9
  TELFORD, February 11th, 2013 - Plustek Technology Inc., a manufacturer of consumer, prosumer and professional imaging devices, will be joining INTRO 2020 in demonstrating its latest 120mm medium format film scanner, the Optic Film 120, at the Focus-On-Imaging show, 3rd – 6th March 2013, NEC, Birmingham.
  The greatly anticipated Optic Film 120 will be the focus of the Plustek stand and will be exhibited and demonstrated alongside the dedicated 35mm film scanners released earlier in 2012.
  To celebrate the launch of the Optic Film 120, Plustek are offering exclusive show discounts up to 15% (stock available to take away on the   day) and anyone buying a scanner from the Optic Film range will also receive a free photo scanner (Plustek P60)
  Plustek's official UK Photographic distributor is Intro 2020 which has been devoted to imaging for 40 years, the company was founded in 1971 as Introphoto, the sole importer and distributor of Hoya filters a product line which has been, and still is, the brand leader for the highest quality photographic filters in the U.K.
FOCUS ON IMAGING is Europe's biggest annual imaging show, covering all your needs from image capture through to output and beyond. Show   visitors will be able to get exclusive hands-on demonstrations of Plustek's latest imaging devices, including its the OpticFilm 120, a 10,600dpi scanner capable of scanning medium format slides / negative and the 35mm   film scanner: OpticFilm 8200iSE .
Your Comments