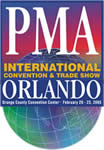 PMA 2006: PMA 2006 turned out to be as much about the future as the present, with some of the hottest new products just being prototypes or mockups, rather than the real deal. Consequently you won't be able to get your hands on quite a lot of the kit that has been announced until May, June, or even 6 months later in the case of the Panasonic DMC-L1 and the as yet un-named 10 megapixel Pentax DSLR. In fact, of all the products listed in our Hot Top 10 for PMA 2006, only 2 of them are available to buy today (Bibble Labs 4.6 and Muvee). Carry on reading to find out which products made our top 10…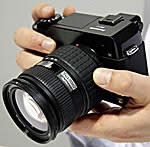 1. Panasonic DMC-L1
The star of the show for the hundreds of journalists who attended PMA, myself included, although it remains to be seen how popular it will actually be with photographers. Bigger, squarer and bulkier than it looks in the glossy product shots (take a look at our own product shots to get a better idea of just how big the L1 is), nevertheless Panasonic have taken the brave step of introducing a camera that is simply unlike anything else available in the DSLR space. The L1, with its retro look and feel, is all about establishing Panasonic as a player in what is a completely new market for them, rather than a genuine attempt to challenge the likes of Canon and Nikon. We've known for quite a long time that Panasonic was developing a Four Thirds camera with Olympus – now we know what it looks like – by Photokina in the Autumn, it will hopefully be shown in production form.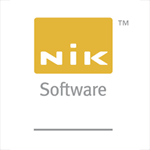 2. Nik U-Point / Nikon Capture NX
A close second for me was Nik Software's U-Point technology. Nik had a tiny stand at PMA, so show attendees may well have missed it completely, although Nikon did have a section of their booth demo-ing it as part of Nikon Capture NX (itself an impressive looking new version of Nikon Capture). U-Point is a technology that requires a host program in which to operate, like Capture NX or Photoshop. It's also something that is much easier to understand by seeing it in action, rather than trying to explain in words, so bear with me as I try to do it justice. In its current form U-Point allows you to very quickly colour-correct a photo simply by clicking on it and creating what Nik call a control point. You can alter various parameters at that particular control point, which are then applied to similar areas of the image (as determined by the software). So, for example, you could click on an area of blue sky and alter the settings to make it more saturated – impressively any similar sky colour would also change, without any need for masking as in Photoshop. You can create as many control points as you want, and they all adjust themselves in relation to each other. U-Point works with both RAW and JPEG images, so you can use it with any DSLR or compact digicam. If I've completely lost you, then you'll just have to trust me when I say that U-Point was one of the most innovative products at PMA 2006.
3. Pentax 10 Megapixel DSLR
Pentax surprised everyone by showing a prototype of a 10 megapixel DSLR, which hasn't been attempted yet at the budget end of the DSLR market (hopefully the price point that the Pentax camera will compete at). Looking like a Pentax *ist DS with a few extra external controls, this camera again attracted a lot of media attention, although one passer-by asked us what all the fuss was about. As with the Panasonic DMC-L1, the Pentax camera will probably make its debut at the Photokina show in late September. Take a look at our photos to get a better idea of what this camera looks like.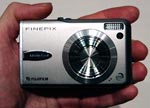 4. Fujifilm Finepix F30
In a show dominated by better, cheaper compact digital cameras, I couldn't really get away with not including at least one model. Top of the pile is Fujifilm's Finepix F30, the successor to the very popular F10 (and the F11 in Europe). As with the F30, it's what's under the bonnet that is really exciting – a top ISO speed of 3200, with improved performance at ISO 1600 (which was already very good on the F10). The Fujifilm F30 is easily the best low-light compact camera available, on paper at least, providing an ISO speed that many DSLRs don't offer. Fujifilm made the F30 the focus of their show in terms of digital cameras, and it rightly earns a place in our Hot Top 10.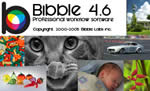 5. Bibble Labs 4.6
One of the smallest RAW software developers in the industry is one of the first to add noise-reduction, courtesy of Noise Ninja, who have licensed their technology to Bibble Labs. Bibble claim that reducing noise in the RAW file produces less image artefacts than in a JPEG file. More important for many photographers will be the improved, quicker workflow, as noise reduction becomes just one of the many things that you apply to the RAW image, rather than later through a Photoshop plugin or standalone application. It will be very interesting to see if the likes of Capture One, Adobe and Pixmantec follow suit. The implementation couldn't really be any simpler – you just use a single slider to control the amount of noise reduction applied – and the results that Bibble demonstrated to me were impressive.

6. Muvee AutoProducer
I don't usually get very excited about slideshow software, but Muvee is different, so different in fact that Nikon are using it in some of their new Coolpix cameras. It's been around for a few years now, but this auto-slideshow software has just hit the big time, and deservedly so if the flashy demo that they showed at PMA is anything to go by. Described by the makers as "the fastest, easiest, most fun way to transform your videos and pictures into slick productions… in seconds!", I'd certainly have to agree – Muvee is a fresh new way of showing off your photos.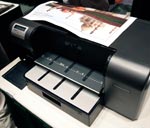 7. HP Photosmart Pro B9180 Printer
HP announced all of its new cameras at CES back in early-January, leaving the HP B9180 printer as the company's stand-out product at PMA. Bigger, more expensive and more fully featured than the existing Photosmart 8750, the HP B9180 is a rival to the Epson R2400 and the new Canon Pixma Pro 9500 printer. Offering print life of up to 200 years, in-built colour calibration, a print plugin for Adobe Photoshop and new HP Vivera pigment inks, the HP Photosmart Pro B9180 certainly has a specification that more than matches up to the competition. Apparently HP have also toned down the bright, saturated colours of their previous generation of photo printers.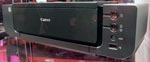 8. Canon Pixma Pro 9500 Printer
It has taken a long time for Canon to come up with a A3+ printer to rival the likes of the Epson R2400 and HP 8750, but now they have joined the party with the new, pigment based. Pixma Pro 9500. A 10 colour inkset with 3 shades of black that you don't have to change when you want to print on matte or glossy media, this printer should produce excellent results for both colour and black and white. Canon provide longevity figures of 100 years based on its own internal testing, which the company claims is more stringent than Henry Wilhelm's, (although the printer engineers from Japan that I met wouldn't elaborate any further on how the testing actually differs). Canon have always had the fastest printers on the market, and they say that this tradition will continue with the Pixma Pro 9500. This printer could offer a great combination of speed and longevity for many photographers.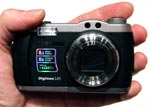 9. Samsung Compact Digital Cameras
I'm including Samsung's entire new range of digital compacts simply because they are a huge improvement on the previous models, offering greater functionality for less money and even more importantly much better build quality. In addition, Samsung are one of the few manufacturers to offer some level of manual control across their entire range – even the fixed lens, budget A503 model allows some control – something that other manufacturers should take note of.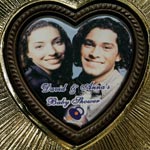 10. Chocolography
The talk of the PMA press room was a stand offering photos printed on none other than chocolate – edible prints, just what the industry and consumer needs! Forget all the new DLSRs, printer and compact cameras, chocolate photos are the future…