PNY MaxFile Attache 12GB Micro Hard Drive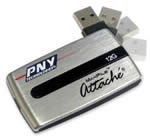 PNY Technologies Press Release
PARSIPPANY, N.J.—(BUSINESS WIRE)—Sept. 13, 2006—PNY Technologies(R), Inc. today announced the availability of its latest MaxFile(TM) Attache(R), a USB 2.0 micro hard drive with 12GB of storage space. The extra-small drive includes a Migo(TM) backup and synchronization software download, so users can sync everything from their e-mail, documents, favorites and settings wherever they go. "MaxFile Attache provides an ideal solution for users looking for a well-rounded combination of cost-effective, high-capacity, compact, portable storage," said Dean Delserro, senior marketing manager, flash, for PNY Technologies. "Only slightly larger than a traditional USB flash drive, MaxFile's small form factor is ideal for anyone that needs to safely carry loads of important information with them. MaxFile Attache is a perfect choice for the user that requires more storage at a lower cost per megabyte than is traditionally available on a USB Flash drive, and still wants to be able to carry it in their pocket, purse, briefcase or backpack."
With 12GB of memory, MaxFile Attache can store thousands of documents, presentations, digital photos, and songs, games - or over 25 hours of video(b). To transfer these large volumes of data quickly, the drive features a read and write speed of up to 11MB/sec. Everything can be read/written from the device, so the user can access their files directly, without copying them onto another computer. Moreover, the device features a durable, aluminum outer casing and is self-powered by a sturdy, USB connector.
Delserro added, "Migo software addresses data protection, data recovery and data archiving, which are equally important for both business and home electronic storage solutions. Moreover, MaxFile Attache eliminates the need to travel with a bulky laptop, particularly at a time when airline travelers need to limit their carry-on items."
PNY's MaxFile Attache is available starting on September, 15 from leading retailers and e-tailers nationwide with an MSRP of $169.
About PNY Technologies, Inc.
Established in 1985, PNY Technologies(R), Inc. is a leading supplier and marketer of NVIDIA Quadro(R) by PNY Technologies professional graphics boards and Verto(R)-brand consumer graphics cards. The company also offers a full line of high-end memory upgrade modules, flash media, USB flash drives, portable hard drives and flash peripherals. Headquartered in Parsippany, N.J., PNY maintains facilities in North America (Santa Clara and Orange County, Calif., Miami, Fla. and Parsippany, N.J.), Europe (Benelux, France, Germany, Italy, Norway, Spain, United Kingdom,) and Asia (Taiwan and China). For more information, please visit http://www.pny.com
The PNY logo is a registered trademark of PNY Technologies, Inc. All other trademarks are the property of their respective owners. Copyright (C) 2006 PNY Technologies, Inc. All rights reserved.
(a) Available for download at www.migosoftware.com/pnymaxfile - also
  includes 30-day e-mail synchronization trial.
(b) Assumes 1.3MB file size for 3 Megapixel camera - Actual number of
  photos may vary by camera settings and camera manufacturer.
  Assumes 3.5MB MP3 file size for 3.5 minute song - Actual number of
  songs may vary based on file format, compression settings, and
  song length.
  Assumes 409.6MB/hour video capacity is based on 4 minutes per
  H.264 750-Kbps video combined with 128-Kbps audio.
  Assumes typical office documents of 1 MB or smaller.