Polaroid Announces Type 80 Series Medium Format Film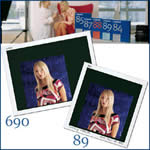 Polaroid Press Release 12/02/04
POLAROID SHOWCASES NEW PROFESSIONAL MEDIUM FORMAT INSTANT FILM LINE
- Polaroid Type 80 Series Presents Five New Film Emulsions Offering Less Wasted Space,
Lower Cost And Superior Esthetics -
LAS VEGAS and WALTHAM, Mass., - February 12, 2004 - Polaroid Corporation this week will showcase its technologically advanced Polaroid Type 80 series of professional medium format films at the 2004 Photo Marketing Association (PMA) International Annual Convention and Trade Show, February 12-15 at the Las Vegas Convention Center. Featuring both black and white and color pack films, the new Type 80 line offers professional photographers a high-quality, cost-effective alternative to other proofing film formats. Additionally, Polaroid has teamed up with NPC Photo Division to develop a new camera back that accepts the Type 80 line, which also will be displayed at the show.
"The new Polaroid Type 80 films are a better match for the medium-format size of conventional films," stated Stuart Strong, senior marketing manager, professional photography, Polaroid Corporation. "We are confident that commercial, social and portrait photographers will come to rely on the accuracy, consistency and quality of these new films, whether they are being used for proofing, fine art or final art."
Polaroid Type 80 film measures 3 1/4? x 3 3/8? and incorporates new film chemistries engineered by Polaroid. The film will be available in five of the most popular emulsions. These emulsion types include:
Polapan 84: an ISO 100 black and white, medium contrast film
Polapan 85 P/N: an ISO 80 black and white, positive/negative film, which is ideal for fine art photography
Polapan 87: an ISO 3000 black and white film, specifically designed for medical, scientific and educational photographic applications
PolaColor 88 ER: an ISO 80 color-extended range film, ideal for image transfer and emulsion lifts
PolaColor 89: an ISO 100 color film, offering true to life images
In addition to the new NPC backs, each film type in the series can be used with any existing medium-format professional camera back on the market today, including the Polaroid ProPack and Holga cameras. Professional photographers will be able to purchase the new backs directly from NPC, or alternatively, can send the majority of old backs to NPC for conversion to accept Type 80 film. Backs that can be converted include MF-1 and MF-1N for Hasselblad, MF-2 for Hasselblad EL, MF-3 for Mamiya RB67, MF-5 for Bronica ETRS, MF-14 for Bronica SQ, MF-15 for Bronica GS1, and the Hasselblad 100 series back.
The suggested retail or list price for the Type 80 series of films (84, 85, 87, 88, 89) will range from $12-20, depending on individual format. Polaroid Type 80 films will be sold in single packs and are available now through authorized Polaroid dealers. For more information on Type 80 or other Polaroid professional film products, please call (800) 662-8337 ext. P400 or visit http://www.polaroid.com/prophoto. For more information on NPC camera backs, please visit http://www.npcphoto.com.
About NPC
NPC Photo Division manufactures Polaroid branded proofing backs and other professional photographic accessories. The company currently offers more than 50 different backs for medium format and 35mm cameras.
About Polaroid Corporation
Polaroid Corporation is the worldwide leader in instant photography. The company supplies instant photographic cameras and films; digital imaging hardware, software and media; secure identification systems and sunglasses to markets worldwide.
# # #
"Polaroid", ?PolaColor? and ?Polapan? are trademarks of Polaroid Corporation, Waltham, MA 02451.