Polaroid iF045, iS2132 and iS326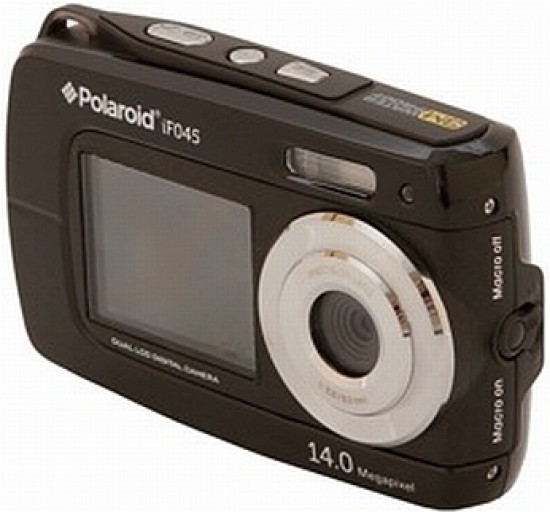 Sakar has announced the launch of several new digital compact cameras under the Polaroid brand. The new models include the Polaroid iF045 ($99.99), a fourteen-megapixel camera with front- and rear-facing displays and 5x optical zoom that's waterproof down to a depth of 10 feet; the sixteen-megapixel Polaroid iS2132 ($199.99) superzoom camera with 21x "enhanced definition" optical zoom and HD video capture and the Polaroid iS326 ($79.99) ultra-compact camera with 3x optical zoom and a slim form factor. Unlike the Z-series Polaroid digicams, these models do not feature built-in printers.
Sakar Press Release
Sakar International to Launch New Line of High-Performance Polaroid Brand Digital Still Cameras
First Polaroid Waterproof Dual-View Camera and D-SLR Style 'Bridge' Product Part of Debut Lineup
Consumer electronics manufacturer Sakar International today announced it will launch and distribute a new line of high-performance, Polaroid-branded digital still cameras this fall under an exclusive licensing agreement recently signed with the photo industry leader.
The new family of high-end products combines the legendary Polaroid image quality and optics technology with user-friendly features that make them ideally suited for the active consumer looking to capture and preserve great memories of their outdoor, sporting or casual adventures.
The products will debut in September at Walmart, Sears and Kmart stores, Amazon.com Staples, Office Depot, BrandsMartUSA, Tiger Direct/Comp USA, Canadian Tire, hhgregg, QVC, HSN, BestBuy.com, Walmart.com, Target.com and Newegg.com. The products will also be made available in Europe, India, Greece, Cyprus, Turkey and Latin America.
"The Polaroid brand is synonymous with high-quality imaging products that are easy to use and that make recording life's precious moments a snap," said Sakar President Jeff Saka. "This is a great opportunity for us to leverage our broad distribution channels and expand our product portfolio with a very well-regarded brand and innovative product family."
The first installment of Polaroid products to hit store shelves includes:
The Polaroid iF045, the first Polaroid waterproof, dual-view camera, makes it easy to snap great photos of you and your friends, without cutting off anyone's head. Featuring front- and rear-facing LCD displays and a 5x digital zoom, the 14.1 megapixel iF045 is waterproof up to 10 feet. Available starting in September, the iF045 will sell for $99.99 suggested retail price.
The Polaroid iS2132 D-SLR style "bridge" camera combines the advanced features and high image quality of a digital SLR with the ease of a point-and-shoot. Featuring an ultra-wide angle 25mm lens with 21x enhanced definition optical zoom, the 16.1 megapixel iS2132 lets you take stunning panoramic pictures and record HD video with the touch of a button. Built-in pop up flash, face auto-exposure and blink detection ensure you get a great shot every time. The iS2132 will carry a suggested retail price of $199.99 when it becomes available in September.
The Polaroid iS326 ultra-compact camera with 3x optical zoom makes it quick and easy to capture spectacular images and is ready to use right out the box. Featuring a Li-ion battery and a slim form factor, it's the perfect camera for people on the go, at an extremely attractive suggested retail price of $79.99.
"Sakar's deep industry experience, high-quality design and manufacturing process and established retail relationships will allow us to significantly grow the Polaroid brand footprint," said Scott W. Hardy, president of Polaroid. "These new offerings will provide a full spectrum of affordable, high-quality camera options for virtually any user with the simplicity and quality consumers have come to expect from Polaroid."
As part of the exclusive licensing deal, Sakar will also develop a line of Polaroid-branded digital video products that will also debut in North America and Latin America this year.
About Sakar International
Sakar International, Inc. is a leading provider of interactive consumer electronics. Since 1977, the privately held, family-owned company has evolved alongside technology - becoming a global leader in innovative electronics. Sakar is a licensing partner with over forty major entertainment brands and has maintained a diverse portfolio of product offerings, including: digital cameras and video recorders, along with camera, computer, audio, cellphone and gaming accessories. Sakar acquired the Vivitar brand in 2008 and has since launched a full line of photographic, optic and related accessories.
Your Comments