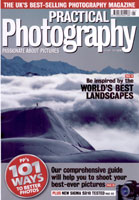 Practical Photography Press Release
The single most important way to improve your photography is…?
"Photography is the greatest passion of all and we all strive to take pictures that we can be proud of. As the New Year starts, it is the perfect time to take stock and assess your approach to photography."
Andrew James, Editor, Practical Photography magazine
The Practical Photography editorial team have combined both their knowledge and experience and then added to it the skills of professional photographers, contributors to the magazine and the magazine reader?s up and down the country. This has helped forge the ulitmate guide to improving your photos - 101 steps to really improving your photography.
There are over 30 pages of advice, inspiration and techniques ranging from the obvious to the obscure, including:
- Take control of your camera ? Don?t let your camera make the decisions for you
- Add atmosphere and drama ? use natures elements to inject life and impact
- Master the art of composition ? understand the elements of a great photo
- Critique your photography ? honesty is the best policy!
- Enter competitions and win ? introduce a new edge to your photography
- Tell a story in pictures ? they say a picture paints a thousands words?
- Explore your subject fully ? open your eyes and discover!
- Take advice from the professionals ? our pro?s expell their wisdom
But do you think you know what the single most important thing you can do to ensure better photographs? Even after you have mastered compisition and gained the photographers ?eye? what tip sits at No1? Well buy the latest issue of Practical Photography, read & absorb all 31 pages of sound advice, expert tuition & 100 tips and then turn the page to find out! 
The January issue of Practical Photography is on sale from the 2nd January and is available at all good newsagents.