Pretec 48GB CompactFlash Card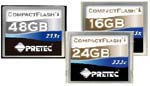 Pretec has announced a 48GB CompactFlash card, enough capacity to save 40,000 photos in regular size. Pretec's new world-beater is not only big, but fast too, with its 233x speed rating capable of reading data at up to 35MB per second. The Pretec 48GB CompactFlash card also uses a metal housing and ruggedized construction, so all in all it sounds ideal for the professional photographer. Pretec are also introducing new CompactFlash cards in sizes from 2GB-24GB which are even faster (333x, 50MB/sec). Price and availability of all the cards is still to be confirmed, but that 48GB version won't be cheap…
Pretec Press Release
Pretec CF 16GB / 24GB / 48GB - The highest-speed, high capacity CF Card for you to go professional!
CES show, Las Vegas, U.S.A. January 7th, 2008
Pretec, as the 2nd in the world to offer CF card (1995) and the world's 1st to produce ruggedized PCMCIA ATA card, CF card, and also the 1st in the world to offer 8GB SDHC and 16GB CF card in 2006, has just launched another breakthrough in flash industry, the highest capacity, the fastest, and the most durable CompactFlash Card 16GB/24GB/48GB at CES 2008 (Booth South3 30166).
Making a revolution in the area of flash memory cards, Pretec today surpasses the existing technology with the innovative solution to provide series unequaled CF cards 16GB/24GB/48GB. The storage for 48GB is almost as 12 DVD, or 69 compact discs. You can save around 40,000 photos in regular size or around 12,000 songs inside. It offers you enough space to backup, store, share, and data management anytime and anywhere. If comparing with regular capacious CF card in the market, Pretec's CF card performs 300% bigger capacity.
Made with the professional photographer in mind, these cards provide the speed and capacity needed to work fast and spontaneous, while keeping up high performance under even the harshest conditions. Pretec CF series meet the requirements for more professional, higher capacity, and higher speed flash cards in our daily lives. For enabling users to enjoy the existing multimedia experience, Pretec CF 333X is capable of running at up to 40MB/50MB per second of access speed in read. It's perfect solution for high-resolutions, high-speed digital cameras, and high-performance industrial applications.
Pretec CF333 use the metal housing and ruggedized construction provides extensive ruggedness making the card resistant to external impacts, at least10 times more durable than typical CF card. Be it in the studio, on the streets, or in the field, the high transfer speed of these responsive cards allows rapid capture of high-resolution photos, always being ready for the next shot. Take more pictures in the same time (high-speed burst shooting), view images faster on the screen of your camera, and minimize download times to your computer.
In addition to achieve the world's fastest, highest capacity and most durable CF card, Pretec also provides varieties of customization including the "Secured CF card", for those high security demanded industry applications. Pretec furthermore provides a wide range of speed/capacity combinations to offer solutions for the advanced amateur and photo enthusiast using high-end digital cameras.
Features:
- Large capacities up to 48GB
- Super fast Read/Write speed of 50MB/40MB per second (333X)*
- Metal housing and ruggedized construction provides ultimate protection (333x)
- Large variety of capacity choices:
333X: 2GB~24GB
233X: 1GB~48GB
- Fast variety of speed choices:
333X: 50MB/sec
233X: 35MB/sec
- Low power consumption with automatic power management
- Wide operating temperature: -20? ~ +85?
- Zero-power data retention, no batteries required
- Supports Ultra DMA mode 0-6
* Based on internal testing. Actual transfer speeds may vary due to host hardware, software and usage.
Your Comments