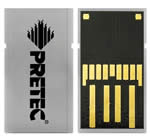 The Pretec S-Diamond is the first miCARD memory card in the world. miCARD is 40% smaller than miniSD and offers a a theoretical maximum capacity of 2048GB. The capacities of Pretec's new cards are a little more modest, ranging from 128MB to 8GB, with production scheduled for later this year.
Pretec Press Release
Pretec Announces S-Diamond, 1st In the World to Implement miCARD Standard
TAIPEI, Taiwan—(BUSINESS WIRE)—Pretec, the pioneer of the world's smallest USB Flash Drive, has now released their new product "S-Diamond," which is the 1st in the world to implement miCARD, a new flash memory card standard from MMC Association capable of supporting both USB and SD/MMC specifications. S-Diamond will debut at Computex 2007 in Taipei at Pretec booth (Hall 4; Booth T202B) and MMCA/OMIA booth (Hall 3; 454, 452, 503, 501).
Measuring only 21mmX12mmX1.95mm, miCard is the smallest USB flash drive in the world, with an area 40% smaller than miniSD (volume is about 18% smaller than miniSD). miCard can also be an SD/MMC card with an inexpensive adapter. The specification of miCard should be able to be released to MMCA members later this year. S-Diamond is the 2nd generation of Pretec i-Disk Diamond series, which has been the smallest USB flash drive for years, which can now also serve as an SD/MMC card, saving not only consumers cost, but also saving hassles by getting rid of card readers and carrying multiple flash cards in different form factors.
Capacities range from 128MB to 8GB (with a theoretical maximum capacity of 2048GB). Production is scheduled by Q3. A version implementing MU-Bus, which is low-power or digital USB technology, will be introduced by Q4, which can possibly usher the era of 4C convergence, to make S-Diamond / miCard to be the center of convenient data exchange among all Computers, Communication devices, Consumer electronics and Car electronics.
Pretec will also show "C-Diamond", a multiple function USB product with "stackable" features of i-Disk Diamond, a much miniaturized version of the patented Pretec i-Disk Connect, which is a versatile capacity and/or function expandable USB flash drive which is as easy to use as playing with Legos. Such device is a dual-function USB flash drive with built-in hub, the first one in the world available by Pretec almost 2 years ago. Pretec will also demonstrate the 3-function "i-Disk Mobile Trio", another patented multiple function USB storage product with Laser pointer and mobile phone charger functions at Computex Taipei 2007.
About Pretec
Pretec™ (http://www.pretec.com) offers a complete spectrum of small form factor memory cards and card readers such as CF, SD MMC, and USB Flash Drives for digital imaging, mobile communication, and industrial flash markets. As the 2nd company in the world who was capable to offer CF card since 1995, Pretec has consistently demonstrated being a pioneer in the flash industry by engineering the highest capacity flash memory cards in the world: CF card 80MB, 128MB, 160MB, 320MB, 640MB, 1.5GB, 3GB, 6GB, 12GB, and 16GB CF card; the first 1GB and 4GB MMC cards; the earliest to reveal the largest size 16GB USB Flash Drive; and now the highest capacity of SD cards in 4GB and 8GB. With more than 100 patents granted or filed, Pretec has also been offering the highest speed cards in the world such as CF 80X (2004), MMC 4.0 150X (2004), USB 166X/266X (2005), SD 133X (2005), MMCplus™ 266X (2005), i-Disk Tiny ("Best Gear of 2003" by TIME Magazine), and smallest size USB Flash drive in the world such as i-Disk Diamond (also known as Cu-Flash) (2005).
For more information, please visit www.pretec.com
Note: i-Disk, i-Disk Tiny, or i-Disk Diamond are trademarks of Pretec Electronics Corporation. All other trademarks mentioned herein are recognized as the property of their respective holders.
Your Comments