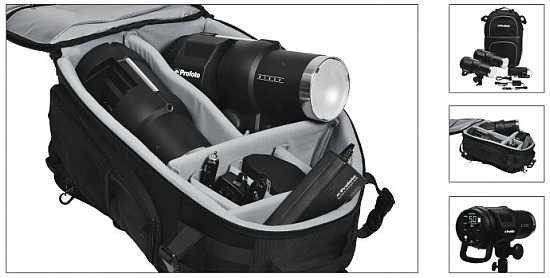 Profoto today released the first B1 off-camera flash kit. Containing 2 B1 off-camera flashes, two batteries, a Fast Charger that recharges the battery in one hour, and a Car Charger that plugs into any standard car cigarette connector and recharges the battery in two hours; the Profoto B1 Location Kit sells at £2,550 (+VAT). This represents a ~
Profoto Press Release
PROFOTO RELEASES THE FIRST B1 OFF-CAMERA FLASH KIT

May 12, 2014: Profoto releases the B1 Location Kit, making the highly portable B1 offcamera flash even easier to bring to an on-location shoot.
Ever since its release in November 2013, the B1 off-camera flash has flown off the shelves as fast as Profoto has been able to deliver it to the stores. The most attention-grabbing features have always been the B1's TTL metering and its cordless operation. Both of these convey the same message: the B1 is not a studio flash. It is an off-camera flash designed for on-location photography.
With the release of the B1 Location Kit, the B1's portability is taken to the next level. The kit contains two B1 off-camera flashes, two batteries, a Fast Charger that recharges the battery in one hour, and a Car Charger that plugs into any standard car cigarette connector and recharges the battery in two hours. The gear is packed and delivered in a comfy backpack with room for additional gear not included in the kit, such as stands and lenses.
The B1 Location Kit comes with a streamlined price. Sold at £2,550 (+VAT), the kit offers roughly £280 discount compared to buying the included items separately. The B1 Location Kit is the latest addition to Profoto's growing and evolving off-camera flash concept. In November 2013, the B1 and its many accessories were launched. In April 2014, the first firmware upgrade was released, enabling TTL metering with the Canon EOS-1D X.
Profoto is now working on a firmware upgrade that will enable high-speed sync (HSS). Profoto is also busy developing the new Air Remote TTL-N that will enable TTL metering with Nikon cameras. Both the HSS upgrade and the Air Remote TTL-N are expected to be released in 2014. New Light Shaping Tools, optimized for off-camera flashes, are also on their way.
B1 500 Air TTL
 Specifications
Max energy: 500 Ws
Energy range: 9 f-stops (2-500 Ws)
Energy control increments: 1/10 or full f-stops
Recycling time: 0.1-1.9(Quick burst up to 20 flashes/second)
Max modeling light (W): 20W LED (Output eqvivalent to 70W Halogen)
Modeling light control: Off, Proportional, Free (5-100%)
Mode control: Freeze (shortest flash duration) or Normal (color
balanced) mode.
Flash duration Normal Mode (t0.5): 1/11,000s (2Ws) - 1/1,000s (500Ws)
Flash duration Freeze Mode (t0.5): 1/19,000s (2Ws) - 1/1,000s (500Ws)
Energy stability Normal Mode: +-1/20 f-stop flash to flash
Energy stability Freeze Mode: +-1/20 f-stop flash to flash
Color stability Normal Mode: +- 150K over range; +-20K flash to flash
Color stability Freeze Mode: +- 800K over range; +-50K flash to flash
Guide number @ 2 m, 100 ISO with Magnum Reflector: 45 2/10
Input power supply: Exchangeble Lithium-Ion Battery 14.8V/3Ah
Battery capacity: Up to 220 full power flashes
 Synchronization and control
Sync socket(s): 1
Wire sync voltage: Compliant to ISO 10330 standard
Wire sync connector: 3.5mm Mini-Phono
Photocell/IR-slave and switch: Yes
Radio sync & control: Yes, Built in AirTTL supporting wireless sync, control and
TTL. (Requires Air Remote TTL. Sold separately.)
Radio sync range: Up to 300m (1,000ft)
 Miscellaneous
Function display: Multifunction LCD display.
Fan cooling: Yes, thermally controlled fan speed for low noice level.
Ready signaling: Yes, ready lamp, dim and/or switchable beep sound.
Auto dumping: Yes.
USB interface: Yes, USB mini port for FW upgrading.
Quick Burst: Quick Burst capability of up to 20 flashes per second.
 Measurements
Dimensions: 31 x 14 x 21 cm (12.2 x 5.5 x 8.3 inch)
Weight: 3.0 kg (6.6 lbs) including battery.
 
Air Remote TTL-C
 Specifications
Frequency band: 2.4 GHz
No of frequency channels: 8
No of remote/TTL control groups per channel: 3 (A-C)
Operation modes: TTL & Manual
TTL camera compatibility: Canon E-TTL II
Wireless Range: Normal sync up to 300 m (1.000 ft), Remote control and TTL sync up to 100 meters (330 ft)
Battery type: 2 x AAA (Alkaline)
Typical battery lifetime: 30 hours
Antenna type: Integrated
Auto power off: Yes, 30 min of inactivity
 Mount & Connections
Camera mount/Sync in: Canon hot shoe only
FW upgrade: USB Mini
 Supported Air functionality
Sync/Trigger: Yes, triggers Air Remote &, Air Sync transceivers plus all Profoto flashes with AirS, Air or AirTTL support.
Remote control: Yes, remote/group control for all Profoto flashes with Air or AirTTL support.
TTL control: Yes, TTL group control for all Profoto flashes with AirTTL support.
 Measurements
Dimensions: 75x60x35 mm (2.9x2.3x1.4 inch)
Weight: 75 g (2.6 oz) including batteries
Your Comments