Pure eMotion 128 Digital Picture Frame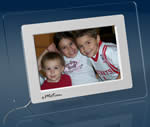 MediaStreet Press Release
7-Inch Image Area, Slide Show Feature, Built-in Speakers and Multi-Format Card Reader Adds Flexibility to Sharing Photographs and Video
Deer Park, NY – August 9, 2006 – MediaStreet Inc., a leading independent manufacturer of archival-quality inks with matched inkjet media and other innovative, digital solutions for the photographic, arts and consumer electronics industries, is expanding its line of digital photo frames with the introduction of its "Pure eMotion 128" digital picture frame.  The highly versatile digital frame offers an aesthetically appealing alternative to traditional slide shows by allowing users to present their musical slideshows without the aid of a computer or other playback devices.
Hidden behind the attractive glass-style face of the frame is its built-in, multi-card reader.  By simply inserting an SD, MMC, MS, SM or CF card, the digital frame will automatically initiate a slide show with music or scroll through images one by one.  In addition, the frame includes 128MB of internal memory for easy downloading of images and video for playback without the need of memory cards or computers.
"Consumers are constantly on the go and want to be able to share their pictures with friends and family in a creative way that isn't restricted by the need for a computer," said Norm Levy, president of MediaStreet, Inc.  "Our new Pure eMotion digital frames, with their large 7-inch screens are a great way for people to share photographs and watch videos anytime, anywhere.  We created the digital frame category to view the photos you have yet to have time print and to bring to life otherwise dormant photos that are lost, hidden or forgotten about."
MediaStreet's Pure eMotion 128 digital picture frame kit includes a number of accessories that make viewing pictures and videos anywhere easy and convenient including an AC power adaptor, Infrared remote control, tabletop and wall mounting hardware, USB cable and earphones.
The versatile Pure eMotion 128 digital picture frame will be available at retail outlets nationwide in August and have suggested retail price of $129.00.  The digital picture frame is also available as an image playback unit only and has a suggested retail price of $109.00.
About Media Street
MediaStreet, Inc. is an innovative, independent manufacturer, converter and supplier of nearly everything visual including inkjet papers, ink, multimedia digital display and storage products, for today's visual and digital world.  MediaStreet is headquartered in Deer Park, New York at 44 W. Jefryn Blvd, Unit Y, 11729. For more information about MediaStreet and their extensive line of imaging products, please visit www.mediastreet.com.  For more details specifically about the new eMotion Electronics line please visit: http://MediaStreet.com/electronics