Q&A with Canon's Chuck Westfall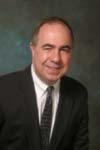 Canon USA's camera evangelist Chuck Westfall has kindly agreed to answer your questions about all things Canon-related. Simply post your question in the Comments section (click the Comments link below) and keep them on-topic. You have until this Sunday (26th October) to ask what you've always wanted to know, and then Chuck will answer them next week.
Update: Chuck has now answered all 84 questions that you submitted; his answers have been added to the end of each comment. Please join me in thanking Chuck for taking part in this question and answer session.
Chuck's Bio
After earning a degree in Professional Photography from the Rochester Institute of Technology and accumulating some valuable on-the-job experience during a 10-year stint in commercial photography and photo retail, Chuck Westfall began his corporate career with Canon U.S.A. in 1982 as a Technical Representative. He has steadily advanced through the ranks to achieve his present position as Technical Advisor for the company's Consumer Imaging Group, working out of Canon U.S.A.'s headquarters office in Lake Success, NY. Among his many assignments, Chuck Westfall is currently Canon USA's main media spokesman for new camera products. He also provides a unique insider's perspective to financial analysts who follow the company's CIG sales and marketing activities.
Chuck's involvement with digital cameras began in 1994, when he assisted Canon and Kodak engineers in developing the EOS-DCS series of professional SLRs. Since then, his responsibilities have expanded to include participation in the development and launching of many other Consumer Imaging Group products including Canon's professional and consumer-oriented digital cameras. Most recently, he has been developing content for online and on-site consumer education projects in Canon USA's Professional Products Marketing Division.
On the personal side, Chuck enjoys sightseeing, photography, reading, music, and family life with his wife Ying and their beautiful daughter Anna.
Message from Chuck
Today is the first chance I've had to review the questions that your readers posted online for this year's edition of Q&A;. Before beginning individual responses to these questions, on behalf of Canon I'd like to thank you for giving me this opportunity. We are always appreciative of constructive comments, suggestions and requests from our customers, and the readers of PhotographyBLOG are a particularly avid and knowledgeable group.
I will summarize these requests and forward them to Canon Inc.'s Product Development Center in our next monthly market feedback report, so please assure your readers that their voices are being heard. Although it's clearly impossible to honor all requests, at the same time Canon's track record for incorporating selected user-requested features in the EOS Digital SLR line has been good overall for quite some time. There will always be room for further improvements, but certainly the fact that EOS Digital SLRs have held the #1 market share in units on a global basis since 2003 is due in no small part to the loyalty of our customers and their ongoing input towards future products.
That said, it is important to understand that Canon has a firm confidentiality policy that prohibits employees from commenting on the company's future plans or products. Thus, while I am extremely appreciative of your readers' suggestions and requests, I regret that it's not possible to provide direct answers to questions asking if or when a particular future product or feature may appear in the Canon line-up. There are many reasons for this policy, but one of the biggest concerns is keeping the company's options open. Technology and competitors both move very fast. In order to stay ahead of the curve, it is necessary to remain silent about future plans.
Also, please let your readers know that my responses to their questions and comments are my own personal statements and opinions. They should not be construed as official comments from Canon. Canon is a very large organization with many individual autonomous sales and marketing subsidiaries. The last thing I would want to do is to put any of them in the position of defending comments or statements they have not made. I would hope that my responses would be considered simply for what they are: an attempt to provide useful information where possible, and a pledge to pass along constructive ideas to Canon's product developers.
Best Regards,
Chuck Westfall
Technical Advisor/Professional Products Marketing Division
Consumer Imaging Group/Canon U.S.A., Inc.
Your Comments