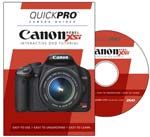 QuickPro DVD Camera Guides feature interactive camera tour of the latest DSLRs. QuickPro is now producing new DVD Camera Guide titles every month, the latest being tutorials for the popular Nikon D60 and Canon Xsi. "People don't want to spend the hours required to read and apply a user manual," says Landon Bradfield, QuickPro, LLC's sales manager. "Consequently, they buy these amazing SLR cameras and then never realize their full potential and the power of this mind-blowing technology. There's a great disconnect there, so we're changing that with our DVD tutorials."
QuickPro Press Release
QuickPro Lets SLR Camera Lovers Discover the Magic in Their Hands
DVD Camera Guides with interactive tours provide exciting instruction for everyone
HYRUM, Utah, May 19 /PRNewswire/—When it comes to professional photographers, or simply those with a serious passion for picture-taking, there's perhaps no greater thrill than buying a Single-Lens Reflex (SLR) camera. Known for being the most expensive digital cameras on the market, SLR cameras are also notorious for their highly detailed, extremely dull user manuals. Thanks to such lifeless manuals, people don't learn their camera's intricacies or, sometimes, even the basics. They fail to discover the magic they're holding in their hands.
Helping to navigate the complexities of these cameras is QuickPro, LLC, a company that started creating exciting color SLR camera DVD tutorials (http://www.quickprocameraguides.com/) three years ago. Today, QuickPro is announcing that this niche venture has been so successful that it's now producing new DVD Camera Guide titles every month, the latest being tutorials for the popular Nikon D60 and Canon Xsi, featuring interactive camera tours. These DVD tutorials are the simplest way to learn about SLR cameras and are designed to get users excited about their new hobby.
"People don't want to spend the hours required to read and apply a user manual," says Landon Bradfield, QuickPro, LLC's sales manager. "Consequently, they buy these amazing SLR cameras and then never realize their full potential and the power of this mind-blowing technology. There's a great disconnect there, so we're changing that with our DVD tutorials. We're also keeping up with the fast and furious pace of the SLR camera industry, producing high-quality DVDs that infuse camera users with in-depth knowledge about the product they've purchased."
QuickPro Camera Guides produce the most intuitive, easy-to-use and comprehensible camera guides available. Each guide is camera-specific to ensure a clear understanding of its fundamentals. In addition, QuickPro's DVDs cover a broad range of topics, which are easily accessible through the DVD menu system. QuickPro offers DVD guides for the following cameras: Canon, Olympus, Pentax and Nikon. In addition, instructional DVDs on digital photography for beginners and advanced users, as well as photography with Photoshop(R) tutorials, are also available.
"With QuickPro's DVD Camera Guides, at no point should a photographer feel held back from gaining a true understanding of an SLR camera's abilities," Bradfield says. "We're thrilled to offer this to consumers everywhere, no matter their skill level. It's all about learning at your own pace and getting excited about your camera."
QuickPro Camera Guides and instructional tutorials are available through most independent camera shops nationwide, a few select chains and Amazon.com. For information, visit http://www.quickprocameraguides.com/.
About QuickPro, LLC
Founded in 2005, QuickPro, LLC creates QuickPro Camera Guides and digital-camera instructional tutorials. Serving the market of SLR camera users, QuickPro strives to instill confidence, enhance technical ability and inspire excitement with its dynamic DVD manuals. QuickPro provides camera guides for most major camera brands.
Your Comments