Realviz at Focus on Imaging 2008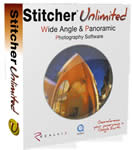 REALVIZ will be demonstrating their full image processing software range at Focus on Imaging 2008. Products on show will include Stitcher Unlimited 5.6, ImageModeler 4, VTour 1.2 HDR and the HDR Imaging Studio. Visitors to the show can also obtain a 20% discount off the standard retail price of the REALVIZ software products.
REALVIZ Press Release
News Release:  February 13, 2008
REALVIZ & 360 Tactical VR Join Forces at FOCUS ON IMAGING 2008 (Stand: LK2)
Sophia Antipolis, France (February 13, 2008) – REALVIZ®, a leader in image processing software development, are delighted to confirm that they will be joining UK reseller partner, 360 Tactical VR at the forthcoming FOCUS ON IMAGING show, which takes place from 24 - 27 February 2008 at the NEC in Birmingham. FOCUS ON IMAGING is Europe's largest annual imaging show, covering the needs of photographers of all levels from image capture through to output and beyond.
During the show, the REALVIZ team will be demonstrating the latest innovations from their award-winning software range, including Stitcher® Unlimited 5.6, ImageModeler® 4, VTour 1.2 HDR and the HDR Imaging Studio. In addition, 360 Tactical VR will also be showing the SuperFisheye Bundle for the first time in the UK. This latest bundle, which includes Stitcher Unlimited 5.6 and the Sunex 185° fish-eye lens, enables the creation of complete spherical panoramas in 3 shots with the use of circular images mounted on a 3 positional panoramic head.
Visitors to the show can also obtain a 20% discount off the standard retail price of the REALVIZ software products by visiting the team on stand LK2 at the NEC. (Discount offer valid for the duration of the show only).
About REALVIZ Stitcher
REALVIZ Stitcher is a photo stitching and image assembling software for the creation of professional-level panoramas and 360° virtual tours. Starting from digital images, the software's powerful central automatic stitching engine enables a diverse range of users to create high-quality panoramas, large-format prints, matte paintings, reflection maps and textures for film & television, as well as dynamic virtual tours for the real estate and tourism industries
About REALVIZ VTour
REALVIZ VTour draws on the award-winning technology of Stitcher and ImageModeler, and offers an innovative and effective solution for the creation of photo-real 3D environments from 2D pictures or panoramas.
REALVIZ VTour has been specifically developed for use in a wide range of applications, such as virtual walkthroughs, 3D simulation, virtual reality, urban planning and video games, and is also well suited for the creation of virtual sets for film and television.
About the REALVIZ HDR Imaging Studio
The REALVIZ HDR Imaging Studio, combines Stitcher® 5.6, VTour 1.2 HDR and Photomatix Pro from HDRsoft, and is the only software bundle available today for the creation of HDR environments for virtual reality, industrial design, special effects and video game applications, starting from digital snapshots and panoramas. With Stitcher 5.6, users can build HDR panoramas and directly export them as environment maps in their favorite 3D package. VTour 1.2 HDR also enables digital content creators to add depth information to their HDR environment maps for Spatial Image-Based Lighting (SIBL). The REALVIZ HDR Imaging Studio is available in English for Mac® & Windows®.
For further details on the REALVIZ software range, visit: www.realviz.com, or contact 360 Tactical VR www.360tacticalvr.co.uk. +44 (0)1355 813375.
For further information on FOCUS ON IMAGING, visit:
www.focus-on-imaging.co.uk
About 360 Tactical VR Ltd
360 Tactical VR Ltd are specialists in supplying 360 Immersive Imaging Solutions for businesses and multi-national police/security forces. 360 Tactical VR have formed strategic partnerships with the world's leading developers and manufacturers of 360 panoramic imaging software and hardware to bring a complete single source solution for VR imaging requirements.
www.360tacticalvr.co.uk
About REALVIZ
REALVIZ is a leading developer of image based creation software headquartered in Sophia Antipolis, France, with satellite sales offices in Los Angeles, London and Paris. REALVIZ develops a suite of image-based content creation solutions for the film, broadcast, gaming, digital imaging, architecture and Internet communities. Derived from years of research efforts at the renowned INRIA Lab in France, the Company's applications enable 2D and 3D artists to easily and cost-effectively tackle complex digital imaging projects. REALVIZ' award-winning products are used by thousands of professional photographers, as well as leading production and effects houses, web design, game development and architectural companies worldwide, including Toyota, Boeing, Daimler Chrysler, The Orphanage, Inc, Cinesite, Framestore CFC, Sony Pictures Imageworks, Warner Brothers Animation, Electronic Arts, Duran Duboi and many others.
REALVIZ technology has been used to create stunning visual effects in many recent major movies, including: 2008 BAFTA Winner 'The Golden Compass'
('Special Visual Effects'), 'The Mist', 'Harry Potter and the Order of the Phoenix', 'Live Free or Die Hard', 'Fantastic Four - Rise of the Silver Surfer', 'Pirates of the Caribbean: At World's End', 'Night at the Museum', 'The Last Mimzy', 'Grindhouse', 'Underdog', 'Blades of Glory', 'Zodiac', 'Goal! 2: Living the Dream', 'The Host', 'Children of Men', and 'Superman Returns'.  www.realviz.com
©2008 REALVIZ®. All other company and product names may be trademarks of the respective companies with which they are associated.
Your Comments