REALVIZ Compatible with Google Earth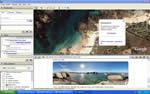 REALVIZ Press Release
Sophia Antipolis, France (July 27, 2006) - REALVIZ, a leader in image processing software development, is pleased to confirm that it is now possible for users of their acclaimed photo-based software applications to display their content in Google Earth.  Panoramas, 3D models, virtual tours and other photo-realistic material created with the REALVIZ software products, Stitcher, ImageModeler and VTour, can now be directly exported and published within Google Earth, pin-pointing exact geographical positioning, courtesy of the Google Earth 3D viewer.
Google Earth combines satellite imagery, maps and the power of Google Search to put the world's geographic information at the fingertips of users worldwide. In addition to the bird's eye view provided by Google Earth, the REALVIZ suite of tools offer the possibility to observe the world from ground level. Thanks to Stitcher, ImageModeler and VTour, users can simulate what a person would see in real life, just like a pedestrian walking in a city or on a trail, with total realism and in crisp detail.
REALVIZ Stitcher, ImageModeler and VTour offer users of all levels an innovative and effective solution for the creation of high-quality wide-angle panoramas, photo-real 3D environments and models, to add photo-realistic panoramic and 3D close-ups to your Google Earth navigation.
REALVIZ Stitcher for geo-referenced panoramas:
Stitcher is used by thousands of professional photographers, architects, multimedia and 3D artists worldwide, and enables the creation of superb wide-angle panoramas. Through direct export to Google Earth (starting from version 1.0), panorama creators will be able in only a few clicks to organize their images on the globe and share them with the whole world
REALVIZ ImageModeler and VTour for geo-referenced 3D models and environments:
- ImageModeler is the solution to create photo-realistic 3D models from multiple photographs. This image-based modeling software is extremely useful to create models of buildings, houses, or any other object of any size, provided that you can shoot pictures around the object.
- VTour is the solution to create 3D environments such as interiors, or urban areas using polygonal photo-textured primitives, from a single 360° panorama.
ImageModeler and VTour export photo-realistic 3D models (polygons and texture maps) to Google Earth using the Collada file format (available from version 1.4 in Google Earth). This exported file can be simply dragged and dropped to its exact location in Google Earth, then exported as a KML file that you can share with anyone on the planet.
"Our users now have the unique opportunity to share their content with millions of others worldwide via this unique tool. This is an amazing way of getting your content onto the global map," said Dominique Pouliquen, REALVIZ CEO.
For further information, please visit: http://www.realviz.com/GoogleEarth,
or contact [email protected]
Availability & Pricing
Stitcher 5.5:
>From July 27th, Stitcher becomes available in 3 distinct versions for
>the
very first time, which all include the Google Earth export:
· Stitcher Express 2 (for digital photography hobbyists) at 99€ / $119 US;
· Stitcher Pro 5.5 (for professional photographers & graphic artists) at
299€ / $349 US;
· Stitcher Unlimited 5.5 (for professional panorama creators) at 499€ / $580
US.
The Stitcher product range is available for both Mac and Windows from REALVIZ resellers worldwide. Further details can be found at:
http://stitcher.realviz.com
ImageModeler 4.1:
ImageModeler 4.1, including the Google Earth export, will be available from September 2006 for Microsoft Windows & Macintosh through REALVIZ resellers worldwide and from REALVIZ direct at a price point of 750 Euros/$ 850 US.
VTour 1.1:
VTour 1.1, including the Google Earth export, will be available at SIGGRAPH
2006 for Windows 2000/XP at a price point of 499 €/$ 580 US.
A Mac version will also be available from Fall 2006.
Existing owners of ImageModeler 4.0 and VTour 1.0 will qualify for a free up-date to these latest versions with export to Google Earth.
For further details, please go to: www.realviz.com, or contact:
[email protected]
About REALVIZ
REALVIZ is a leading developer of image based creation software based in Sophia Antipolis, France, with satellite sales offices in Los Angeles, London and Paris. REALVIZ develops a suite of image-based content creation solutions for the film, broadcast, gaming, digital imaging, architecture and Internet communities. Derived from years of research efforts at the renowned INRIA Lab in France, the company's applications enable 2D and 3D artists to easily and cost-effectively tackle complex digital imaging projects.
REALVIZ' award-winning products are used by thousands of professional photographers, as well as leading production and effects houses, web design, game development and architectural companies worldwide, including Boeing, Daimler Chrysler, The Orphanage, Inc, Cinesite, Framestore CFC, Sony Imageworks, Warner Brothers Animation, Electronic Arts, Duran Duboi and many others. www.realviz.com
Copyright 2006 REALVIZ. All other company and product names may be trademarks of the respective companies with which they are associated.