REALVIZ Stitcher Unlimited Features ImmerVision PURE Player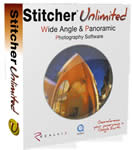 REALVIZ Press Release
Sophia Antipolis, France (August 17, 2006) – REALVIZ, a leading developer of image processing software, announces the availability of ImmerVision's IVP standard file format within REALVIZ Stitcher Unlimited 5.5 for professional panorama creators. The ImmerVision IVP format allows panoramas to be played on multiple platforms and devices using PURE Player. Furthermore, with the PURE Player for Java and PURE Player PRO for Java viewers, creators can easily load panoramic images onto any computer or website without installing a plug-in.
Stitcher Unlimited is one of three new versions of REALVIZ' acclaimed panorama creation software, Stitcher, which was released in July of 2006.
These include: Stitcher Express 2 (for digital photography hobbyists), Stitcher Pro 5.5 (for professional photographers & graphic artists) and Stitcher Unlimited 5.5 (for professional panorama creators).
About ImmerVision's PURE Player
Designed for maximum performance, simplicity and ease of use, ImmerVision's PURE Player makes panoramic imaging scaleable, portable, fast, and visually stunning.  Panoramas can be viewed full-screen, regardless of resolution or image size, with flawless display quality and full fluidity of viewing controls.
Available free for website applications and soon for PDA and cell phones, the PURE Player viewer is a highly flexible and more efficient solution than ever before for playing panoramic content.
PURE Player software is part of the suite of solutions based on ImmerVision's PURE (Panorama Universal Rendering Engine) technology. Put simply, PURE is a sophisticated collection of high-performance algorithms dedicated to projecting, controlling and viewing photos and videos in a virtual tridimensional space.
"With the integration of ImmerVision's IVP file format, REALVIZ Stitcher users can now directly output their panoramas to be visualized with PURE Player without the need for any further file manipulation," explains Alessandro Gasparini, ImmerVision's Chief Commercial Officer, "and the IVP format facilitates publishing and viewing of a single format panorama on multiple platforms and devices."
"REALVIZ is very pleased with this collaboration," adds Dominique Pouliquen, REALVIZ CEO. "Providing the best possible Java player was a key request from our user base who were looking for alternatives to QuickTime VR.  We look forward to seeing the content created by our users with this new technology!"
About REALVIZ Stitcher
Stitcher is a professional-level application, used by thousands of professional photographers, architects, multimedia and 3D artists worldwide, which enables the creation of superb wide-angle panoramas for the Web, film, print, and 3D applications. Stitcher is also widely used by post-production professionals for the creation of 3D environments, matte paintings, reflection maps and textures for film and television.
Stitcher Unlimited - Availability & Pricing
The Stitcher product range, including Stitcher Unlimited, is available in French and English for Mac and Windows from REALVIZ resellers worldwide at the following prices: Stitcher Express 2 - 99€/$119 US, Stitcher Pro 5.5 -
299€/$349 US & Stitcher Unlimited 5.5 - 499€/$580 US. Full details on the up-grade/trade-up structure from previous versions of Stitcher and Stitcher Express to the new versions can be found at: http://stitcher.realviz.com.
For further details on Stitcher, go to: http://stitcher.realviz.com or
contact: [email protected]
About ImmerVision
ImmerVision invents and brings 360° panoramic imaging technology to the world, with six worldwide patents for its visionary technology established to date.  With significant competitive advantages – superior skill sets, internationally-developed expertise and proprietary technologies, to name a few – the ImmerVision team is on a mission to create and deliver a whole new way to look at the world through their combined panomorph lenses and software offerings.  ImmerVision is headquartered in Montreal, Canada. Find out more at www.immervision.com
About REALVIZ
REALVIZ is a leading developer of image-based creation software headquartered in Sophia Antipolis, France, with satellite sales offices in Los Angeles, London and Paris. REALVIZ develops a suite of image-based content creation solutions for the film, broadcast, gaming, digital imaging, architecture and Internet communities. Derived from years of research efforts at the renowned INRIA Lab in France, the company's applications enable 2D and 3D artists to easily and cost-effectively tackle complex digital imaging projects. REALVIZ' award-winning products are used by thousands of professional photographers, as well as leading production and effects studios, web design, game development and architectural companies worldwide, including Boeing, Daimler Chrysler, The Orphanage, Inc, Cinesite, Framestore CFC, Sony Imageworks, Warner Brothers Animation, Electronic Arts, Duran Duboi and many others. www.realviz.com
Copyright 2006 REALVIZ. All other company and product names may be trademarks of the respective companies with which they are associated.