Record Attendance at Focus on Imaging 2006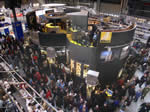 Focus on Imaging Press Release
Wtih yet another record attendance and more exhibitors than ever before, Focus on Imaging has once again underlined its status as Europe's most important annual photographic and imaging industry event. The final audited attendance figure for the 2006 show, the 17th, was 28,778, compared with 28,381 in 2005. "This is a superb result at a time when the industry is going through a very difficult time," said show organiser Mary Walker. "It demonstrates just how important Focus is for everyone in the industry as it gives them a unique, all embracing showcase for their products and services."
However, she pointed out, the success of the show isn't only measured by the number of visitors, It's also measured by the response exhibitors get from those visitors.
"Feedback from large and small exhibitors alike has been brilliant and a very encouraging number have already booked again for next year," said Mary. "We are also talking to several major international manufacturers interested in joining the exhibitor list for the first time in 2007."
Casio's David Hodgkinson summed up the views of many exhibitors: "Focus is still the only place where we can meet customers and consumers face to face. It's been fantastic to be able to bring our brand to this wonderful platform."
Dominic Wingent, National Sales Manager for Focus newcomers Ricoh, agreed: "We've had a fantastic response to our products from end users and retailers alike. It's been a great show."
"We were delighted with the show this year," added Phase One's Claus Møller Pedersen. "The quality of visitors just gets better and better."
Describing Focus on Imaging 2006 as "a very successful show," Richard Pass, Halina's Sales Manager, said: "We increased our dealer base, used the show as a launch pad for the exciting new products due later this summer and had the opportunity to meet several major retailers. Focus on Imaging has significantly helped our 2006 strategy and we were very pleased to see it so well attended by the industry."
But it wasn't just camera manufacturers and importers who left the show delighted with the way it had gone. 
Darryle Langford from independent minilab company Fastlab UK said he and his colleagues had a folder full of leads to follow up. "We had a very good response to our new EPOS system in particular and if we can turn those leads into orders we're set up for the rest of the year."
Another exhibitor working through a stack of leads is Simon Bourne, whose Elevated Photos company has enjoyed real success since its first appearance at Focus. "We had enquiries from a range of visitors which included estate agents, representatives of the armed forces and of the police and existing customers wanting to trade up to the latest version of our system."
"In our first year at Focus we ran out of stock on the second day," said DIY Framing's Duncan MacDonald. "This year we brought three times more and still sold out on the second day. Many thanks."
Sue Ibbotson, who is responsible for marketing and development at the Open College of the Arts, described Focus 2006 as "one of the best shows we have ever been to," adding "we will definitely be back next year."
"The best show we have ever had," was how Paterson Photographic's Tony Dudley put it while Anne Herbert of PhotoArtistry said simply: "I'll keep doing Focus as long as there's a Focus to do."
Focus on Imaging 2007 takes place at the NEC from Sunday, February 25th to Wednesday, February 28th. Full details will be posted on www.focus-on-imaging.co.uk.