Red Paw Media Announces Free Bleach Bypass Simulation Filter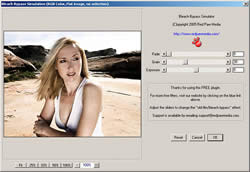 Red Paw Media Press Release
Red Paw Media are pleased to announce the general release of their latest product, BleachBypass.
BleachBypass is a Photoshop-compatible plug-in designed to digitally simulate the traditional film "bleach bypass" technique.
The bleach bypass, or "skip bleach" technique involves the partial or complete skipping of the bleaching stage during the processing of a colour film. This prevents the silver from being removed from the negative, and the result is a contrasty image with muted colours. The technique is often used extensively in motion pictures, such as "Saving Private Ryan" and "Three Kings".  It also gives a very pleasing, "film-like" quality to images, much like older, fast print film was used.
BleachBypass is available as a FREE download from http://www.redpawmedia.com/
About Red Paw Media:  Red Paw Media, founded 2005, specialises in producing high quality software for image processing.  Current products include HotPixel, B&W Pro 2 and Bleach Bypass filters, all available as free or trial downloads from www.redpawmedia.com.