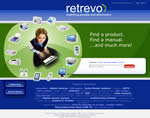 Retrevo is the first ever matchmaking service between consumers and electronics, using artificial intelligence to find the perfect product match. Retrevo provides real-time, impartial recommendations on which products offer the best value, combined with both user input and expert reviews. "Americans will spend upwards of $48 billion on consumer electronics this holiday season—but not without first getting overwhelmed by the vast range of products with far too many complex features," said Vipin Jain, Retrevo's president and CEO. "Retrevo cuts through that clutter to help you find the right match for your needs. Up-to-the-minute independent information is amassed and translated into unbiased answers that can be easily understood by all consumers, technically savvy or not."
Retrevo Press Release
Retrevo Introduces First Matchmaking Service for Consumers and Electronics
Artificial Intelligence Humanizes Shopping Experience; Real-Time Unbiased Site Takes Complexity Out of Finding the Perfect Match
November 19, 2007 – Sunnyvale, Calif. – Today, Retrevo, Inc. launches the only matchmaking service between consumers and electronics, using artificial intelligence to find the perfect product match based on people's unique needs.
The only site dedicated to consumer electronics, Retrevo is unique in that it provides real-time, impartial recommendations on which products offer the best value. This unique value rating combined with both user input and expert reviews pinpoints the most appropriate fit for individuals, one which best meets their brand, price, and feature preferences.
"Americans will spend upwards of $48 billion on consumer electronics this holiday season—but not without first getting overwhelmed by the vast range of products with far too many complex features," said Vipin Jain, Retrevo's president and CEO. "Retrevo cuts through that clutter to help you find the right match for your needs. Up-to-the-minute independent information is amassed and translated into unbiased answers that can be easily understood by all consumers, technically savvy or not."
Unlike search engines that return piles of information for users to sort through, shopping sites fixated only on price, or retailers beholden to select manufacturers, Retrevo provides unbiased and up-to-the-minute answers on all things consumer electronics. Well-organized in one central location, consumers have at their fingertips value comparisons, user and professional reviews, and numerous retailers.
Retrevo crunches up-to-the-second data on hundreds of thousands of products, millions of facts and millions of user and expert reviews from thousands of publisher sites, user reviews, blogs, forums across more than 40 categories, including Digital Cameras, HDTV, Camcorders, and GPS devices.
It then places them on an interactive value map to help people decide what to buy. To further aid an intelligent buying decision, Retrevo presents the overall community sentiment as determined by combing through millions of user reviews, expert reviews and other articles, forums and blogs – all a click away if the consumer wants to read them.  For consumers looking for support or how-to usage tips, Retrevo provides instant access to hundreds of thousands of blogs, forums and user manuals, even landing users directly on the page inside the manual, to help fix hard-to-solve problems or get the most out of their electronic devices.
"I was left baffled when I used regular search engines to try and find a camcorder," said Barbara Laird, an early beta user based in northern California.  "They returned over 2 million 'results!' The information was disorganized and many of the links were old. At Retrevo, they offered more than a list of products with a wide price range – they gave me expert and user reviews, value comparisons and assorted retailers, all well organized on the same page. It couldn't have been easier."
The new matchmaking service takes the complexity out of understanding, buying and owning electronics products. Visit http://www.retrevo.com to try it.
ABOUT RETREVO
Retrevo is the first matchmaking service for people and electronics that makes finding, buying and using electronics products simple and fun. Our AI based service aggregates, classifies and summarizes relevant information on electronics products from experts, users, user manuals and web pages, and supplies consumers with instant answers in an easily digestible and actionable form. For more information, visit www.retrevo.com.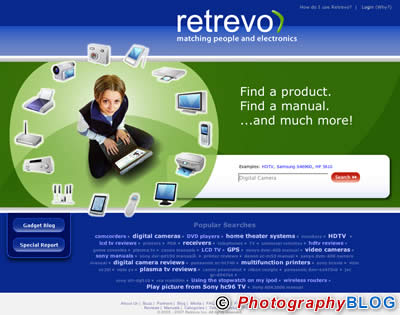 Your Comments